by Ieva Laube, RIGA
Some time ago, before self-isolation closed doors and cancelled face-to-face interactions, I was working on a book at the Riga International Biennial of Contemporary Art (RIBOCA) and would spend my days looking for historic photographs of Riga. Combing museum collections and state archives, flipping through albums of Riga and tracking down elderly collectors of photography was my day-to-day quest. My purpose: to find out if an actual, visual memory existed of the suburbs of Riga at the dawn of the 20th century.
My mission was not to find the perfect, wondrous-looking vistas of blooming boulevards, Art Nouveau masterpieces, and Old Town sights already reproduced generously here and there. I was rather in search of photographs of wooden dorms in proletariat districts, of workshops and small stores of makers and sellers, of courtyards, and of glimpses of the industry Riga once housed.
Everyone I talked to said it was rare to find photographs of the suburbs, as they were just marginal places that no one had interest in taking pictures of. They were districts where people simply lived their mundane everyday lives, working at the numerous workshops, stores or factories. With people maybe stopping in at the butcher's, baker's or cobbler's, but spending the rest of the time weeding and tending the cabbage patches in their backyards, occasionally seeing a motion picture at a nearby cinematograph or having a family portrait taken at a local photo-atelier.
The suburbs, although bustling and rich with sights and flavours, were nothing but peripheral. Their everyday life was not worth documenting, as everyone important was busy with getting ahead in life in the centre.
After weeks of unsuccessful leads and despair slowly creeping in, an archivist at the State Archive of Audiovisual Documents showed me a filing cabinet with boxes containing index cards organised by street names in Riga. There were hundreds of them, with inscriptions typed during the Soviet time and tiny contact prints on their back, and they held a vast depository of streetscapes of Riga.
There, under "Avotu", "Matīsa", "Aizsargu" (now Bruņinieku), "Lāčplēša" and other street names, I finally found storefronts and façades, workshops and factory sites, backyards, and streets with people, cabbies and cars on them. On every second or third index card, there was someone called "Н. Герцберг" credited as the author [Nikolajs Hercbergs in Latvian. Under the Soviet Union, Russian was used for documents issued by government institutions]. And, with every "Н. Герцберг", I eagerly delved deeper into the collection of images. There turned out to be at least 2,135 items on his name.
A new question emerged: who was this guy, Nikolajs Hercbergs? And why were there suddenly loads of unseen photographs of buildings – both grand and run-down, wooden and brick, workshops, backyards, and industrial complexes, all with no one present, almost as if after the apocalypse? Why had nobody brought them to light before, and why hadn't any of the photos been printed in the periodicals of the time?
Melancholic and captivating, the photographs offered a look back at the suburban life of the interwar period. I started asking around, but no one had heard of this Nikolajs Hercbergs. The only information the archive could share was that his photographs had been handed over for safekeeping by the Riga Construction and Architecture Department on 5th February, 1963. The depths of Google and historical periodicals were vague and stingy, offering few entries. Even celebrated historians were able to disclose just a little information.
One thing is certain: Hercbergs was a certified architect, starting work at the beginning of the 20th century. Graduating from Riga Polytechnic Institute in 1909, he managed to ride the wave of the Art Nouveau building boom a bit, contributing to some architectural work before World War I broke out. Nothing too striking – just a few, simple, functional Art Nouveau houses in the city centre and a couple of private buildings in Mežaparks.
Perhaps it was his modest aesthetics and technical precision that kept Hercbergs afloat, while also meaning he was destined to stay on the sidelines compared to the louder and more successful creators of the extravagant, outstanding examples of Art Nouveau in Riga. Perhaps that's why his life and work was forgotten in the mists of history. During the 1920s, Hercbergs worked together with his study mate Max von Osmidoff, adopting functionalist aesthetics as well as carrying out regular reconstruction projects and technical inspections.
However, none of this even comes close to explaining the vast catalogue of photos taken by him during the late 1920s and through the 1930s. A lot of them are shots of seemingly random buildings, façades, streets, deserted factories and industrial areas. Were they a daily vocational assignment? Or commissions ordered by the property-owners for reconstruction purposes?
But then, why are there photos of gardens with flowerbeds and hens among root crops, of verandas with blooming trees and linen hung out to air, and of fuel service stations and shop windows as well? Why capture the loud mural billboards of Stomatol mouth wash, Periun soap bars and P. Spruksts' concrete factory, all of which reveal Riga as a bustling metropolis, somewhat akin to the likes of Paris and New York? Why cut off towers on street corners in order to catch passers-by in the frame? Why photograph the burning Ērenpreis bicycle factory…?
A self-portrait from 1928 of Hercbergs at his writing-desk shows several photographs framed and hanging on the wall. This suggests that his camera was not used only for professional duties; he clearly had a passion for photography as well. The images show his skill and eye developing with time, as the unclear focus of his earliest photos is replaced by sharper and even artistic pictures, with documental street views and images of architectural details.
Next, I noticed that many of his images of workshops, storage spaces and industrial edifices, dated 1936, had handwriting on them, indicating the properties' area in square metres and their value in Latvian lats. There is no official documentation, however, to confirm that Hercbergs worked for a real estate agency.
It was only recently, more than six months after finding Hercbergs' archive, that a more solid explanation arose. I discussed this particular detail with one of the most well-respected urban and architectural historians in Latvia, Jānis Krastiņš, He mentioned that during the interwar period, many architects, in addition to their primary job, worked as real estate appraisers for insurance companies.
This most likely was the case with Hercbergs.
Combining the profession of architect with the duties of an appraiser, valuing and documenting properties, Hercbergs still continued to demonstrate a heartfelt interest in the city. He captured working and living spaces, as well as the people and scenes of a city fighting to get back to its pre-war scale and ambition. After all, the number of inhabitants in Riga had decreased from more than 520,000 before World War I to around 185,000 in 1920.
When Hercbergs started shooting in the mid-1920s, the number of inhabitants in Riga was almost 200,000 less than before the war, and it had still not surpassed 400,000 in total when Hercbergs stopped working in 1940. The suburbs were much emptier than they had been previously, and this is shown in his photographs.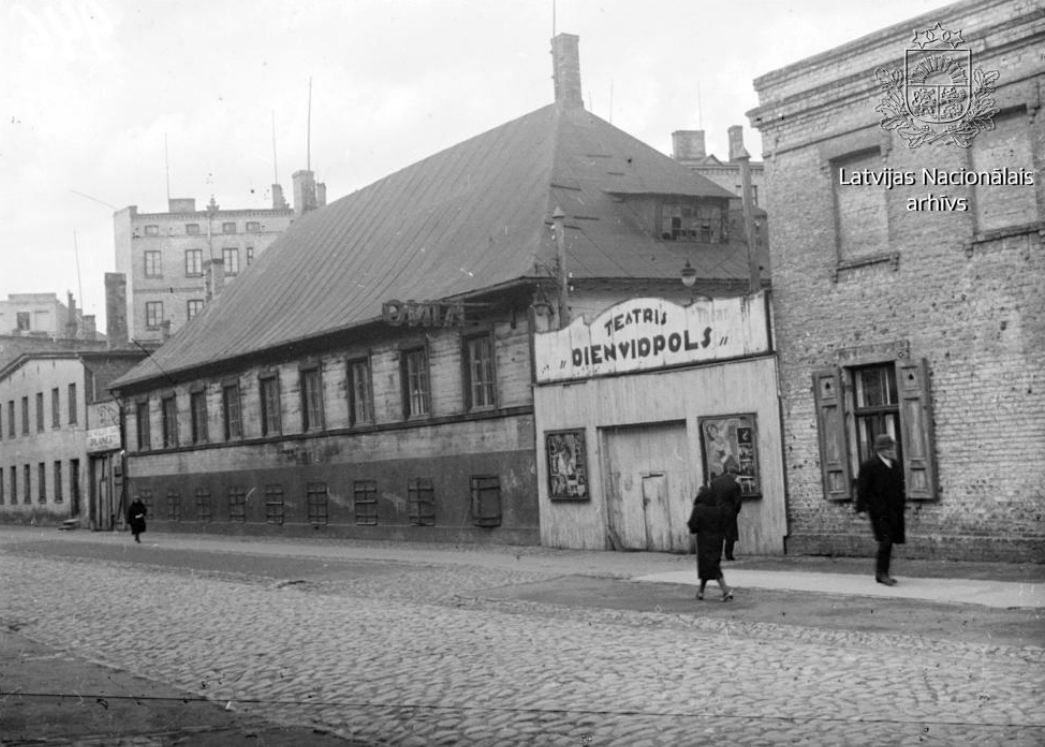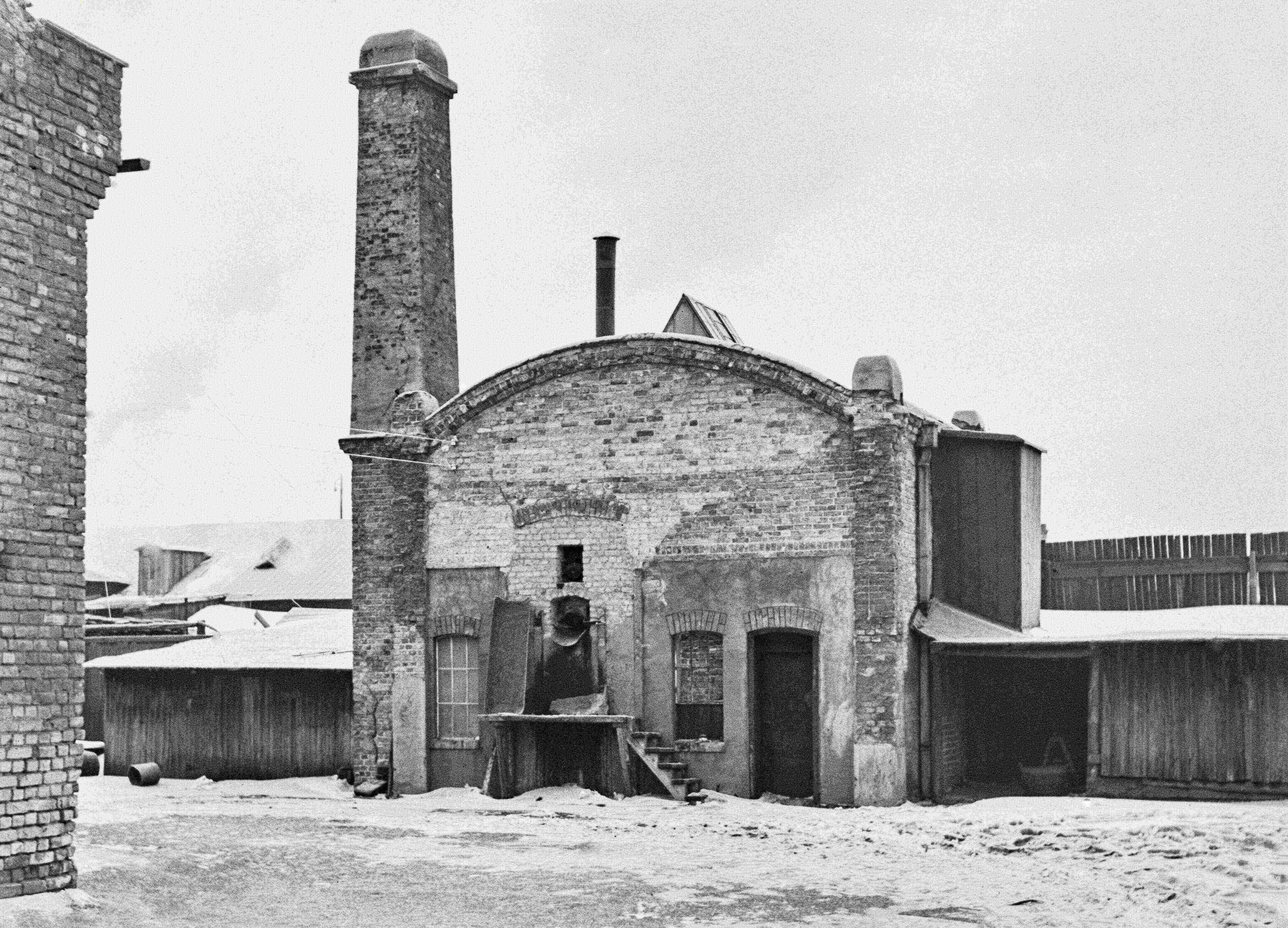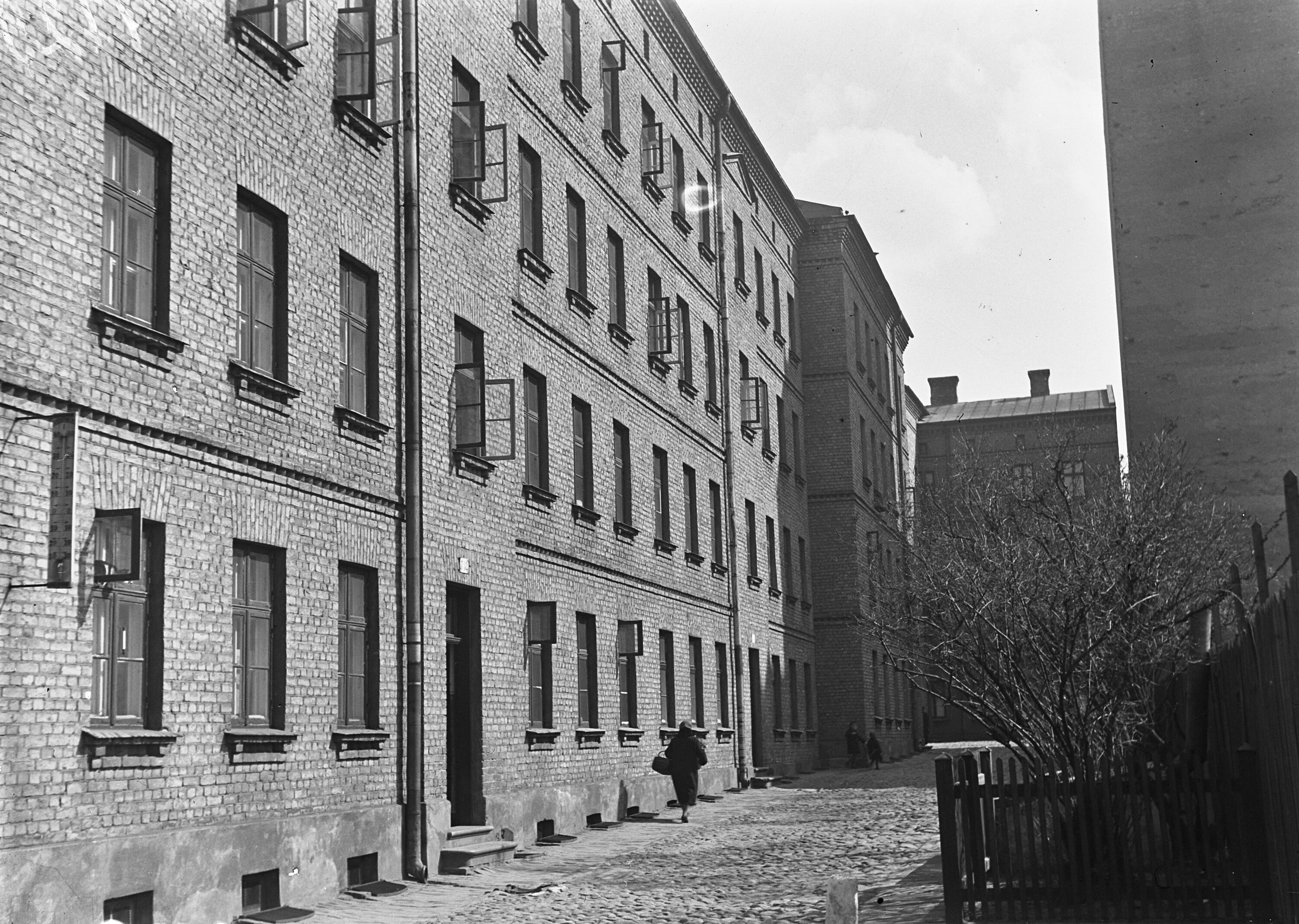 It's also possible that he was a devoted flâneur, or one of the first "professional" urban explorers in Riga, roaming the city before it was fashionable to do so. Perhaps it came easily to Hercbergs, as he had worked hard to strengthen his social networks so that he could get into literally any secluded industrial space or private backyard.
Wanting to see how the places Hercbergs documented had changed, I managed to visit 68 locations across Riga. One can imagine the thrill I felt when, after discreet lurking in gateways, courtyards, and passing by countless windows, I found the same angles, façades, and landscapes that Nikolajs Hercbergs once had. Most of the brick buildings had survived with only slight visual changes, retaining their charm and somewhat nostalgic quality.
By contrast, many wooden buildings had been through a dramatic face-lift, with PVC windows, walled-up doors and windows, and DIY refurbishments and fixtures. Some former workshop spaces, storefronts and backyard structures had been so altered and reconstructed that there was no trace of how they once looked 100 years ago. Some had been completely wiped off the surface of the earth, and some had been neglected, forgotten or taken over by nature.
A map, containing a first batch of locations Nikolajs Hercbergs had documented during the interwar period, was created after my journeys (with new locations added in the future). Every location contains an original photo from the year it was captured. I hope the map helps city wanderers experience the lost and forever altered sides of Riga as seen by the eyes of Nikolajs Hercbergs – just click on the icons and see for yourself.
EPILOGUE
Hercbergs' last negatives are dated 1940, just before Latvia was annexed by the Soviet Union. One reason he ceased his operations was that private enterprises had been nationalised, and private property had stopped existing; there was no one to take photos for. The second reason was that the professional photographers who had managed to survive and hadn't left Latvia were limited in their work or united under a state-owned combine.
Since Hercbergs was never a member of any photographers' union and never owned a salon, he was not considered to be a photographer at all. Especially given that, until the late 1950s, there was no place for artistic photography, and the state gave the orders about what, who and where should be photographed, usually without providing credit. Besides, Hercbergs was far too old to do any street reporting after the war. Reporters were young, energetic people, usually amateurs and with other jobs, whereas Hercbergs was no younger than 60 at the time.
Hercbergs didn't emigrate after Latvia was occupied by Nazi Germany, and also remained in Riga under the Soviet regime. His long-time associate Osmidoff left for Germany in 1941; his photography days were over as well. Instead, being a certified architect (not a photographer) with a remarkable knowledge of the city and a clear past, at least on paper, it was convenient for the regimes to allow Hercbergs to continue his professional work in some form.
After World War II and until the end of his career and life, Hercbergs worked as supervisor at the office of the Riga City Chief Architect's Board (later the Construction and Architecture Department, currently Riga City Construction Board). It was this same institution that delivered his collection of photographs over to the State Archive of Audiovisual Documents.
Although the truth of the stories and motivations behind Hercbergs' camera work are still a mystery only surrounded by guesswork, we can be sure of one thing. Whether his photos were a passion for him, or taken due to his side-job as an appraiser or for reconstruction purposes, he unintentionally became a true documentarian, portraying interwar Riga as an ever-changing city, reaching the heights of a metropolis but with the sights of a regional small town. From the perspective of today, we could say: Hercbergs is one of the least-known pioneers of urban photography in Latvia.
All images credit: the Latvian State Archive of Audiovisual Materials/Nikolajs Hercbergs
A version of this article originally appeared on Capital R
Many of the photographs have been included in the book Soon ("Drīz"), published by RIBOCA. It showcases contemporary photographs by Pēteris Vīksna, illustrations by Oskars Pavlovskis, essays by Vents Vīnbergs, and was designed by Alexey Murashko, who deserves special thanks for digitalising and re-touching many archival photographs by Nikolajs Hercbergs. The book is available in English, Latvian and Russian at Jānis Roze, Globuss, and ISSP Gallery, including online stores.
Ieva Laube is an author, editor, researcher, and curator of art education projects. Currently an MA student in the Nordic Visual Studies and Art Education (NoVA) program at Aalto University in Helsinki. She has studied journalism at the University of Latvia and design research, writing and criticism at the School of Visual Arts (SVA) in New York. Until recently she worked at the Riga International Biennial of Contemporary Art (RIBOCA) as a researcher, editor and co-author of several artists' books and publications, and headed the publishing processes of the biennial, as well as developing and coordinating its education program.