by Richard Martyn-Hemphill and Will Mawhood, RIGA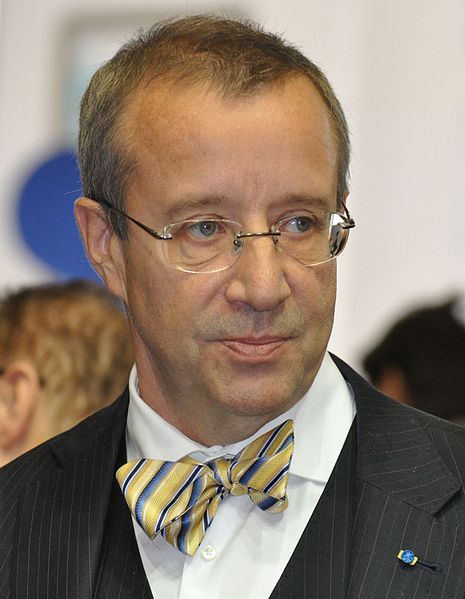 Dressed in a three-piece suit and his trademark bow tie, Toomas Henrik Ilves glanced at his audience in the European Parliament, where he once sat as an MEP. "My hope is that a few decades from now," he said, "there will be a president in democratic Syria, speaking Arabic with a German accent."
The address was delivered last February, during his tenth and final year as the President of Estonia, as the Syrian refugee crisis was fast growing in extent and intensity. His clearly audible New Jersey accent gave a clue as to the particular personal resonance this issue has for Ilves.
"My parents fled terror in Estonia in World War Two, which is why I have this accent."
In the autumn of 2016, Ilves stepped down after serving out two consecutive terms as President. His departure from Estonian politics is a sort of bookend: the end of a time when Baltic expatriates emerged from Cold War exile to lead their countries. Estonia's neighbours Latvia and Lithuania have also had presidents who spent much of their lives exiled in America.
Before Ilves moved out of Kadriorg, the presidential residence in Tallinn, he spent an evening at a bar called Vest in the Latvian capital of Riga, a trendy pit stop for hipsters and their vintage bicycles. He was dabbling as a DJ to promote his charity playlist "Teenage Wasteland", showcasing his favourite music from the '60s and '70s – the Velvet Underground, Bowie and the Ramones all feature; at the time, Ilves expressed regret that he wasn't able to include a track from the obscure '60s proto-punk garage band The Music Machine.
When we met Ilves for a brunch at Vest a few months after his performance on the decks, Bruce Springsteen, another New Jerseyite, was playing through the speakers. "I did go and stand outside the bars and listen to him," a bowtie-less Ilves recalled, "before he had his first record."
"He played all over New Jersey but I couldn't get in"
---
Ilves' parents initially found refuge in Sweden, where he was born. Three years after his birth, they crossed the Atlantic for a new life in New Jersey. The Ilveses were one among many families from the Baltics who made their ways to North America. Indeed, the US Displaced Persons Act of 1948 implicitly privileged refugees from the Baltic (by allocating 40% of places to citizens of states "de facto annexed by a foreign power" – the Baltic countries were the only pre-war European states that had physically vanished from the map). This had followed a series of prominent British, American and Canadian visitors to the Displaced Person camps in Germany, who were impressed by the Balts they met there, and decided they were exactly the kind of immigrants these countries wanted: self-reliant, hard-working and implacably anti-Communist.
Ilves fits the bill in this last respect. When asked if he has trouble understanding those in Estonia — often older or ethnic minorities — who look back to the Soviet occupation with ambivalence or even nostalgia, he replies with an immediate, blunt "yes". "Sorry, it's just fundamental. Nothing is as awful to me as a totalitarian state… I vividly remember when I was about nine, I said 'Daddy, what are Communists?' And he said "they're people who come in the middle of the night and put you on cattle cars and ship you off to Siberia".

In exile, America's Baltic community became close-knit; many were determined to preserve their native languages and traditions, teaching patriotism and anti-Communism to their children and agitating politically against the Soviet occupation of their homeland. This led, in some parts, to a romanticised and often misleading view of these lands. "I had a Disneyland vision of Estonia, a Grimm's Fairytale vision," said Ilves, describing what he imagined would be a land of mountains. "Then you find out there are not a lot of peaks and valleys. It's actually pretty flat."
But Americans with no Baltic connections often did not even know that these countries existed. Ilves remembers, during his early days at school, pointing at the north-eastern corner of the Baltic Sea on the map and saying "I'm from Estonia".
"And the teacher said – 'No, no. That's the Soviet Union.' That kind of sticks with you."
Reading contemporary Estonian poetry, Ilves recalls, had given him a clearer idea of his nation's current concerns, if not perhaps the landscape of the country his parents had left. Contrasting it with the "bloodless, anodyne" English-language poetry of the time, Ilves mentions that Estonian poetry was dealing with "the language dying out, the people dying out". Both were worries that were often expressed by the '70s, after high levels of immigration from Russia and other Soviet republics radically altered Estonia's demographics, and made Estonian-speakers a minority in a number of cities.
When some of the diaspora started to return home – some before the fall of the Soviet Union and some afterwards – they brought expertise, contacts and wealth to develop the now-impoverished country. They really did find an Estonia very different from the one that their parents and grandparents had left; at a broadly similar level of development as Finland at the beginning of the occupation, by the restoration of its independence, Estonia was thirteen times poorer than its northern neighbour. Ilves swiftly became Estonia's Ambassador to the United States in the 1990s, and then Foreign Minister.
Lithuanian Valdas Adamkus was the first of the three exile presidents to rise to the top. He was elected to lead the country he had once fled in 1998; Riga-born Vaira Vīķe Freiberga became President of Latvia the following year. The change was not always materially easy for the repatriates – Ilves mentioned taking a 90% pay cut when he moved to Tallinn. Did his American friends think he was mad for doing that?
Ilves replies: "Estonians thought I was mad – you're giving up your American passport to come here?"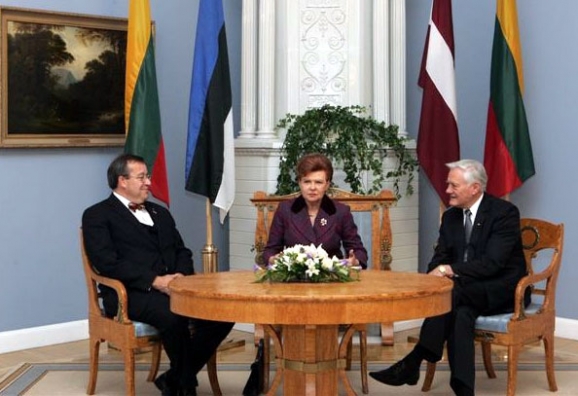 ---
Ilves is the only one of the North American Baltic presidential trio not to have been born in the old country. Adamkus, who is now 90, was a teenage resistance fighter during the Second World War, battling Lithuania's forced incorporation into the Soviet Union. By the end of the decade, his homeland now under Soviet rule, he had also moved to the US, where he started as a factory worker in Chicago before a long stint at the Environmental Protection Agency.
Vīķe-Freiberga, who is 78, fled Latvia in the Second World War with her family and spent part of her childhood in displacement camps in Northern Germany. Her family then moved on to the Moroccan city of Casablanca and then to Canada, where she became a professor of psychology, while carrying out studies into Latvian folklore and poetry. She returned to the country of her birth in 1998 to run the Latvian Institute – just a year later, she was president, a compromise choice after the Parliament failed to endorse any of the candidates of the main political parties. The country she returned to had seen many changes since she left – including the disappearance beneath the waves of the River Daugava of the house she had grown up in on Dole Island near Riga, a victim of a nearby hydroelectric plant, completed in the 1970s.
---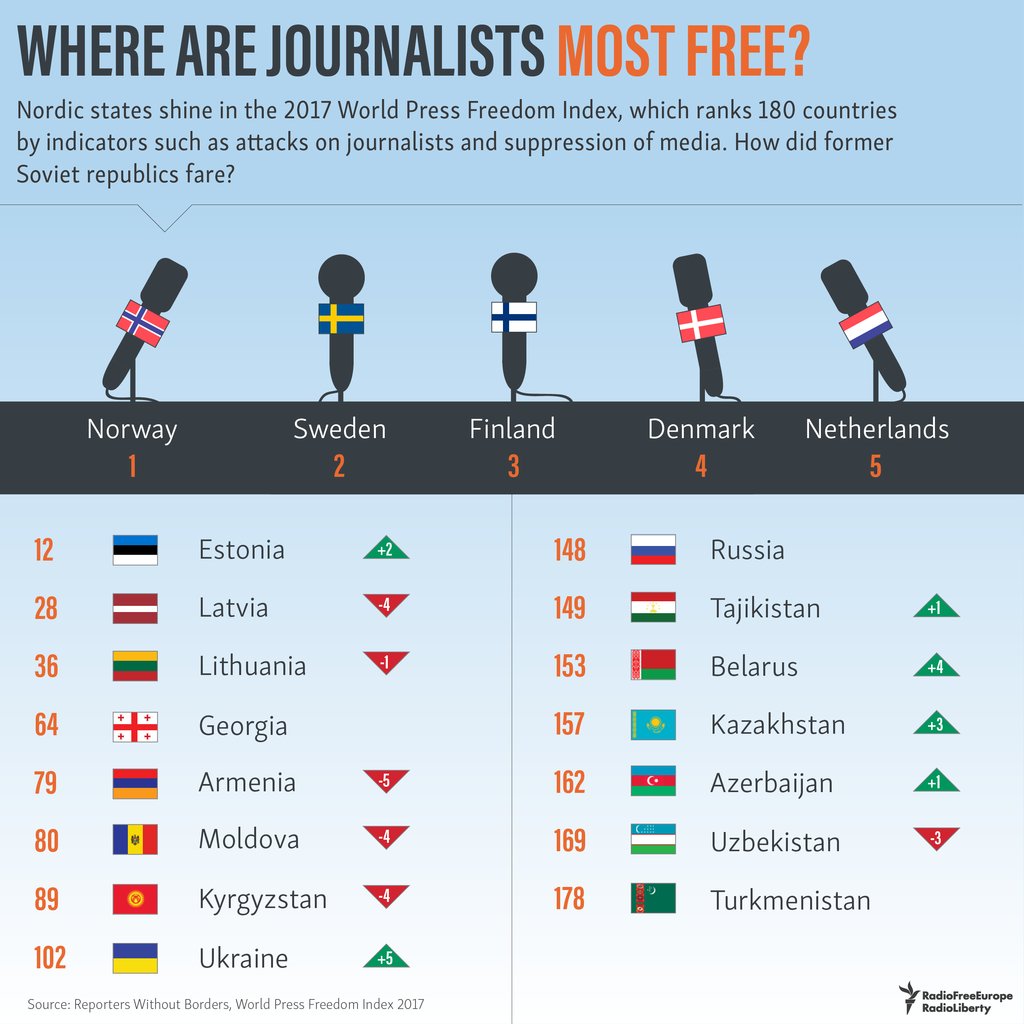 Traces of the USSR remain perceptible in all three Baltic countries, but 25 years on from regaining independence, they represent anomalies in the post-Soviet landscape. They are the only three Soviet republics considered by Freedom House to be fully functioning democracies, as well as the only ones that are members of NATO, the EU and the Eurozone. Estonia ranks very highly on world indices for press freedom and ease of doing business; it is among the few EU countries not to run a budget deficit and one of only four NATO members to spend the required 2% of GDP on defence.
This might have surprised some of those who emigrated to America before Ilves. The first significant wave of Estonians to migrate to the US, after the suppression of the 1905 revolution, were disproportionately left-wing, many with strong Communist and anarchist sympathies. But since the restoration of independence, the Baltic states have been characterised by broadly liberal, low-tax, free-market, technocratic policies, and have (so far) largely resisted the extremes of populism increasingly found in central European countries like Hungary and Poland.
NATO accession took place in 2004, while Vīķe-Freiberga and Adamkus were presidents of their respective countries; both had made membership a priority, viewing it as offering security against their unpredictable eastern neighbour, as had Ilves when serving as Estonia's foreign minister.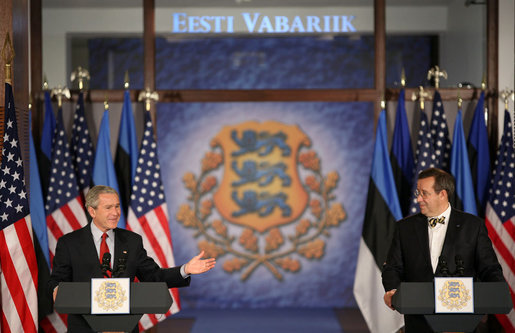 Ilves comes from the left of the country's political spectrum – he is a former leader of the Estonian Social Democratic Party, describing himself as a Clintonite or a Blairist — and he has been an effective cheerleader for its transformation: his 80k+ Twitter followers are treated to regular warnings about the threat from Russia and retweets of paeans to Estonia's high-tech, no-hassle democracy, like "The Unexpected Story of How This Tiny Country Became the Most Tech-Savvy on Earth."
He bristles when relating how some in the Estonian media refer to him as "a great salesman". He says he finds this insulting, given how involved he has also been in the practical side of "e-Estonia". Nonetheless, it's clear that Ilves' native English and understanding of the international media (he cut his teeth working for Radio Free Europe), as well as extensive international contacts have helped considerably with Estonia's redefinition.
In particular, his eager — and at times strikingly informal — participation at the annual Lennart Meri Conference on defence and security in Tallinn has often won plaudits from think-tankers, journalists and policy-makers on both sides of the Atlantic. Kadri Liik, who organised the conference for a number of years, said she was always relieved that Ilves was prepared to keep things casual. "He never did the traditional presidential thing," she said, describing how Ilves avoided making the ceremonial presidential opening speeches that are often the form at these types of conference in Europe — "People often find those speeches quite boring and just want to get on with the panel discussions," said Liik.
Instead, Ilves would be vigorously debating on a panel, or an audience member with his hand stretched up high with a question. Often blunt, never holding back, it was in this setting he proved most at home: his laptop open every now and then to fire off a few emails or tweets, often chewing away on a bar of nicotine gum.
At last year's Warsaw Security Forum, Poland's more rigid and formal equivalent of Estonia's Lennart Meri Conference, Ilves was given a fond farewell. "Ilves has put Estonia on the map," said Edward Lucas, a senior vice-president at the Center for European Policy Analysis and a long time observer of Baltic politics. "Every Estonian should be grateful to him for his leadership and his efforts."
"He is an exceptionally hard worker," said Lucas, who is Estonia's first e-resident. "I first came across him in the very early 1990s, when I was living in the Baltic states and we exchanged views on the long-forgotten Balt-L news server. He was writing under a pseudonym. For months I wondered who this eloquent, erudite person was, who wrote so ably to me about history, literature, politics and national identity. He never seemed to sleep."
For Lucas, Ilves has been something of a philosopher king for Estonia. "His erudition extends well beyond his first field of study, psychology. He knows Latin and classical civilisation," he said. "With little or no prompting he will quote the giants of Western philosophy, from Hume to Habermas, from Aristotle to Žižek. He knows world literature. He also—and this is highly unusual for someone of his generation—has a strong background in computing. I think it is true to say that he is the only head of state, anywhere in the world, who can write computer code. He can fix laptops too."
A social as well as economic liberal, Ilves repeatedly invokes 18th-century English liberal philosophers John Stuart Mill and John Locke during our conversation. A small country "has little clout anyway, but if you're not a liberal country forget it, no one is going to listen to you," Ilves said, sipping his coffee.
---
But Ilves's liberal views can sometimes be a tough sell in his own country. Last year Estonia legally recognised same-sex unions, the first country in the former Soviet Union to do so; Ilves was firmly in favour, but the issue almost evenly split the nation and parliament. His passionate defence of refugees has found more limited support in the Baltic states, where significant majorities oppose the EU's quota system of refugee allocations from the Mediterranean. When we observe that he is "slightly out of step" with popular opinion in Estonia, he laughs and says "slightly?"

In Latvia, Vaira Vīķe-Freiberga, who left office in 2007 and is now out of politics, has been one of only a few prominent figures to speak out strongly in support of refugees, invoking her own experience in DP camps in Germany, as well as those Latvians deported to Siberia during the Soviet occupation.
But drawing on these traumatic collective memories, however tangentially, has not always had the desired effect. A furious reaction from some parts of the press greeted a UNHCR (UN Refugee Agency) publicity campaign in Latvia last year entitled "Mēs bēgtu" (we would flee), which featured Latvians listening to the stories of refugees and concluding that they would have done the same. With Russian military action in the Baltic countries far from inconceivable, it seemed too close to a declaration of surrender to some, and the campaign was withdrawn. As former Latvian foreign minister Artis Pabriks said at the time – "we as a nation need to give a clear signal – we would do the same as the Finns in 1939. No, we would not flee; we would shoot!"
Canadian-Estonian human rights activist Marcus Kolga describes Ilves as "a great symbol of the reconciliation" between Estonian-born Estonians and those descended from refugees, but nonetheless agrees that there are often differences in outlook between the two groups. The latter have nearly all been exposed to cultural diversity and are generally comfortable with people of different backgrounds, and therefore "think and act differently and find diversity to be very normal and natural."
The perception among some that the comparatively privileged foreign-born Balts have little idea of what life is like for ordinary people has made them vulnerable to accusations of elitism and attacks from populists. This was dramatically demonstrated in Lithuania when in 2003 Valdas Adamkus unexpectedly lost his re-election fight to Rolandas Paksas, a mercurial stunt pilot and former mayor of Vilnius, who tacked hard to the right during the campaign. Adamkus rarely left the capital, according to reports, while his rival toured the country. In his victory speech, Paksas claimed "if there were no gap between Lithuanians and the political elite, people would have voted for Valdas Adamkus. But the gap exists. Over the past five years life did not improve in many spheres". Paksas was impeached just six months later, and Adamkus won the subsequent election with ease, and served out a full second term until 2009.
Laima Vincė, a Lithuanian-American author, grew up in New Jersey, granddaughter of a Lithuanian diplomat who was told not to return to the country he had left in 1936. She comments on Adamkus's experience as president: "there were nuances that he missed, not having spent his adult life living under the Soviet system and society. This did cause him to make some misjudgments. At the same time, particularly at that time, there was still lingering jealousy and bitterness on the part of Lithuanians who'd lived under the Soviet system to Lithuanian-Americans, who they considered to have had "better lives" and more access to privilege."
But Vincė points out that the emigres can have prejudices of their own, specifically in their attitudes to Lithuania's two principal ethnic minorities – "in my experience I have found that Lithuanians in Lithuania are far more accepting and tolerant of minorities, such as Russians and Poles. Also, many of them have mixed heritage themselves. Lithuanians abroad cling to old prejudices against Russians and Poles based on historical grievances". She stresses, however, that this is primarily the case with the older generation – not with those Lithuanians who have emigrated to the US since the restoration of independence.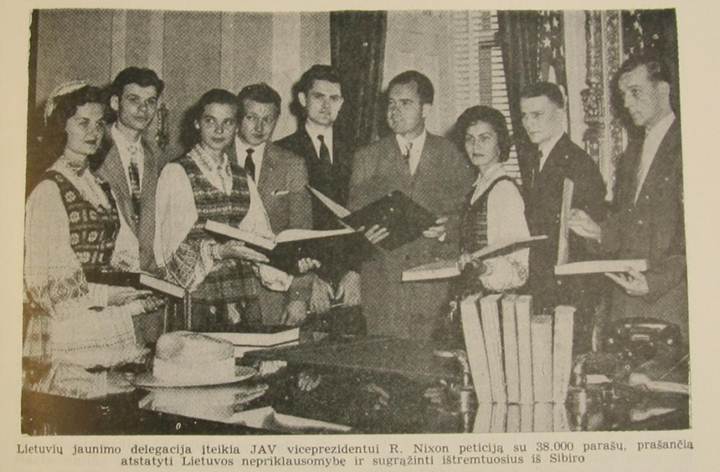 Having grown up on stories of the homeland that was taken from them, it can be hard for emigres to accept the modern Baltic countries that exist today – differing in many ways from the countries that were occupied in 1940. Andra Aaloe, an Estonian from the south-eastern city of Pärnu, confirms that this is common to all three Baltic countries: "there was a sentiment among the ones who escaped before/in/after WWII that they were more Estonian than the ones who stayed in the USSR – as they weren't Sovietised and were able to carry on, without compromises, the Estonian true spirit and traditions."
Despite these tensions and misunderstandings, Adamkus is now regularly cited as the most respected political figure in Lithuania; as is Vaira Vīķe-Freiberga in Latvia.
As for Ilves himself, his tenure did not have a fairy-tale ending. He makes a number of frank comments about the Estonian press, referring to a media outcry after he left office concerning an allocation of EU funding used to support a refurbishment of his family's country ranch. Ilves insists that nothing dishonest was done.
"As soon as you're not in office, then you're open for the kicking," he says. "First I work like a dog, then they treated me like a dog". As of January, Ilves has taken up a visiting fellowship at Stanford University's Hoover Institute in California.
Ilves may not have ended his ten years in office in quite the way he would have wished, but his accomplishments – however they are evaluated – are undeniable. When asked whether it could be possible in the future for his achievement to be replicated, for another Estonian-American from a humble background to rise to the presidency, he is non-committal. He also denies that there is much to link him with his colleagues to the south:
""The only reference point was that we all three had people saying 'oh, foreigners'"
Whether or not this is the case, it may be that the time for the Baltic-Americans has passed. It seems significant that Ilves's replacement as president, Kersti Kaljulaid, has spent most of the last decade in Luxembourg, working as Estonia's representative in the European Court of Auditors. For a long time, the North American Balts were the principal interested, sympathetic sources of expertise – and funds – to these small, poor countries. But the EU accession which they themselves championed has opened up opportunities for Balts to travel and work abroad, and develop their careers in other European countries. It seems more likely that future presidents in these parts will speak an English tinged with EU-bureaucratic jargon than with a New Jersey drawl.
Ilves has changed his country, and his country has changed him. A question remains, though, whether he, or the other Baltic-American presidents, will ever be able to change their native countries' attitudes towards refugees.
A few decades from now, the answer to that will be clear. And who knows? Perhaps by then there will be a democratic President of Syria, speaking Arabic with an Estonian accent.
---
A version of this article originally appeared on DW
Richard Martyn-Hemphill is an editor at the Intersection Project. Will Mawhood is the editor of Deep Baltic.
Header image – Consecration of the Latvian flag at a DP camp in Germany, 1940s [arhiv.org.lv]
© Deep Baltic 2017. All rights reserved.
Like what Deep Baltic does? Please consider making a monthly donation – help support our writers and in-depth coverage of Estonia, Latvia and Lithuania. Find out more at our Patreon page.