by Will Mawhood, RIGA
In 1992, a year after Latvia's declaration of independence received almost universal recognition, including from the fast-fragmenting Soviet Union, Vaidava released a new single. Entitled "The Underground", it was in essence a faster version of their protest anthem "Metro", although with a slightly perkier rhythm and rather clunky English lyrics.1 Sped up, its still-mournful tune now took on a faint, and seemingly accidental reggae vibe. And in place of foreboding and anger, the lyrics now sketched a vague picture of unspecified figures driven below ground by an unelaborated sense of ennui. "Every day you going down in subway, because you got no better place to go".
You might think that on the restoration of its independence Latvia would have left the metro and all those old battles behind it just as easily, tweaking the old tunes and fitting them with new lyrics for a new reality. And in many ways, you would be right. Latvia and the other Baltic countries, uniquely for former Soviet republics, are members of the EU and NATO – also uniquely, they never joined the CIS, the trade and military cooperation network centred on Russia that emerged from the collapse of the Soviet Union. From being a byword for prosperity and development in the USSR, Latvia is now a relatively poor, though fast-growing, member of a much more prosperous and developed union: the EU. From being the western edge of one union, it has become the far east of another.
The metro and its story would seem to have no relevance to Latvia's recent past, or the future most people seem to want.
And yet, the theme of the metro still turns up in the media and in public discourse more than you might expect – even if, more often than not, its defeat is presented as an unequivocal reason for celebration or its total impossibility and unsuitability are emphasised.
It's January 2018 and I've arranged to meet up with Aleksandrs Feltins from the Riga City Architect's Office. Feltins, a bespectacled, affable figure, studied in the Netherlands before returning to Riga, the city of his birth. He's now a project manager, and researches the quality of the urban environment, focusing especially on the sprawling Soviet-era districts on the rim of the city, whose condition varies quite considerably depending on where you are. "There are a lot of opportunities in Riga – there are not so many people, but lots of empty space", he tells me.
We get onto the subject of the metro system, and like almost everyone I speak to in Riga, he dismisses the idea of any kind of revival. "If you have a metro, you have a high-volume, fast, very efficient core network, with shuttle buses that are just making short, frequent trips to neighbourhoods from tram or subway stops. That's not for Riga," he says. "That's like Vienna, or…" He trails off.
He can, though, remember the city the original project was meant to serve – and you could say his family were pretty representative of the kind of people who it was intended for, or who had caused it to be necessary. Feltins was born in 1984 into a Russian-speaking family in Purvciems, a then-new sleeping district just beyond the tangled ribbon of railway tracks that enclose the city centre; his father worked at the VEF plant nearby. Later in his childhood, they moved across the river to Zolitūde, an even newer sleeping district on the edge of town, from where they commuted to school and work by train and trolleybus. Zolitūde would have been the second stop going westwards if the first line had been built, and his father would have been able to reach his workplace in well under half an hour.
"I remember how many people were on the street – it was crazy. For example, on Brīvības iela,2 you had this bus stop in front of Rīgas Mode. You could barely move there. That was in 1989 – still with all these workers and all this military and stuff."
For something else had happened in the interim: Riga's population, having peaked in 1990, had gone into steady decline. The decline was fastest in the early to mid '90s, as the city lost around 2% of its population year-on-year, largely due to the departure of tens of thousands of residents with roots elsewhere in the Soviet Union; since then, it has been slower, but a year of growth wasn't seen until 2014. This has mirrored the broader picture in Latvia, which saw a sudden jump in emigration around the time of its accession to the EU in 2004, and an even bigger one in 2008, when a property bubble of extraordinary dimensions was burst by the financial crisis, causing unemployment to soar. As the capital and economic hub, Riga has been hit less hard by this turbulence than smaller Latvian cities, and a slight uptick in population can be seen in recent years. But nonetheless, it's clear the logic behind the metro – that Riga that would continue to expand, potentially indefinitely – no longer applied.
As Feltins interprets it "this means that actually we can keep the old system – it was obsolete in the '80s, but now it's OK, because we don't have such movement patterns at all."
I point out that, all this notwithstanding, people still do need to move around the city in order to get to work – "they do indeed, but they can use, for example, a car".3
But those cars have brought problems of their own. An article by Egīls Zirnis that appeared in the Latvian daily Diena in 2008 suggests remorse among some and tacitly admits that many of the problems that the metro was designed to address still remain, opening with the sentence "it would have been better to build the metro with Moscow's money instead of choking in traffic jams today, some supporters of pragmatic politics sigh sadly, remembering the VAK protest that happened twenty years ago". But the rest of the piece, which covers the history of protests against the metro, and the prospect of it perhaps being resuscitated in the future, debunks the suppositions of this seemingly imaginary figure at length – arguing, first of all, that Moscow's excellent rapid transit system hasn't preserved it from suffering traffic jams even more nightmarish than Riga's.
Later on in the article, Ija Niedole, the lead engineer for the metro project, points out that the city is no longer the one which the metro was designed for: "A metro system would do little to reduce the current jams", she opined. "Workplaces are now mostly in the centre, which the metro wouldn't really serve. When it was planned, there were strong microraions in Riga, factories and big flows of passengers towards them." This was no longer the case – no longer are thousands of people pouring across the river, pouring from all over the city, towards VEF and its adjacent factories – in fact, VEF was privatised in 1999, being split into a number of smaller companies; those that still survive employ a small fraction of the numbers who once worked at the plant. Other experts are polled, and there are concessions that it might be effective in clearing some particular clogs, and that overall mobility might be improved, but no voices unequivocally in support of metro construction were included in the article – aside, of course, from the wistful anonymous figure referred to in the introduction. The prohibitive cost is mentioned. "The illusion that there wouldn't be traffic jams [if the metro had been built] is just the same as the illusion of communism" Pauls Timrots, a transport expert, is quoted as saying.
4
The metro system has also become a key part of the story Latvia tells itself about how it regained its independence, a staging post on a road that was significantly shorter than anyone would have imagined at the time. The formation of the Helsinki-86 human rights' group, the budding of the green movement, the attack by Soviet OMON troops on the disobedient Latvian Supreme Soviet and the subsequent declaration of independence – just one among a quickening flurry of signs that the people were becoming ever less cowed, ever bolder. Finally, the failure of the coup in Moscow and the recognition of restored sovereignty from the rest of the world – and then, it can sometimes seem, history ends, its principal themes satisfactorily resolved.
In a series of short, slightly playful taped reminiscences commissioned in 2018 for the hundred-year-anniversary of the declaration of the Latvian state, the DJ Roberts Buivis chose to speak about the metro. "Some joke that you can tell a person's age by whether they can continue the first lines of the popular songs from their youth", he began. "So, as an average '80s teen, whose favourite groups were Līvi and Jumprava, to the word "metro", I would answer 'nav draugs'". Buivis lists a number of the principal reasons people opposed construction, then slots the struggle against the metro neatly into its alloted place in the independence struggle: "with victory in the battle against this absurd project, we took one step further towards independence for Latvia". All other significance, one could have believed, was dead.5
And yet, as is often the case with bits of history that seem to point along a road not taken, it won't quite settle down and be historical.
"Now 30 years have passed since the idea about the metro was discarded and since then a new generation has grown up. They don't see the metro construction project as a threat, but rather as an unimplemented exotic project, which would place Riga next to other developed metropolitan cities."
I was just getting ready to publish the first instalment in this series of articles when I came across the quote above. I had been invited to a Facebook event with a title I didn't quite understand ("Mets"). At its head was a slightly grainy, evidently dated pair of images featuring a woman standing on a street by Riga Central Station, peering at a public displayed poster: a design for the interior of a metro station. I recognised it straight away: it was one of the metro stations from the early 1980s – for Central Station itself, in fact, and so would have been somewhere directly below her had the metro system been built. Scanning further down, I saw the English-language text quoted above. A Latvian photographer called Eva Saukāne was putting on an exhibition that would deal directly with the metro project and its traces.
This sounds like something I need to investigate, and I finally make it there on the final day of its run. The exhibition was being held at the Museum of Architecture, which is in the very oldest building in Riga Old Town – one of the so-called "Three Brothers", a trio of slightly lopsided houses dating from the late 15th century, and a favoured stop-off on tourist tours of the Old Town. The collection of media Saukāne has put together features footage of '80s architects and politicians confidently discussing the project, blown-up photocopies of newspaper articles from the time, and, of course, the still-astonishing station designs from the original competition – all of this against an incongruous backdrop of ancient stones etched with worn German inscriptions.
Saukāne contributes a few images herself, which treat the station designs as a canvas. Over these eerie, era-less black-and-white images are pasted slightly transparent, slightly faded images of contemporary pedestrians and tourists: people taking selfies, wrapped up against the cold, laden with shopping bags. I think I see what she is trying to do with these – by being presented as a background in this way, the stations are taken out of the realm of the speculative, the hypothetical, made plausible and even mundane. The figures pasted on stroll through the old-fashioned futuristic tunnels quite naturally, not looking around them with any particular surprise or interest – as would of course have been the case, given enough time, had the system been built. The imaginary past-future-present and the real present are here being literally pressed together.
Saukāne comments in an interview with the Latvian photography website FK – "at no point in the exhibition do I try to explain what really happened",6 and this is true. If you knew nothing about the subject, you could easily believe that the exhibition was documenting and commemorating a historical phenomenon, just about distant enough to be worthy of archival and artistic attention.
I write down one sentence from an article reproduced on the wall. "Metro celtniecības laiks, liekas, nav aiz kalniem" – "the time for metro construction, it seems, is not behind the hills" (this last a Latvian idiom meaning, approximately, "far away"). That's by S. Lazda, from the newspaper Zvaigzne ("Star"). It was published in 1978.
As I sit down on the rough stone floor to take a few notes, I hear voices speaking English: a Latvian guide is showing round a British couple. It's clear from what I can make out that the exhibition was not a pre-planned part of their itinerary for this trip; most likely they were on a walking tour of Old Riga, the Three Brothers were pointed out to them as significant and they popped in to take a look from inside. But the museum contains these jarring, striking images – snapshots that don't quite tally with what's outside. They seem wrong, at some gut level – even to visitors, I would imagine.
So she tells them the tale of the metro, how people reacted to the proposals once they were able to (specifically citing fears over Russophone immigration) and why it was not built. "And that is why we don't have a subway, which maybe would be nice…" she finishes. Then in a few sentences she gives a truncated, selective rundown of Latvia's history in the intervening years. Latvia joined the EU, gradual growth turned into a sudden and wild property boom, with people taking out colossal loans and buying houses and cars on credit. Then how its collapse led to soaring unemployment and widespread impoverishment, and a surge of Latvians leaving the country7 – for the UK, in large part, although with Brexit many are now thinking about coming back.
The day after attending the exhibition, I meet up with Eva Saukāne in the courtyard of a city centre cafe. Here, we're just a street and a few minutes' walk away from Esplanāde, the central park which would have been host to one of the system's three interchanges, and where the 1988 protest against the metro system was originally intended to take place. Saukāne was born that same year, the year the metro project was abandoned, and she is in a way herself a symbol of the changing generational attitude towards the system: her parents protested against construction, while her own feelings, like those of many Rigans who don't actually remember the Soviet Union, are rather less clear-cut. "A metro to me always seemed like a symbol of the metropolis… At that time, it seemed like a very Soviet symbol, and nowadays…"
The reaction among those even younger is often even less ambivalent, it seems. She describes young kids reacting to her exhibition by asking "why don't we have a metro? That would be so cool, Riga would be such a stylish city". This makes perfect sense; they are conscious primarily of what their city lacks compared to others they're aware of – perhaps ignorant of the debates of the past or perhaps just uninterested by them. But it's very evident that this attitude is not widely shared by those who came of age before or around the time of independence, even among those who were actually involved in the project. Indeed, in many cases, they may want nothing more than to forget it.
She tells me about the creator of one of the metro-related artefacts that she included in the exhibition. When she contacted him to get permission to use his work, he denied all knowledge of it, even after confirming he was indeed the owner of the name she had been given. Claiming he was bothered by lots of mistaken enquiries about the subject, he requested that she not contact him again or give him any more information about the subject.
"Who should I put as the author?" she asked.
"Put no one" came the reply.
(The museum which she had borrow the item from, she says, later confirmed that she was not mistaken in the author, and that he had in fact donated the artefact in person).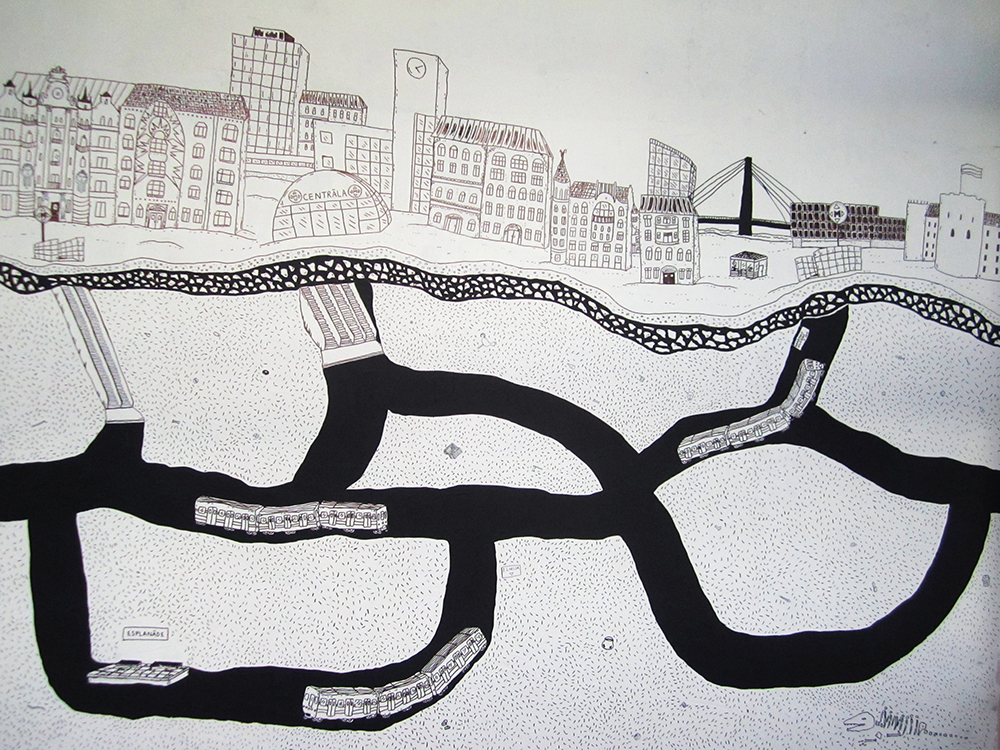 Saukāne is not the only younger artist to have taken inspiration from the project in recent years.
Laura Ķeniņa is a Latvian-Canadian artist who recently spent several years working and living in Riga. She had created and designed an imaginary metro system for her graduate project at art school in Halifax, and in 2014, she decided to return to the theme for Riga's annual Survival Kit art festival. Her sketches exhibited at the festival drew inspiration from the abandoned metro project, giving it an alternate-history spin.
The premise was that the conventional account of events was false and that the project had in fact never been sidelined; instead, work had secretly continued, and the system was to open shortly. The backstory she devised for the project reflects the very different economic and geopolitical situation in which Latvia then found itself, more than 25 years on from when the project was abandoned. She envisaged, instead of workers from Russia or Kazakhstan, immigrants brought in from other EU countries facing financial difficulties at the time: Bulgarians, Greeks.
"If you laid the two next to one another for people as an option, I'm not sure which they would think was better", she comments.
The sample stations depicted in the sketches are primary-coloured and welcoming, quite unlike the stark and streamlined original designs – the walls of Draudzības (Friendship) are printed with lines of omni-coloured figures holding hands, like a paper doll chain; Lāčplēša (Bearslayer), which takes its name from Latvia's national hero, is washes of bright green with seemingly randomly placed panels featuring cartoon sketches of a warrior, a dog and a bear.
Ķeniņa didn't just take liberties with the design. She also made an effort to redo the map, taking into account what might be relevant to the people of present-day Riga, renaming some stations, giving access to the airport and avoiding certain predominantly industrial districts that have gone into sharp decline since Latvia's exit from the USSR. This prompts the question of whether if it had been begun and continued after Latvian independence, the design would have imposed a kind of logic on the city that would quickly have made little sense. "If it had been built the way it had been planned in the '80s then you would see a kind of decrepit system that was built for a part of the city that didn't happen, or suburbs that didn't happen, or a future that didn't happen", she says. And Ķeniņa's version of the map certainly does make rather more sense in the context of the city that exists now.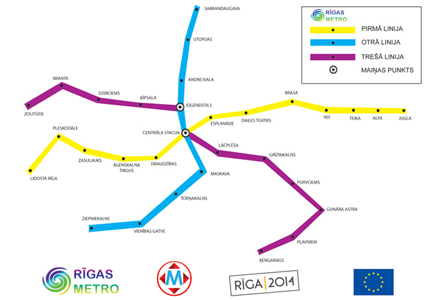 Ķeniņa doesn't remember getting a particularly strong reaction from the audience when the project was unveiled at Survival Kit, only a few questions at the exhibition opening from locals. "People were either not aware of it, or people were vaguely aware but hadn't thought about it in a long time – it had kind of fallen off their radar."
It definitely seems to be back on people's radar now. In the years since then, while not exactly being a constant topic of debate, it certainly has popped up far more frequently than one would expect of an uncompleted infrastructure project first dreamed up more than four decades ago.
The person best qualified to interpret this minor, but intriguing upsurge in interest that Saukāne and Ķeniņa's work testifies to is Mārtiņš Eņģelis, a Riga-based artist and tour guide, and the local authority on the metro project. When we met in a central Riga café in late summer, he was moderately bearded and wearing an "Ā" jumper (for Āgenskalns, the district of Riga where he gives tours). Drinking kvass ("it's the taste of Eastern Europe" he tells me), the particular consonants he drops suggest he's spent a lot of time in or around London.
He's in his early thirties, and so the original battle over the metro was well before his time, and originally from the countryside of southern Latvia, he's not a Rigan himself. He says that the metro has fascinated him for over a decade, but it's the last four years in particular when he's become actively involved in researching and commenting on it. The trigger was an article on the metro in a popular science magazine, which he compares disparagingly to National Geographic: "it was bollocks. All of the things were wrong. There was a design in a picture that was just a proposal – it was not an accepted design." He explains his interest partly in terms of the significance his adopted city would have achieved had the metro been completed. "In a Latvian context, when you have a tram, that's a city. In the world context, when you have a metro, that's a city – that's a metropole, that's something you can take seriously."
Eņģelis has spent much of the period since then writing a book on the subject of the metro, which he hopes will correct a lot of the myths and misunderstandings that continue to surround the project. Midway through 2017, he also coordinated and led a series of walking tours, each one tracking one of the three planned metro lines from one side of the city to the other. The tours were fairly physically demanding – Riga is geographically quite a sprawling city – but, Eņģelis tells me, they drew a small but deeply engaged group of participants. A few people even went along to all three, covering a total distance of over 70 kilometres.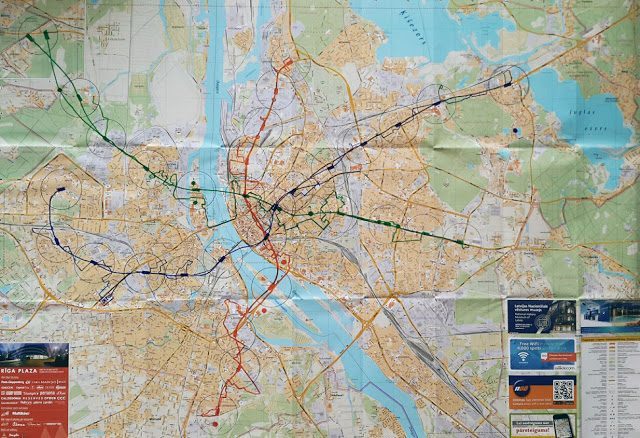 What's particularly intriguing is the make-up of these groups in terms of age – of the roughly twenty people who took part, apparently only one man could actually remember the metro project when it was still a going concern. Most participants were between 25 and 30.
"They show the biggest interest in it, because they have a completely blank picture… they don't have the idea of context – why? Why not?"
Those below this age don't remember, or remember only vaguely, the disputes over history and language that flared particularly fiercely right before and after the restoration of Latvia's independence – and for which the metro project served as both a proxy and a symbol.
But it seems to me that it's perhaps as much to do with what they have experienced as what they haven't. Knowing only post-independence Latvia, their sense of the world has inevitably been shaped and bounded by the geopolitical decisions the country has made over the last 30 years.
We talk about the increased level of interest that Eņģelis has observed among young Latvians in visiting cities like Moscow and Minsk. "They've never seen anything like that. They've never seen a proper Soviet town; they've never seen a town that is not just Sovietised – it is Soviet. Minsk was basically built after the Second World War [during which the city was almost entirely destroyed] – it is as Soviet as possible".
Their parents, of course, could have gone easily if they'd really wanted to, although perhaps they wouldn't have considered Minsk a particularly thrilling destination – while going westwards would have ranged from complicated to impossible, depending on who you were. Younger Latvians have grown up with an almost totally reversed situation: London or Amsterdam or Barcelona are a Wizzair flight away, but going east – out of the EU – means getting a visa, requiring considerable expense and paperwork.
We get onto talking about the various designs made for the project at different stages of its life, and how well they would fit into the very different, significantly less densely populated city of today.
"When you look from the perspective of today, three lines seems totally ambitious. When you look from the perspective of 1989, it's not," says Eņģelis.
And the second and third lines provide an insight into Soviet thinking about how and where booming, fast-expanding Riga was to grow, and where those drawn to the city were to be accommodated. Unlike the first line, these two did not reach the stage of full geological and technical studies being carried out and so were always potentially subject to change. The second line in particular stretches considerably beyond the built-up part of the city, including a number of stations in locations that are fairly baffling from today's perspective. After making stops on the tranquil river island of Ķīpsala and in the Pārdaugava suburb of Iļģuciems – the latter a district considerably augmented under the Soviets – it plunges into the thick forests that muffle Riga. Three stops later, it ends up at Buļļu Kāpa (a station that appears to have been named for a nearby sandbank rather than any kind of settlement), technically still within the city limits but some distance from any urbanised part of Riga, and with some way further to go before you get to the strip of development that lines the coast.
It was these projected stations that presented the greatest difficulty for Eņģelis when he was leading the metro tours. He tells me of the trouble the group had in Kleisti, a village that is today notable for little more than a branch of Riga Strādiņš University, but which would have hosted the penultimate station on this stretch of the line – although it wouldn't have actually been in the existing settlement but nearby, further into the forest: "you need to take a detour, because there's no road there… so you take a little forest path, and then you reach a place that might be where the station was. But in the vision of planners and in the vision of urban developers, there was something planned for around now – basically this time around when we live".
So what is the situation now, this time around when we live? Has the metro project been totally consigned to nostalgia and speculation, fodder for art and alternate-universe dreaming? Well, not totally. There are still some, although I wouldn't say a great number, who see a rapid-transit system as a realistic and desirable solution to the capital's ongoing transport problems.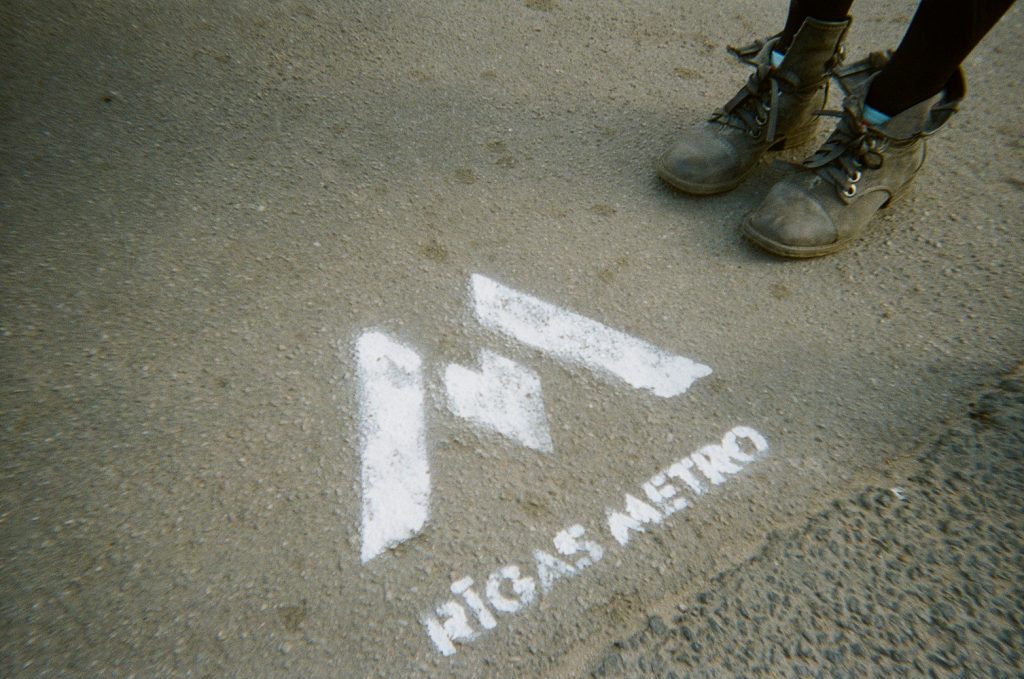 In December 2016 Viesturs Veckalns, a staff member at Riga Technical University, penned an article for the widely-read Latvian-language Delfi news platform advocating just that.
Veckalns opens with a slew of dispiriting statistics about the slow speed of traffic in the city: to cross Riga from Imanta to Jugla, the start and end points of the original metro line, takes an hour and a quarter by public transport (with the metro, Rigans were promised, they'd be able to achieve it in just half an hour). It's unsurprising that, in these conditions, more and more are turning to the use of private vehicles, thus bringing about even greater levels of congestion – not to mention increased pollution.
He addresses a number of the concerns that were raised in the '80s – pointing out that the complicated conditions under Riga are no longer such a problem, given the advances in geotechnical engineering that have taken place in the intervening decades.
And he argues the worries that were so often expressed in the late '80s that Riga would be left behind, saddled with an expensive and outdated means of transport, have not proved accurate.8
"Just as no one has invented anything better than a bicycle, no better means of high-speed city transport has been invented than a metro system." He observes that metro systems are regularly begun in other cities; Copenhagen is still constructing its system begun in 2002, Helsinki is expanding its route – completely new systems are planned for Dublin and Vilnius.
This isn't to say that Veckalns has a lot of sympathy or fondness for the metro as the Soviets envisaged it. He criticises its "Moscow-type model", with its deep lines and widely-spaced out stations, as being unsuitable for a city of Riga's size – pointing out semi-incredulously that the distance between two of adjacent stations on the first line planned (Oškalni and Raiņa) was 1.8 km. What he advocates in its place is a "light metro", of the kind found in Copenhagen, with predominantly shallow stations and short, possibly driverless trains. Unlike the original system, it would avoid doubling up on existing transport lines, meaning that it would really just be the core of the original extensive network, filling in the parts that trams and overground railways cannot satisfactorily cover.
Indeed, it's very noticeable that all of Veckalns' reference points are in Western Europe – metro systems in Stockholm, Helsinki, Lyon, Copenhagen, Milan… – Riga is placed in its context in a Western, and largely Nordic environment. The centre from which key funds would come has also shifted west – to Brussels in this case. Veckalns admits that, at a likely cost of 200 million euros per kilometre, the Riga metro would be an extremely expensive undertaking, but points out that the EU has provided ample funding for the extension of metro systems in Sofia and Warsaw. He concludes "this time we are living in a different economic and political system. Construction techniques and planning methods have been improved. New times offer new opportunities. Let's use them!"9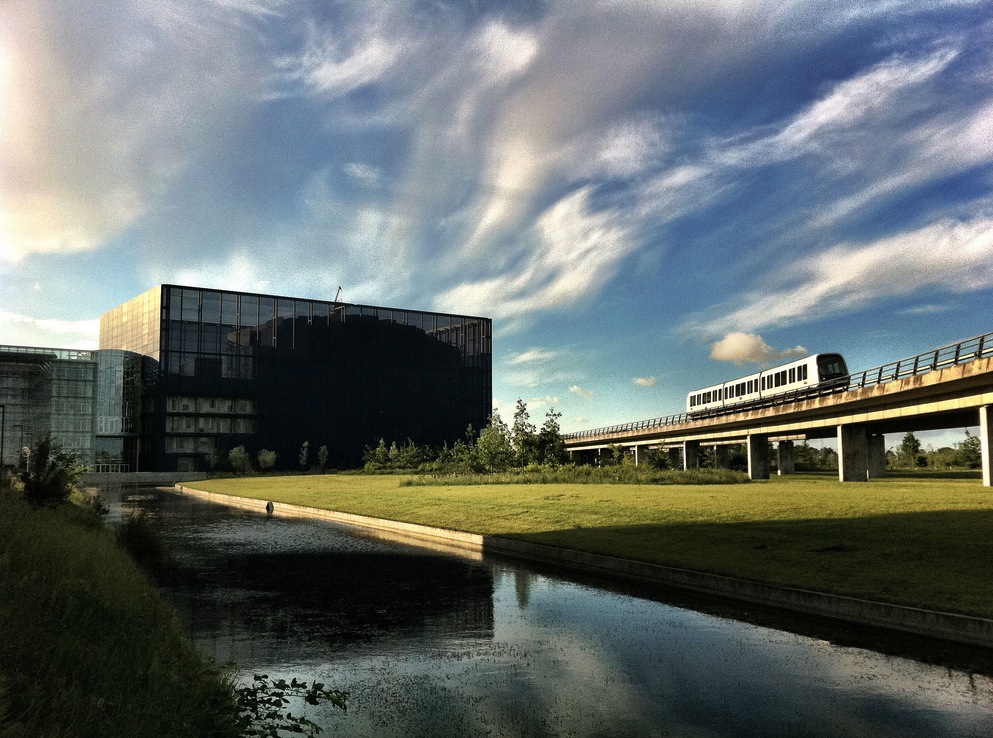 Veckalns is not totally alone in the public sphere in advocating a return to the project. In January 2018, a petition calling for the creation of a metro system was posted on the website manabalss.lv10. Its sponsor is Progress Platform (Progresa Platforma), an organisation which describes itself as dedicated to the promotion of "liberal, feminist and ecological ideas". The accompanying blurb takes a primarily environmental tack, focusing especially on the beneficial side-effects of reducing the number of cars on Riga's streets.
However, it seems not to have been an appeal that has particularly resonated with the public at large: at the moment of writing, just over 500 people had voiced their support for the appeal through the platform, some way off the stated target of 10,000 – the point at which it would have to be debated in the Saeima.
In February 2018, an hour-long discussion about transport policy in Riga was broadcast on Latvijas Radio 1, with five guests presents – architects, civil servants, city planners and activists, all with relevant knowledge of the subject. Notionally, the programme had as its startpoint the petition for a revival of the metro, posted on manabalss.lv just the month before, but as quickly became clear, the invited guests were united only in their conviction that the plan was neither realistic nor desirable.
Guntars Ruskuls, one of the guests present, points out that although the number of people living in the city is sufficient to justify a metro, other aspects are completely different from the time when it was first planned – no longer is it the case that 20,000 people are leaving VEF at 5 o'clock and going into the street. What's more, the lines would have to be made considerably longer due to the growth of nearby commuter towns since Latvia's exit from the Soviet Union – and this would make it still more expensive.
"We can't afford the Northern [Transport Corridor], how can we afford a metro?" another guest observed.
The Northern Transport Corridor (Ziemeļu koridors) is a bypass, essentially, although one of enormous cost and scale. Since Riga lies pretty close to the geographical centre of Latvia, and most of the main roads in the country lead either to or from the capital, there is no easy way to get past the city from north to south, or west to east without going through it. This is a problem for the rest of the country, but it's also a problem for the capital.
Estimated to cost over a billion euros, the road will pick up traffic outside the city limits, funneling it over a bridge a little up the river from the city's centre. The initial technical work for the first stage was completed in 2005, but construction has still not begun – it's been pushed back and back, and is currently slated to begin in 2022. Should it be delayed much longer, there could be quite serious consequences – as Riga City Council has declared: "if the Riga Northern Corridor for traffic is not built, by 2031 at rush hour, traffic intensity over Riga's bridges will be 34% higher and average driving speed throughout Riga will decrease by 12%".11 Viesturs Veckalns is called for comment, but his arguments fail to convince anyone present, and with 50 minutes of the discussion still remaining, the presenter announces that they will cross a metro system off the list of possible transport solutions.12
There are other reasons why people are sceptical of projects of this scale, one of which is painful past experiences. I come across a vox pop conducted by the website Apriņķis, gauging reactions to Veckalns' concept of a revived, reworked system. Four people are polled, of whom a couple express qualified interest. One man, Agris, whose occupation is given as "unemployed", concedes that it would be useful in reducing traffic jams at rush hour, but expresses concern "that we won't end up with the most expensive metro system in the world – like how it was with the Southern Bridge".13
The Southern Bridge (Dienvidu tilts), begun in 2004, had the eternal aim of reducing congestion in the city centre – in this case by directing vehicles down the river, away from the crossings on either side of the Old Town. A relatively straightforward, unspectacular structure, distinguished only by its garish orange suspension system, it became dogged by rumours of corruption and money-laundering, and was quickly dubbed "the Golden Bridge". Three years after it opened, a group of students at the Riga branch of the Stockholm School of Economics concluded, having compared it with 170 other similar projects, that the bridge could have been constructed for half the cost.14
Eņģelis himself comments "If there was a plan to build a metro as it was – well, looking at what happens in Riga now, that would be a disaster. The tempo of construction, the professionalism in construction, the waste of money – and yes, we do like to waste money in Riga."
Perhaps fittingly, Apriņķis is a site intended to serve the inhabitants of Pierīga, as the ring of small towns just outside Riga's city limits are collectively known. Pierīga has been the only one of Latvia's six statistical regions to see consistent population growth since the restoration of independence. In nearby villages like Ķekava, Mārupe, Babīte, Ulbroka, just a few minutes' drive beyond the city limits, new developments have sprung up – like mushrooms after rain, as Latvians say. Between 2010 and 2016, more jobs were created in this doughnut-shaped statistical region than in the whole of the rest of the country put together (excluding Riga itself).15 And it's fair to say it would be a challenge to live in most of these places without a car.
Indeed, you can see these towns, and the car, as among the winners of the changes that happened, both economic and political – just as the Soviet-built microraions, and the metro, were among the losers.
Saukāne's exhibition includes a short clip from a documentary made in the mid-'70s in one of these microraions: Purvciems, then a newly-built district, just outside the looping railway tracks that confine the historic inner city. The narrator is shown speaking to a group of middle-aged and elderly Latvian-speakers in Purvciems, which they seem to have only recently moved to. The celluloid is sun-drenched, slightly yellowing and timeworn, like the fabrics and books you find shoved at the back of cupboards in Soviet-era flats in the Riga suburbs, but the low-rise block houses that overlook them still look raw, newly-painted and box-fresh, and the area seems not fully consolidated as urban – the grass by the bench where they stand is ragged and knee-high. They've seen the construction of multiple new districts and how Riga has changed, the interviewer begins; how will it go on to develop, do they think? "In 30 years, those of us who are still alive won't recognise Riga… this district will be the city centre" he's told.16
They couldn't have been more wrong. Purvciems is still home to almost 60,000 people, but it's very clear that this is the city's past, far more so than other districts that are considerably older. Just a little outside the city centre, it feels considerably more peripheral than it actually is in geographical terms.
The capital's "Sustainable Development Plan until 2030", put together by the Department of Development at Riga City Council and issued in 2014, makes this very apparent. Interspersed by pictures of Riga drenched in Mediterranean sunshine, the development plan sets out a very different vision for the city from the one the Soviets once had; a list of qualities the city should possess by 2030 begins with "compact, resource-conserving and smart". "By fulfilling this vision", it concludes, "Riga will become a fully-fledged Northern European metropolis".
The microraions are not represented in the photos. "In order to boost the attractiveness of living in the suburbs, the priority has to be to revitalise the living environment in the microraions and mixed-habitation-type areas. Preference has to be given to regeneration, not to the intensification of the existing microraions – i.e. to the building of new accommodation there. New construction is considered only in exceptional circumstances".17
The metro may be irrelevant to the plans that the city is making for itself, but it remains a palpable, if faint presence – almost, perhaps, a reproach; like a wild ambition you told everyone about in your younger years, full of certainty you would do it. It might not be too strong a word to describe it as haunting Riga.
But for all that, physical traces are almost totally lacking. The only real exceptions are – or at least were until quite recently – the boreholes, research shafts driven down to get a sense of the makeup of subterranean Riga. Over a hundred were constructed in and around the city from 1979 onwards, where they remained throughout the ensuing years while the project was delayed and sidelined and then finally abandoned, becoming receptacles for the litter of passing Rigans, vulnerable to vandalism and at the mercy of those hunting for metal to sell on.
In 2014, a private company carried out a comprehensive survey of the remaining boreholes for Riga City Council, and the full 70-page report is available online. The pictures included show boreholes lined up in front of well-known landmarks like the newly-built National Library, sticking up mysteriously in remote patches of woodland, alongside the city canal. Most of those shown are just a pipe poking out of the ground, some are clearly stopped up while others are open – a handful are vaguely reminiscent of periscopes, peeking up at those above ground. Still others seem to have vanished entirely, swallowed up by private property, although by exactly whose property is often unclear. The accompanying notes for a borehole believed to be on Mazā Nometņu iela read – "no specific address, street not the shortest. Place on map not precise, coordinates rather approximate. All surrounding yards private property. Did not manage to get everywhere." A photo of a disordered clump of undergrowth on the island of Lucavsala, overlooked by the TV tower, is captioned "place where a borehole should be".18
But in the last few years the vast majority even of these have been removed; in 2017, the city council took the decision to remove all of those still remaining on public land, citing fears that subterranean water sources could be polluted. "It's similar to being at the dentist's, when they're cleaning out the nerve canal; you could also say that about [the situation] here, the canals which an infection could get through – or to be more precise, pollution of the lower groundwater levels – they are being closed up" Askolds Kļaviņš, the head of the environmental department, commented at the time.19 A small handful of boreholes are known still to survive on private land, though.
Aside from that, there are barely any remains of the great subterranean dream – only the never-completed blocks of flats for the first flow of metro workers, on Granīta iela at the very edge of the city; these feature in Saukāne's exhibition, bleak in the snow, with gaping, holed windows. It's been claimed that there were residential buildings constructed for the expected influx of workers in the suburbs of Ziepniekkalns and Imanta, but these have never conclusively been identified, if they do indeed exist.
It's perhaps unsurprising that some people have filled in this absence with conspiracy theories, with rumours and fabrication; it may simply be hard to believe that quite so little can survive of a project quite so big. Eņģelis cautions me via email that "there are major hoaxes roaming the internet", and I do start to notice comments that drop dark hints turning up here and there – either about sinister things going on now or sinister things that went on under the Soviet Union.
In 2009, a question-and-answer article on the website jauns.lv, which paired readers' enquiries with relevant experts, was posed the question "is there a secret metro system in Riga?" (other topics answered included the merits of cow's milk vs powdered milk and whether mushrooms could in some situations cure cancer). A reader had noticed on Google that "strange things" were appearing below AD Dam, an artificial peninsula sticking lengthwise into the River Daugava between the two main road bridges. Below, he noticed, there was a line that appeared, named "metro". He says he's heard that there's a site at Granīta iela that has a guard on it, supposedly the depot station for the metro. "Maybe a metro line was also constructed. And what else is happening in subterranean Riga?" he closes, ominously.20
A comment appeared one day when I was checking the English-language Wikipedia page for the metro system. "On the 2018 year all the existing system of tunnels, stations, vestibules, depots and trains in process of the privatisation". Judging from the edit history, it was done by someone who is either a near-full-time Wikipedia vandal or who has a truly impressive range of interests, but with its awkward English and knowing use of buzzwords, it seemed like a missive from an alternate timeline, like something that could indeed be in progress.
Of course, the metro project's primary influence on the city of today is the gaps it left, or the gaps it didn't fill. During my conversation with Eņģelis, he mentions Augusta Deglava iela, a road that runs from the city centre south-east out towards the district of Pļavnieki, a brand new development at the time the metro was still under consideration. There were planned to be four stations on this road alone – although this would have been on the second line due for construction, and so may well have been subject to changes even if work had gone ahead on the first one. "You see a lot of empty spaces, because there was a plan not only to build a metro station but to build the whole infrastructure."
As we speak, I get an almost visceral sense, as I have throughout this project, of just how pliable a city can be; the sense that a city – an old, gritty and industrial city like Riga, even – can simply be pressed and reshaped like wet clay between your fingers, and that people just have to readjust their lives around the shapes that result. I've seen in other cities how a rapid transit system, these lines below the ground, can shape the world above it; imposing a new scheme on the city, making certain areas more desirable and others less so, implanting nodes that will thereafter seem logical and obvious points for things to group themselves around. I wonder what my Riga would be like with something similar lying beneath it, which regions and corners would flourish through having passengers funnelled through them and which would decline, suddenly ill-placed within the city's logic.
---
"Parallel to the "real" Riga there exists an imagined city, of a kind which has never been – namely, Riga which is not."
That's from one of the works that has been of the most use to me during this project: Jānis Lejnieks' book Rīga, kuras nav (literally "Riga Which Is Not", but officially translated into English as "Never-Built Riga"). This is essentially an annotated compilation of all of the wild and weird fantasies people have projected onto Riga at one time or other, from a seaplane harbour on the lake of Kīšezers at the city's eastern boundary to an electrified tramline zipping through the forests to the seaside at Jūrmala – and the metro, of course.
And over the centuries it's been in existence, Riga has been a canvas for some very big ideas. It's not hard to see why – a disproportionately large city for its part of the world, sitting at the gullet of the Gulf of Riga's gaping mouth, gaping wide to take in influences and goods brought from elsewhere; it usually sat on the eastern or western or northern edge of whatever empire it formed part of, and thus could readily be exoticised as strange or uncanny or modern or advanced by those closer to the centre. And since 1918, it's been the single great city of a small land; the one that travellers from distant countries might just have heard of.
Possibly the boldest, and almost definitely the most expansive, of all those that Lejnieks writes about is a scheme called Lielrīga (Greater Riga). Lielrīga was the great dream of the republic of the interwar period, and was dreamed up by a man called Arnolds Lamze. Inspired by the garden city movement, Lamze dreamed of puncturing Riga's density by filling in the fields and forests that surrounded it, filling them up with leisurely laid out houses with gardens of their own. Lamze called himself an urbanist, a very ahead-of-his-time sounding label, and was responsible in 1923 for the creation of the Rīgas Jaunizbūves Birojs (Riga Bureau of New Construction). His ambition, if realised, would have tripled Riga in size, making it vastly bigger than any other in the Baltic region bar St. Petersburg, and taking the city as far as the Lielupe, the river which runs alongside Jūrmala, as well as extending beyond the natural barrier of the great lakes that have always curtailed it on the eastern side.
Formally, nothing was ever completed – the traces that remain are barely even traces, and are often in the most incongruous places; for example, in the inner-city, primarily Soviet district of Dārzciems (literally "Garden Village"), so named because of Lamze's intention to fill in the periphery of the city with low-rise, low-density, spaced-out housing. But at the same time, it's oddly prescient, in terms of the shape, if not the form the city's extension was to take; as Lejnieks laconically puts it "the Lielrīga project is not realisable, but it is being realised…" He continues "[Lamze's] projected development of the city in an eastern direction took shape, in truth, with the building of the multi-storey residential regions [the microraions]. The garden city idea became reality in the '60s and '70s with the construction of gardening cooperatives – although only in a deformed manner, as seasonal, not permanent places of residence".
So the dream was realised, in a way, although under a very different system, and perhaps less by dreamers than by realists, those adapting to a set of highly limiting circumstances. The metro, though – that also implied its own vision of the city, and in that sense they got it totally wrong. The areas of forest and field where, it was implied, bold new socialist dreams would take shape are still, for the most part, forest and field.
But for all that it's mostly associated with the interwar period, Lielrīga as a concept has appeared in public debate since the restoration of independence – although it's been in a rather different way, and for a rather different reason. Around 2004, not long after Latvia acceded to the EU, the term began being thrown around again, after Andris Ārgalis – at that time the Chairman of Riga City Council – advocated incorporating Jūrmala and the ring of small, but densely populated councils that borders the city into a Greater Riga city region, pointing out that this would not only ensure tax receipts remained in the city, but also, by pushing Riga over the million mark, make it easier to obtain funds from Brussels (cities with a population of over 800,000 are able to apply for EU funding directly, bypassing the financial ministries of their respective countries).21
There was a clear difference in type between Lamze and Ārgalis's proposals, though. Lamze was proposing new developments, and indeed an entirely new way of viewing development, while Ārgalis was essentially just suggesting enclosing what already existed in a different way – addressing the fact that, thanks to the growth of the satellite towns, money made in the city was now escaping its grasp. The idea appears to have been to create a Greater Riga by sleight of hand rather than by doing anything to change its conditions.
I remember what Owen Hatherley said when I talked about the lack of demand for reviving the project in any form: "what I will say is that a capital of a small country in the EU having a metro system is not that weird. There's not really any reason why Leipzig should have an S-Bahn and Sofia should have three lines and Riga have nothing."22
But people certainly seem to find it weird.
I've several times brought up the subject when in conversation with people in Latvia; I posted on Facebook asking for people's impressions about the merits of a metro system – whether the Soviet plan, or a revived, adapted version – but the answers I got were repetitive. Riga is too small, the project is unnecessary, I was told again and again.
But many cities of around Riga's size, and some that are even smaller, clearly feel that something metro-like is appropriate for their situation. What's more, so disproportionate in size for the country is the capital (with more than a third of its total population, rising to half if you include Pierīga), a lack of belief in Riga's importance seems tantamount to a lack of belief in the significance of Latvia itself. There's an odd inferiority complex I often come across that sometimes manifests itself as literal inaccuracy, rounding down to an absurd degree. You can see this exemplified in a brief Latvian Public Broadcasting feature from January 2018, available on YouTube under the title "Why Does the Idea for a Metro Return Every Now and Then?", which includes a brief interview with Mārtiņš Eņģelis (he talks about the appeal of the project being partly about making Rigans feel that their city can compare with London, New York, Moscow…). There's then an attempt at a vox pop just outside Riga Central Station: "for 300,000 inhabitants?" says a man smoking, impatiently, "we don't have money for that".22 Riga's population, of course, even after the precipitous decline of the last three decades, is still comfortably above 600,000, and in the last few years has started, very tentatively, growing again. But it's a revealing comment – and from a city that not long ago was pushing a million inhabitants.
It's not just this, of course – there are practical and financial considerations too and there are genuine pragmatic reasons for being grateful that particular system was not completed as planned at that particular time. A friend contends that "we dodged a bullet", making the point that had there not been significant protests and public opposition in the late '80s, the project would most likely have begun, financed largely with Moscow's cash. What, then, would Latvia have done on the collapse of the Soviet Union just a few years later? The now-independent nation would have been left with its capital a building site, a fantastically expensive prestige project half-completed beneath it, short of the resources – both financial and material – necessary to finish the project, and all the while facing the enormous challenge of disentangling itself from the networks into which it had carefully been intricated.
Edgars Bērziņš himself, the former chief architect at Pilsētprojekts (the construction institute of the Latvian SSR), who was tasked with making the case for the metro in the press and public debates and did so in eloquent fashion, no longer appears to feel a desire to do so. Bērziņš now runs his own architectural practice in the city; when I visited him at the Latvian Architects' Union, in a historic building on a pedestrianised and tourist-heavy street in Riga Old Town, just a couple of minutes' walk from the Museum of Architecture. He's happy to talk about his memories and impressions of the time, but seems mildly amused by my interest in the whole thing. When I refer to him "defending" the project during the debate, he gently corrects me – "I really didn't defend it; I explained". He tells me that even had it been started, it would have been abandoned.23
You don't have to believe that the changes that happened in Latvia during the period covered – the achievement of independence, and thus no longer being ruled, and overruled, from a distant capital – were bad or unjust to notice that an absence of agency is still felt by many in Latvia, albeit for different reasons this time. During our conversation, Saukāne stressed the attractiveness of the solidarity and purpose she senses in the late '80s – and hints that she senses this as a lack in contemporary Latvian society. "Being against the Soviets was very uniting – you had some threat to be united against. And now you've reached that really great dream, and now you don't really know what to do."
Trying to find the right word to describe her feelings and those of her fellow young Latvians with regard to the metro, she initially went for "nostalgia", then changed her mind when I pointed out that in English this only has positive connotations. We settled on "fascination" in the end. But still, even if it's certainly not nostalgia for the Soviet Union, it is nostalgia for something.
The metro was of course defeated largely because significant numbers of people decided to pursue an idea that was pretty big and audacious itself – resurrecting a state that was fifty years gone, and whose existence could only be acknowledged in the most selective and prescribed ways. But that was then. I wonder if in thirty years' time there will be many more Rigas that are not to add to the book.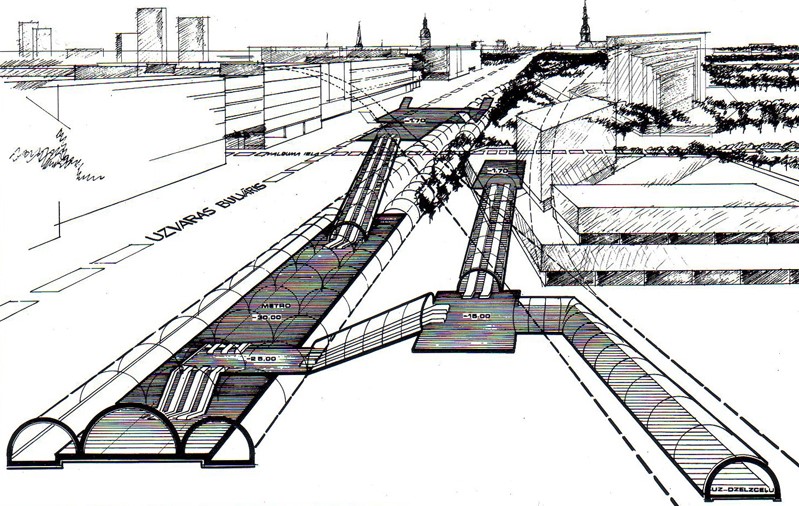 1. The anti-metro protest anthems recorded by Vaidava and their contemporaries Jumprava are discussed in the previous instalment, "Struggle" https://deepbaltic.net/2019/06/28/the-unbuilt-soviet-metro-system-that-haunts-latvias-capital-struggle/
2. Brīvības iela, which translates as "Freedom Street" is Riga's central thoroughfare. From 1950 until 1991 it bore the name Ļeņina iela (Lenin Street)
3. Feltins had told me earlier that he'd walked to our meeting from his home in an inner-city district not far away, and that he didn't himself own a car, so I took this comment as being simply a description of the dominant mindset in Riga, not an endorsement of it.
4. Quotes from "Pirms 20 gadiem Rīgā apturēja metro būvniecību" https://www.diena.lv/raksts/latvija/riga/pirms-20-gadiem-riga-aptureja-metro-buvniecibu-601506
5. Quotes from "Metro – nav draugs" https://lr2.lsm.lv/lv/raksts/latvijas-simtgades-stastu-raksti/metro-nav-draugs.a99998/
6. The interview is available to view here: https://www.youtube.com/watch?v=mTTylYoX-KQ
7. The sheer scale of the bubble, and the huge surge in unemployment that followed (briefly topping 20%) means that by most measures Latvia was one of the countries worst affected by the 2008 financial crisis, if not the worst affected of all.
8. See the previous instalment, "Struggle", for the fears expressed by some in the anti-metro movement that by the time the project had been completed, a more modern form of mass transit would be in operation.
9. Quotes from "Viesturs Veckalns – Rīgas metro" https://www.delfi.lv/news/versijas/viesturs-veckalns-rigas-metro.d?id=48336167
10. https://manabalss.lv/par-rigas-metro-sistemas-izveidosanu/show. Mana Balss, which translates as "My Voice", is a website which enables Latvian citizens to propose ideas, with the guarantee that they will be discussed in the Saeima, the Latvian Parliament, if they receive enough support.
11. Quote from "Izstrādāts Rīgas Ziemeļu transporta koridora 1.posma tehniskais posms/ būvprojekts
12. The full discussion is available here under the title "Satiksme Rīgā. Ja nevajag metro, kā attīstīt transporta plūsmas un kustību pilsētā?" https://lr1.lsm.lv/lv/raksts/krustpunkta/satiksme-riga.-ja-nevajag-metro-ka-attistit-transporta-plusmas-u.a99316/
13. Quote from "Aptauja Rīga: Kā vērtējat iespēju Rīgā būvēt metro sistēmu?" http://www.aprinkis.lv/sejas-novads-zinas/kultura/item/42675-aptauja-riga-ka-vertejat-iespeju-riga-buvet-metro-sistemu
14. Details from "Southern Bridge could have cost twice cheaper" https://bnn-news.com/southern-bridge-cost-cheaper-14325. Alleged money laundering referred to in "A Bridge to Disaster" https://www.baltictimes.com/news/articles/21857/
15. Statistic taken from "Pierīga – ekonomiski visdinamiskākais reģions Latvijā" http://www.aprinkis.lv/index.php/ekonomika/4000-pieriga-ekonomiski-visdinamiskakais-regions-latvija
16. This clip can be seen at the very start of the FK interview with Saukāne https://www.youtube.com/watch?v=mTTylYoX-KQ
17. Riga's Sustainable Development Strategy until 2020 (Rīgas ilgstpējīgas attīstības stratēģija līdz 2030. gadam) is accessible here: https://www.rdpad.lv/wp-content/uploads/2014/11/STRATEGIJA_WEB.pdf
18. The survey is accessible here http://www.sus.lv/sites/default/files/media/faili/rp_robezas_ierik.noverojumu_un_izpetes_urbumu_stavokla_novert.pdf
19. Quote taken from "Rīgā aizbērs pēdējos uz pašvaldības zemes esošos metro izpētes urbumus" https://www.lsm.lv/raksts/dzive–stils/vide-un-dzivnieki/riga-aizbers-pedejos-uz-pasvaldibas-zemes-esosos-metro-izpetes-urbumus.a169886/
20. Quote taken from "Metro Rīgas pazemē, piens no pulvera?" https://jauns.lv/raksts/zinas/230860-metro-rigas-pazeme-piens-no-pulvera. This question was answered by Ija Niedole, the lead engineer from Pilsētprojekts on the original system, who reassured the reader than nothing had been built (although presumably official denials would not be particularly persuasive to someone genuinely holding a belief in the existence of a "secret" system)
21. This article expands further on Ārgalis and his reasons for advocating a Greater Riga https://www.apollo.lv/4768986/lielriga-vai-mums-vajadziga-miljonu-pilseta
22. Quote from interview conducted by the author. Owen Hatherley's thoughts on the Riga metro project are featured at greater length in the first instalment of this series of articles, "Beginnings" https://deepbaltic.net/2019/05/30/the-unbuilt-soviet-metro-system-that-haunts-latvias-capital-beginnings/
23. Quote from "Kāpēc ideja par metro Rīgā laiku pa laikam atgriežas?" https://www.youtube.com/watch?v=luJHZ3vnWsM
23. Bērziņš was the chief engineer at Pilsētprojekts, the construction institute of the Latvian SSR, in the late '80s, when work was scheduled to begin on the metro project. Some of his comments at the time are included in the second instalment of this series of articles, "Struggle" https://deepbaltic.net/2019/06/28/the-unbuilt-soviet-metro-system-that-haunts-latvias-capital-struggle/
---
Will Mawhood is the editor of Deep Baltic
This is the final instalment of a three-part series on the story of the Riga metro. You can read the first part, "Beginnings", about the birth of the project in fast-growing post-war Riga here, and the second part, "Struggle", on how in the late '80s the project became a target of the burgeoning movements for environmental protection and Latvian autonomy, here.
With profound thanks to Mārtiņš Sīlis for clarification about translations, and to Mārtiņš Eņģelis for clarification about technical details.
© Deep Baltic 2020. All rights reserved.
Like what Deep Baltic does? Please consider making a monthly donation – help support our writers and in-depth coverage of Estonia, Latvia and Lithuania. Find out more at our Patreon page.