by Richard Thompson, RIGA
Consider this a brief overview of the underground cultural life of Riga. This city is a hive of activity, with a variety of platforms supporting musicians, filmakers, artists and writers alike, creating an atmosphere conducive for a healthy 'underground' scene to exist. Events occur weekly in a plethora of venues, from dive bars to concert halls, nearly all year round.
During the 1980's, when Soviet cultural oppression was waning from its previous heights, the tenacious and experimental artist Hardijs Lediņš formed NSRD, an off-kilter post-punk/avant-garde group which operated under the radar of the state authorities. In addition to making music, there were Situationist-style actions and absurdist performance pieces, like the annual pilgrimage along the railway line to Bolderāja (an estuarial suburb of Riga) where participants read poetry and played various instruments – some of which were homemade. His influence can be felt to this day in many of the practicing artists in Riga.
Now in 2018, there are a number of venues in Riga that allow for the exploration of underground music and art. The most easily accessible of these was Chomsky – a Berlin style dive-bar on Lāčplēša iela that hosted numerous local and international artists in its five years of existence. This environment enabled collaboration and networking, with the bar providing a lively, and occasionally chaotic, backdrop to music as varied as noise, free jazz, improvisation, ambient electronics and more traditional singer-songwriters. Unfortunately, however, Chomsky closed down in 2017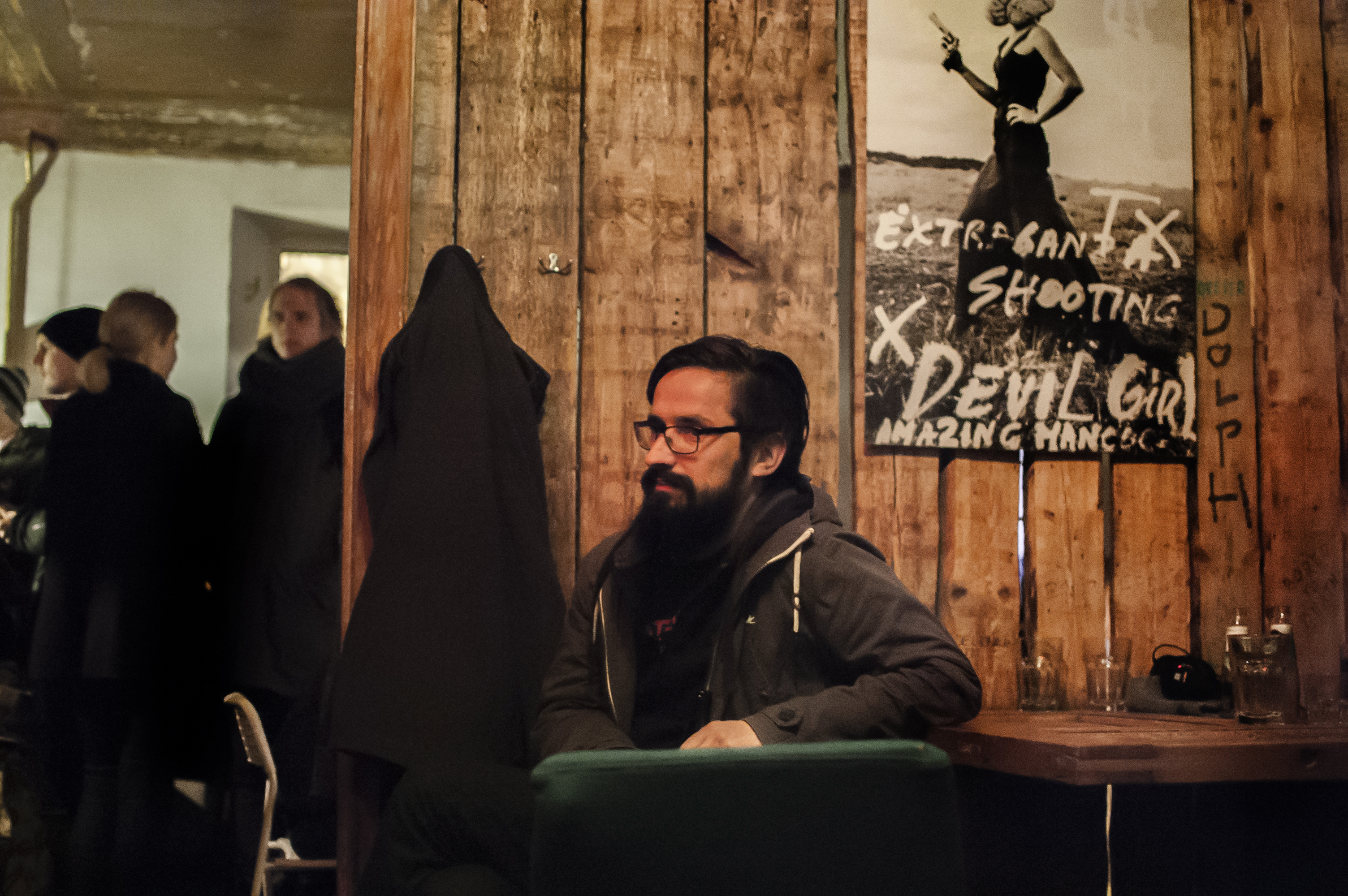 Since its closure, a new bar called Čē has opened. Situated on Dzirnavu iela, it now hosts concerts and poetry readings, although it has a different ambience to the much-missed Chomsky.
One Chomsky regular was the poet and 'sound artist' Jelena Glazova. With multiple releases and collaborations on her curriculum vitae, she is one of the more prolific personalities in the Riga scene. She also helps curate the irregular Blood of a Poet (Dzejnieka Asinis) festival, which is currently on hiatus, and Poetry Without Borders – both events meld poetry and musical performances.

On Avotu iela can be found Bolderāja, a bookshop and cultural space that offers English, Latvian and Russian texts, alongside events such as poetry readings, experimental music and chess evenings. On occasion, the space is also transformed into an art gallery. Its rough decor, tired furniture and heaving bookshelves give it a homely feel that is a far cry from the touristy bustle of the Old Town. Nearby is Aleponija, a small, rustic bar which comes complete with a friendly cat; it, too, now has regular gigs for touring artists.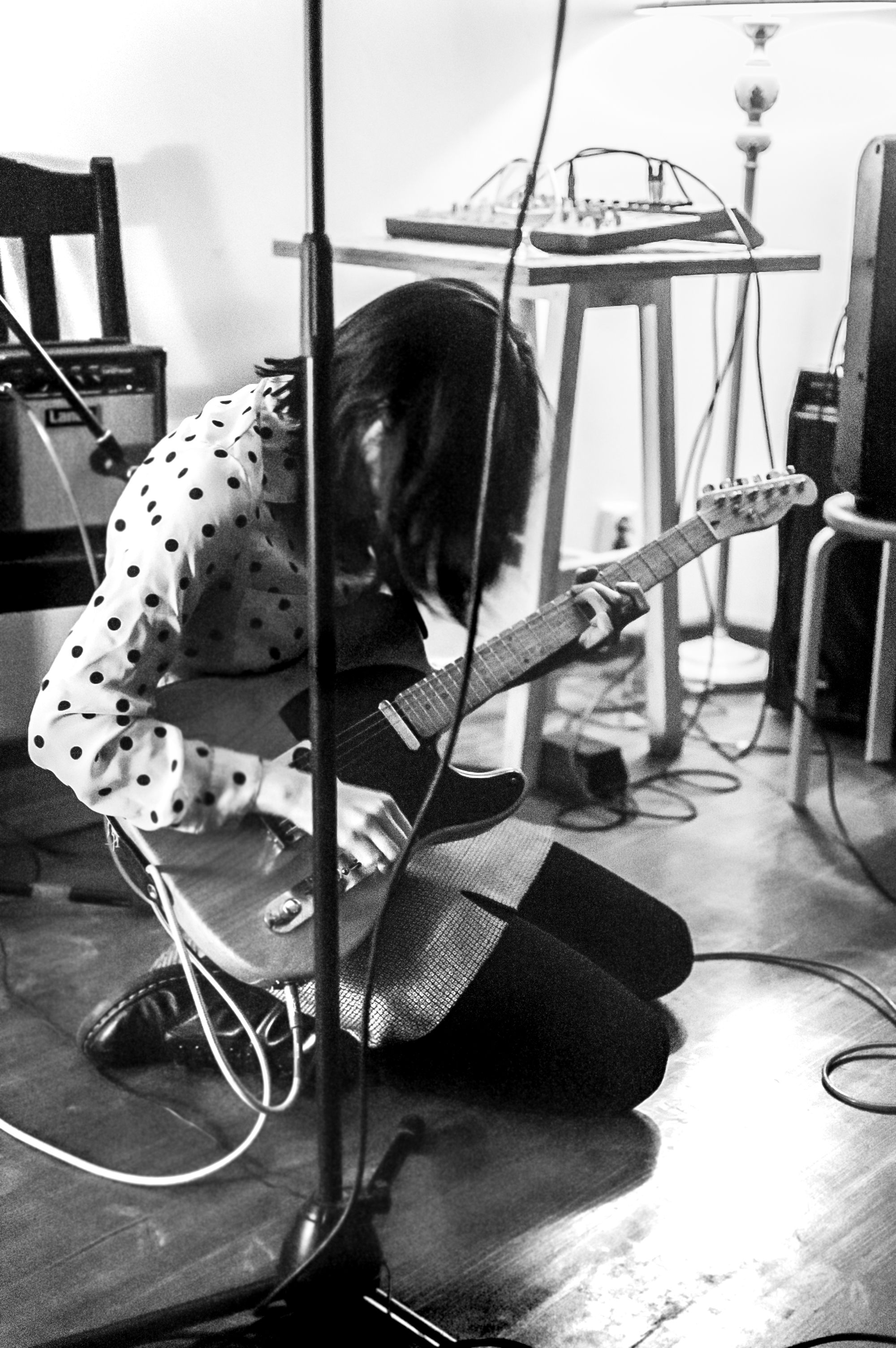 Over the river is Pils, situated on Eduarda Smiļģa iela in the up-and-coming Āgenskalns district of Riga. Here too is a venue that hosts national and international musicians from labels such as the super-hip Blackest Ever Black, to the local symphonic and the electro-acoustic composer Platons Buravickis. It also has a fine selection of European beers.

Another notable venue is Kaņepes Kultūras Centrs (KKC), a wooden, two-storey building in the heart of the city, right next to the Estonian Embassy. Housing a bar, a small cinema room and a larger performance space, KKC regularly provides a hospitable environment for activist events, music and other artistic practices. During the day you can relax with a coffee, whilst in the evening the downstairs environs fill up with a mixture of artists, Erasmus students and curious tourists.
KKC is a hub of cultural life, and has hosted shows for many Latvian and international artists over the period of its existence. Two particular acts who I have seen there stuck in my mind: Waterflower and Elizabete Balčus.
Elizabete Balčus played a packed show at KKC in support of her debut album release. Her music could be described as neo-psychedelic dream pop, created from surprising, collaged, genre juxtapositions; it works with a strong visual aesthetic that draws upon modern surrealism – artists such as Rocio Montoya and Eugenia Loli – contemporary fashion and geometric imagery.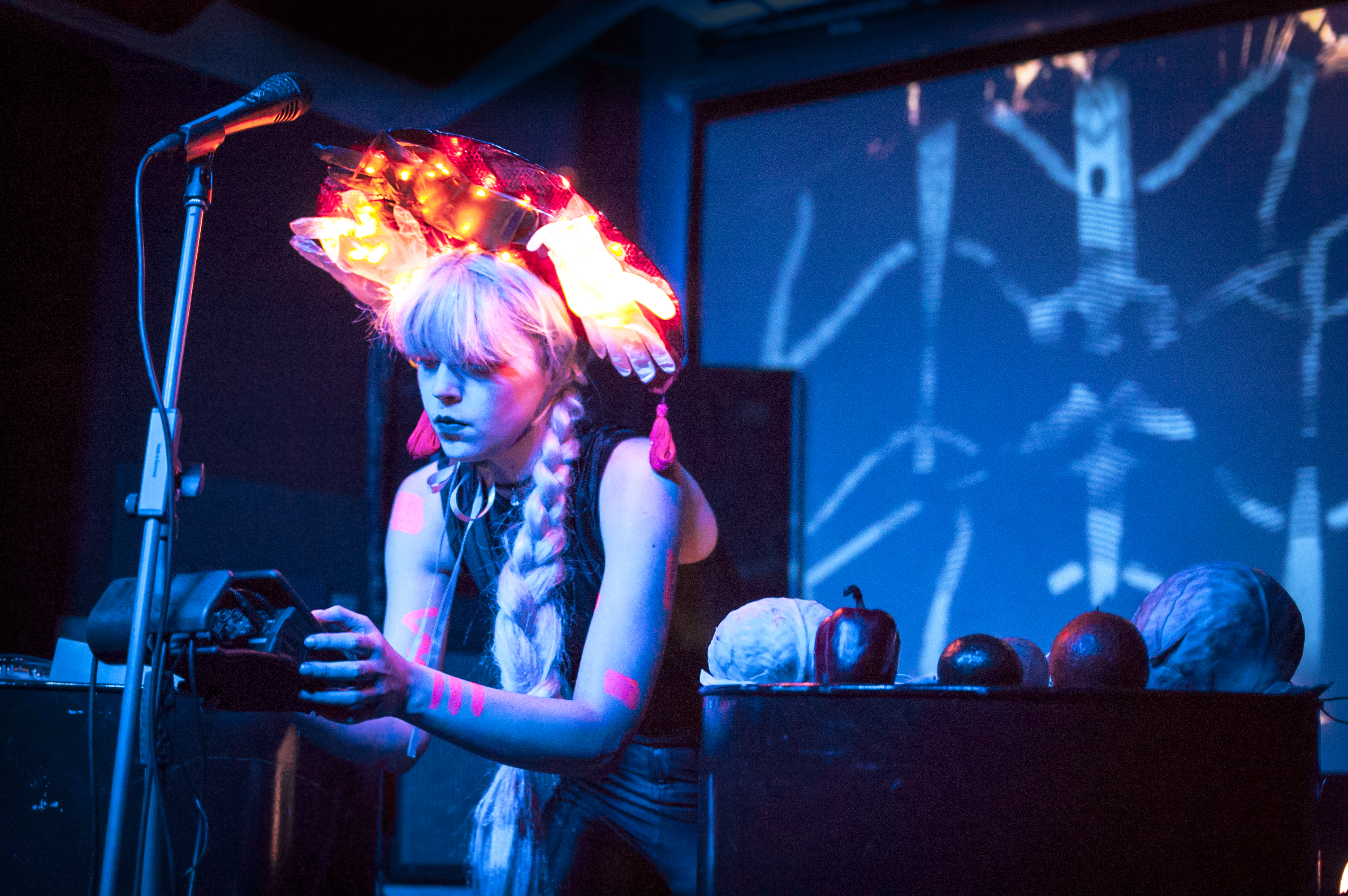 Waterflower is the project of the challenging, multi-disciplinary artist Sabine Moore, and over the last ten years has developed from a bedroom recording project to a live act. She now regularly tours outside of Latvia. In the live setting she creates an audio-visual journey into an atmospheric and ethereal world, pulling influences from nature and science to create music that could be considered Bjork-esque but is wholly her own thing. Her instruments, in keeping with the project's name, are plants, which she uses via a capacitive synthesizer, a capacitive midi controller and an electro-magnetic impulse reader, which converts the natural plant signals to midi.
For a while Sabine was involved with Vairāk Kauna Nav, a free-form group exploring free improvisation and playful 'in the moment' song creation, drawing on a palette of bass, electronics, drums, flute, guitar and spoken word. Unfortunately, they rarely play live, but if you do manage to catch them, you may hear some influence of Hardijs Lediņš and NSRD creeping in.

The annual Skaņu Mežs (Sound Forest) festival of "adventurous music" takes place in October, with the occasional event scattered throughout the rest of the year. For the affordable ticket price it offers a fantastic line-up of boundary-pushing music alongside more accessible styles. In past years it has featured the likes of Squarepusher, Autechre, Peter Brotzmann, Marissa Nadler, Nate Young (Wolf Eyes) and Latvian talent like the guitarist Edgars Rubenis, composer Toms Auniņš and explorer of industrial sounds Gas of Latvia.
It was at Skaņu Mežs where I first encountered ½H ½W. We walked into a wall of sound punctuated by double-kick drum blasts and skeletal guitar, reminiscent of modern black metal but infused with the gnarlier ends of noise. Rumour would have it that they are currently building up towards an album release.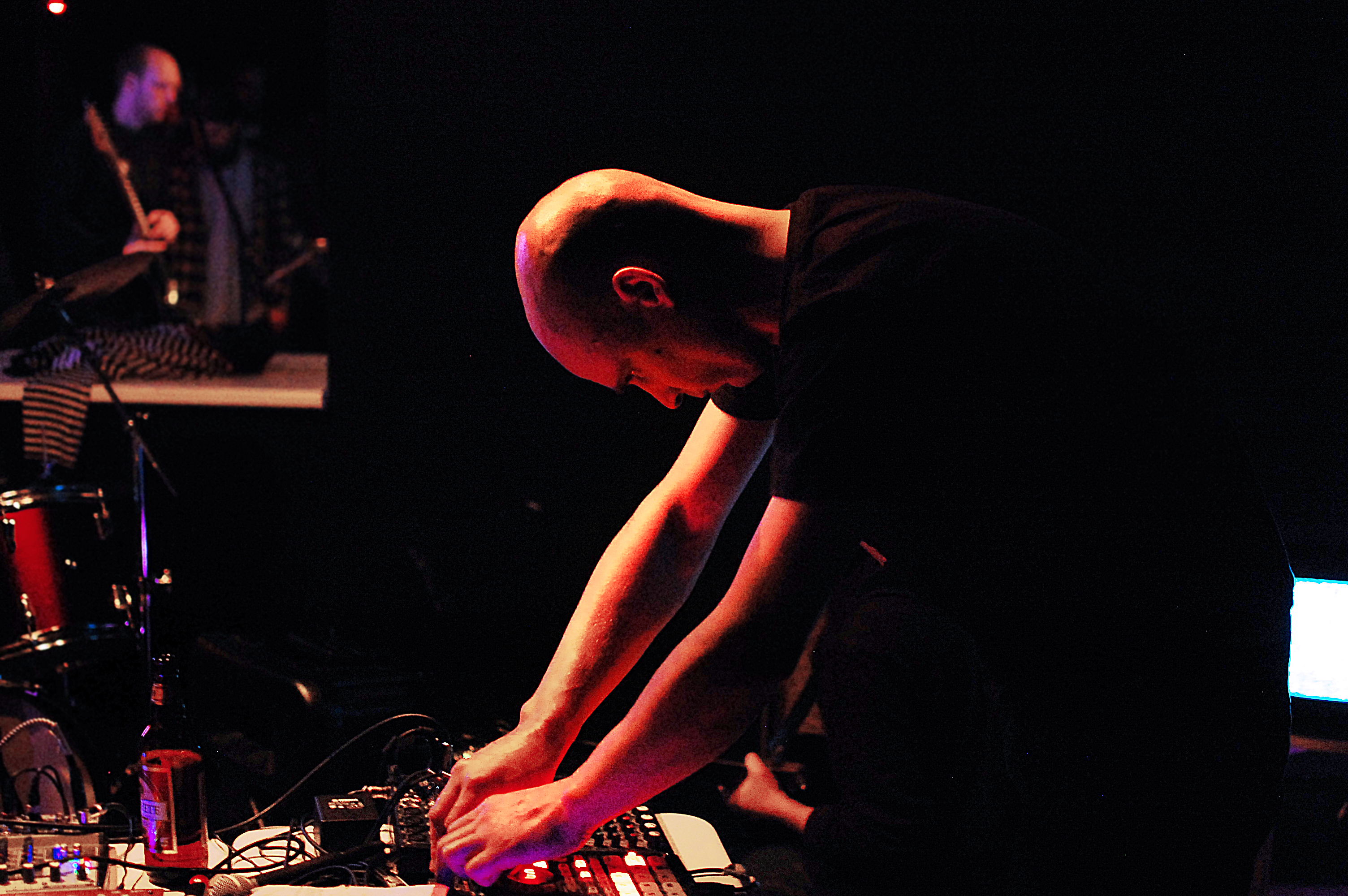 A looming presence over the experimental scene in Riga is Andris Indāns, who has been making music of various kinds since the late 1980's, predominantly under the name Gas of Latvia. His music explores ambient, industrial and IDM genres, creating cinematic spaces in an almost Coil-esque way.

Radio Naba provides not only a well-respected radio station, but also a record label, and, up until recently, a venue called Nabaklab. One of the radio DJs and key personnel is Dambis of Inokentijs Mārpls; he is responsible for Odekolons, a regular compilation of Latvian punk, hardcore and alternative bands that helps keep the Latvian punk scene visible.
Nabaklab was one of several basement venues in the Old Town of Riga, alongside Depo and Aptieka. It hosted numerous shows covering most different music genres. Unfortunately, it closed down in 2017, but I believe new premises are currently being sought.
Speaking of Depo, this venue is a frequent host to Sturm, the long-running (now for nearly twenty years) club night that celebrates the Latvian industrial and EBM scene. As a label they have released albums by the aforementioned Gas of Latvia and by Claustrum. The latter is another well-known industrial act, whose sub-bass heavy side project Clausthome rattled my insides one year at the Process Festival – a four-day event which explores experimental and analogue cinema.
With all these avenues enabling you to dip into adventurous and off-the-wall music, you would be hard pressed to visit Riga in a week when something intriguing and boundary-pushing wasn't occurring.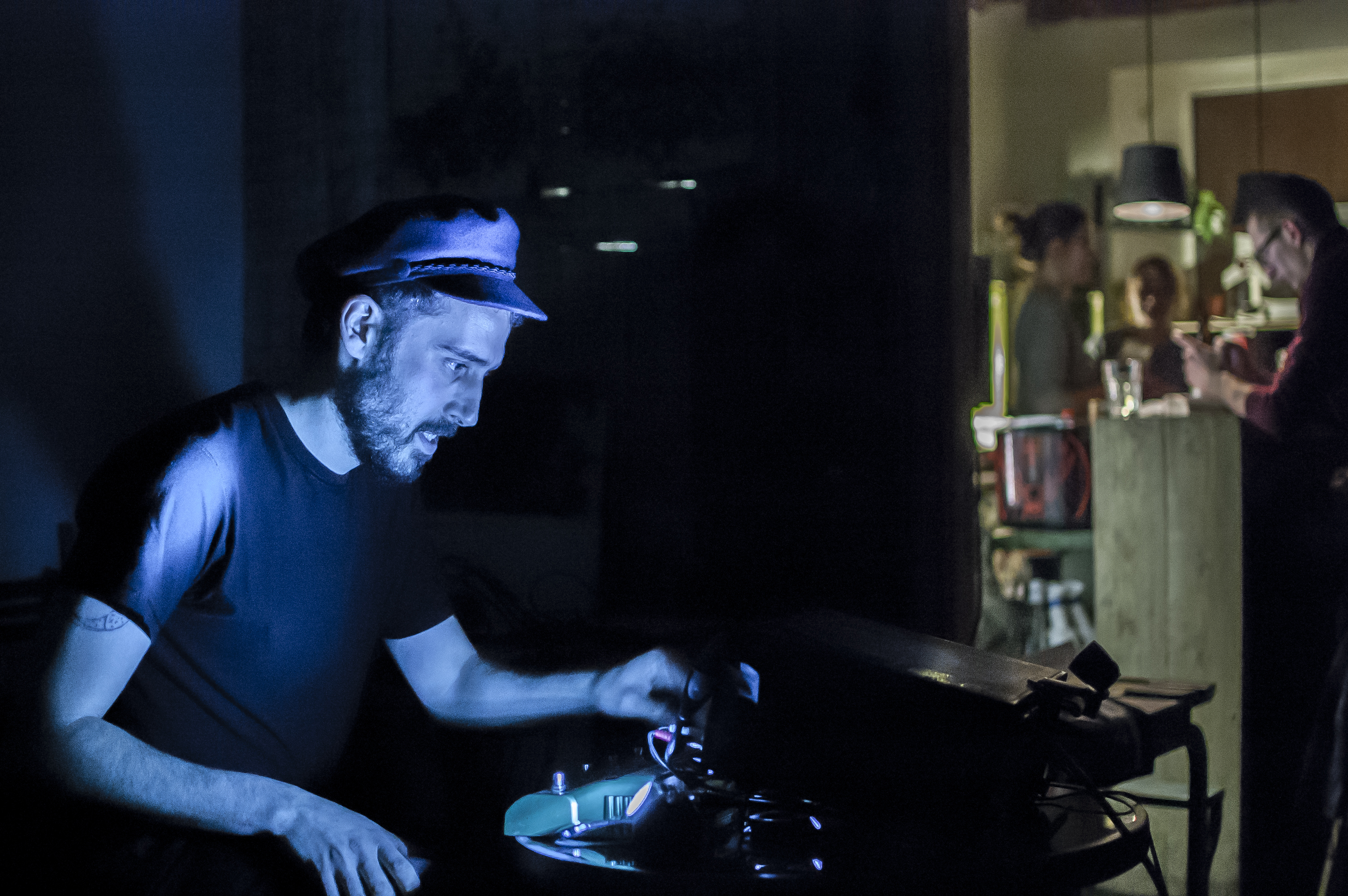 ---
Richard Thompson runs the record label Liminal Noise and plays in Lost Harbours – a free folk collective split between Latvia and England. He has been active for fifteen years as an international concert promoter (Culture as a Dare / Psykick Dancehall), cultural instigator, zine writer and musician. Originally from Southend-on-Sea, UK, he now lives in Riga, Latvia.
Header image – Sabīne Moore in performance art mode at Klub DEPO [Image: THORE Photography]
© Deep Baltic 2018. All rights reserved.
Like what Deep Baltic does? Please consider making a monthly donation – help support our writers and in-depth coverage of Estonia, Latvia and Lithuania. Find out more at our Patreon page.