Interview conducted by Sergej Timofejev
On 7th December 2017, "Forštate", an exhibition of work by the Danish photographer Stig Stasig, opened at the Latvian Museum of Photography. This is an attempt to take documentary photographs of Maskavas forštate [an inner-city district of Riga], or Maskačka, as it's known for short – an area which in the 1990s was wrapped in an aura of criminality and ambiguity, one which still has not completely disappeared. At the same time, it's a very personal message.

It so happened that in 1991 Stig Stasig won a significant photography competition, and the rather impressive prize he received allowed him to spend a whole year in Riga, where he photographed street scenes. But the pictures he took there lay in his archive undeveloped until he finally got around to them in 2015. What then appeared and started to take shape in front of him was a story about a particular neighbourhood and its inhabitants.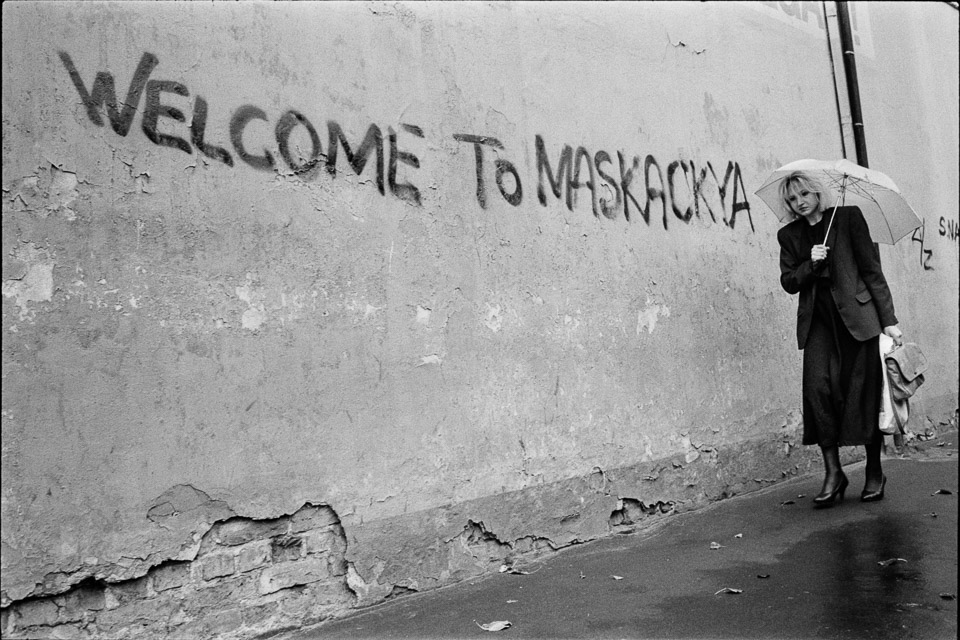 But he felt that the project was still not finished, not concluded, and he decided not only to offer these photos for exhibition at the Latvian Museum of Photography but also to try to return to those streets and find out something about the people who he had photographed back then – having at the time no idea who they were and not having thought too much about it.
His conversations with people there, in which he attempted to reconstruct the fate of the characters in his photographs – and during which, quite often, contradictory and ever more unbelievable accounts of events were expressed – became another level of the exhibition. With the help of the augmented reality application Overly – familiar to people in the Baltic states – these stories are displayed in front of visitors to the exhibition. All you have to do is to touch your smartphone or tablet to a special map of Maskačka displayed on the third floor of the museum. On the second floor it's only possible to see the black and white photos from 1992, but on the third floor, supported by the most varied "material evidence", Stig endeavours to think about the very essence of documentary photography, and about the development of photography – "from analogue to digital, from photo to video, a transition from classical ideas about good photography towards an open process of thinking – or an investigation into the medium of photography itself."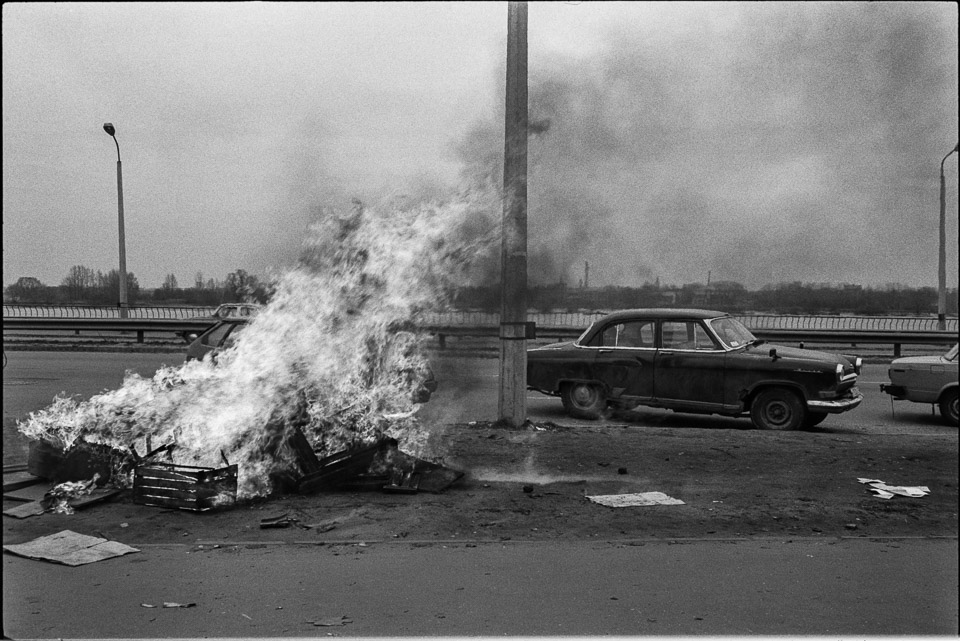 I met with Stig multiple times, and as a result of these meetings, I wrote a text which also became a part of the exhibition – it can be found on the third floor. But the conversation below was recorded in a Belgian pub just a couple of steps away from the museum. When we had finished, I accompanied Stig as far as his hotel (also located in Riga Old Town) and three times in the roughly three hundred metres we walked together, people – the kind of people who we generally refer to as "tramps" – came up to him, begging for cigarettes or for a little money. They detected something in him – most likely, that he would not be able to just walk by stone-faced.
A large, unhurried man, very much like a thoughtful lion, with a packet of cigarettes always in his pocket, Stig Stasig (born 1961) tries to reach clarity through life and photography. He works as a photogravure consultant at the Royal Danish Academy of Fine Arts, and his work can be found at the Danish Museum of Photographic Art in Odense and in the collections of libraries in Denmark, as well as in private collections in Denmark, Sweden, Norway, the Netherlands, Germany, Switzerland and the USA.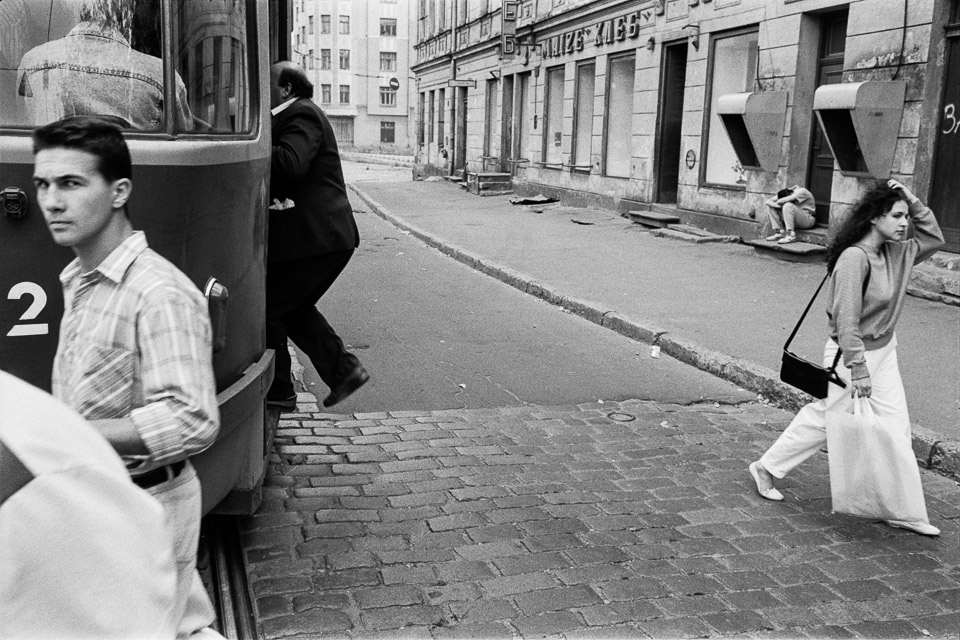 What was it that started off the story of your 1992 photographs? Around that time you received some kind of prize…
In 1988, I started working as a photographer in the Soviet Union. At that time I also went to Chernobyl – it was then two years after the accident at the nuclear reactor. And the country simply bewitched me – you had a kind of feeling that you were travelling through time. I was surprised that people existed who looked European, but who behaved so very differently from what we were used to – as Danes, raised in a social democratic society whose principal values were openness and respect towards individuals. I saw things that to me were so illogical that it seemed like I had gone to the moon – "what the hell is happening here?"
But at the same time I was so enchanted by what I saw all around me – the fabrics, the clothes, this kind of film of old-fashionedness over things – that I went there again and again. At that time, almost any photographs you took of this "land of Gorbachev" could be sold and published somewhere.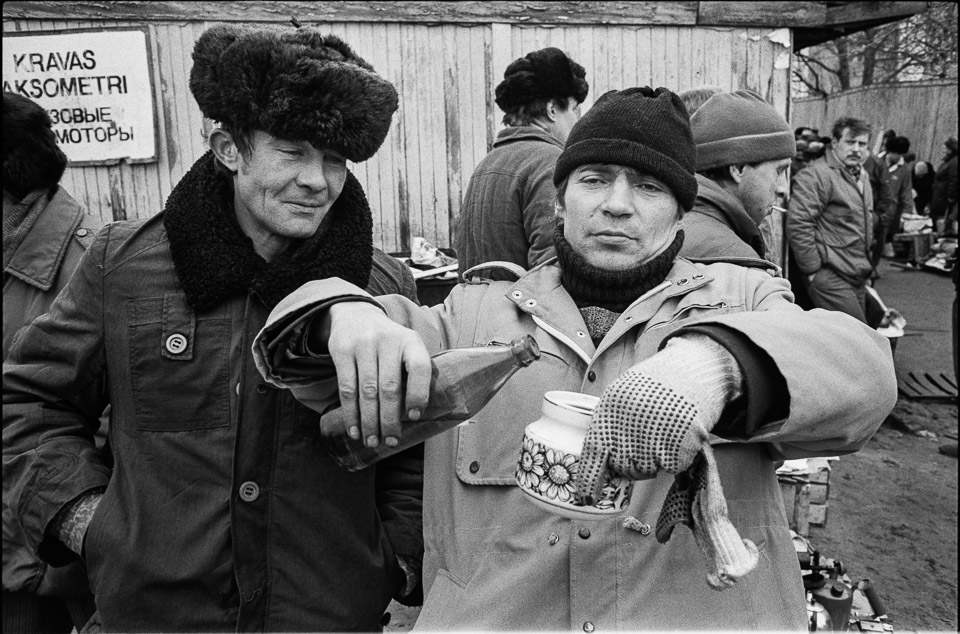 For that reason, my photographic agency in their way gave me complete freedom to work in my own way – whatever I would photographed, it would be requested.
I went to the Soviet Union when I had free time as well – I even met my wife there. She is Danish, but she was studying in Moscow at the time. We joined forces, and in 1990 we published a book about completely ordinary people: Lotte recorded a great number of interviews with different Russian people, and I had photographs of everyday life from all over the Soviet Union. And in 1991, for the projects I had accomplished in those years, I received a big award in Germany. It was a huge amount – some 70,000 Danish krone [approximately 10,000 euros now]; and at that time a sum of that kind had an even greater weight.
Because of that, I left my job at the agency, and together with Lotte decided to carry out a naive, romantic dream of ours: to go to Latvia, buy a used army jeep there and drive across the border – all the way to Siberia.
However, as it turned out, Lotte was offered a job at a travel agency in Riga which a Dane had opened. She accepted the offer, and so we stayed here. She had full work days, but I was able to work by myself and get to know local Latvian photographers. They let me use their workshops to develop my film. And from what I remember it was one of them who recommended that I go to Maskačka, when I asked him what I could start with here. It's possible that he just wanted to get rid of me, to get away from my questions and worries about what exactly I was going to do here. And I just started walking through the streets, and during those walks I smoked a whole lot of cigarettes with different people.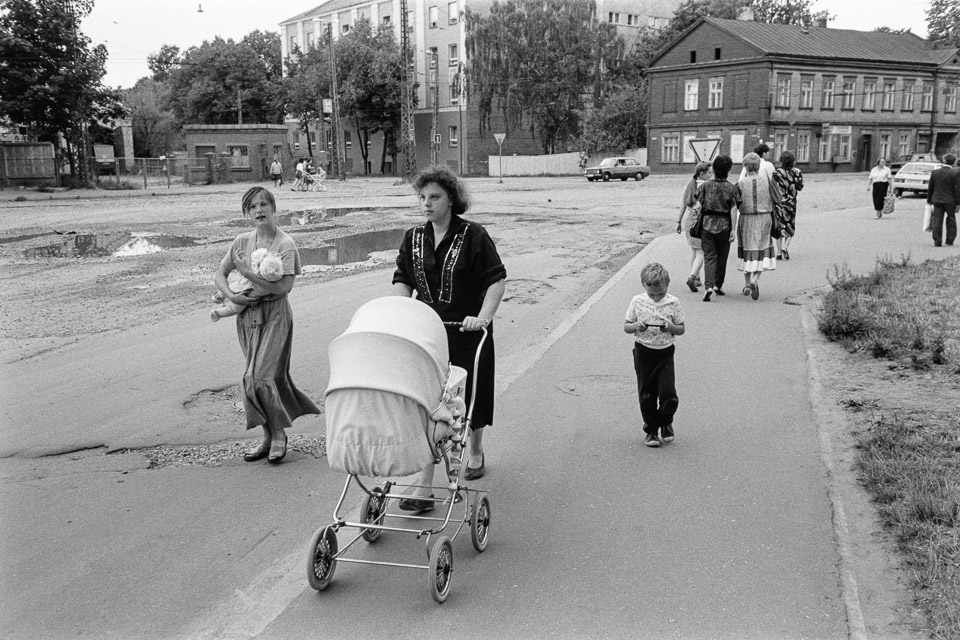 What were your first feelings when you were there?
I had the feeling that walking from the Old Town to the Central Market and beyond, at some point you left Latvia and arrived in Russia. What's more, in other parts of Riga people had normal enough kinds of work and activity. But in Maskačka, at first glance, there was no noticeable sign of anything like that. At times, it seemed to me that no one there was working at all. And I reached slowly this kind of simple state of existence, a state of being present. In the Soviet Union, I had been photographing things that were in some way part of active and important stories – a woman who had gone to give birth right by the Black Sea or the coup in Moscow. But here…
There was minimal activity…
Yes, and that somehow corresponded perfectly with the philosophy of photography which had already formed in my head. I had my idols – the Magnum photographers: Cartier-Bresson and Eugene Smith, who had turned various minor events into icons. I started to assign a different meaning to what I was doing with a camera. And then there came to me a topical – absolutely 100% ideal for a photograph – photo of a person who was buying a newspaper. And in front of me the theme was resolved. Or to take a photo of a man who was getting off a bus – the less meaningful the moment was, the better. And this dovetailed very well with what I was seeing in this place, in Maskačka: there were no events taking place, there weren't any kind of rational activities. In order to drive a nail into a wall, you need first of all to buy the nail, but these people didn't have the money for that.
I just sat there on the benches with the old folks and watched people. We smoked my cigarettes, and sometimes I bought them a bottle of vodka or something like that.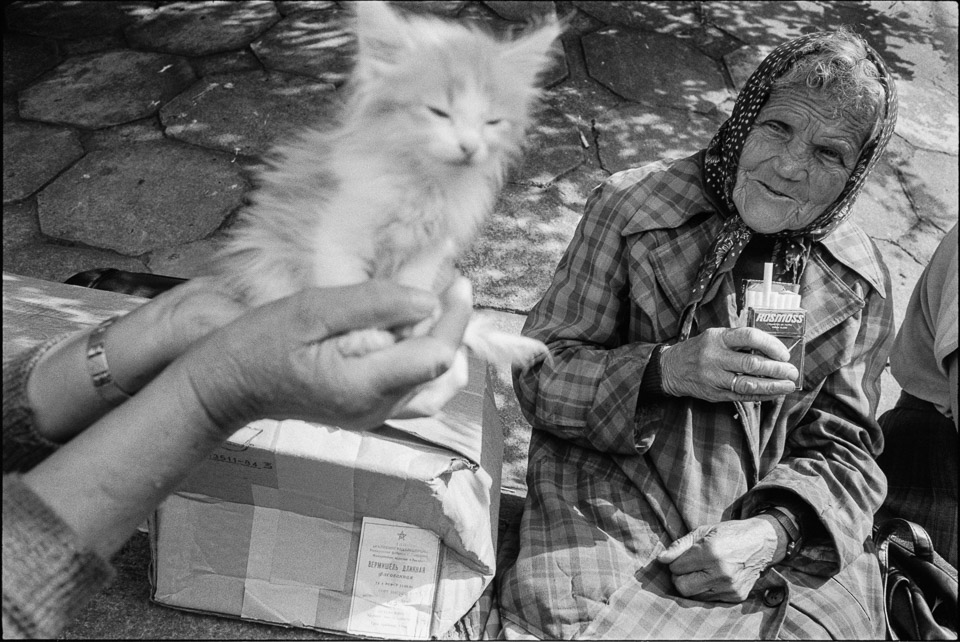 But how did they speak to you?
Although I knew a few phrases in Russian, I couldn't hold any kind of meaningful conversation. But it seemed to me that these people accepted me nevertheless – firstly, because I always had a packet of cigarettes with me, and secondly, because these people were drawn to me by my interest in them. That was something unusual for them. At that time, I knew very little about the district itself – for example, I didn't realise that the ghetto had been there during the war. There was much I didn't understand; I was a boy – a young, thirty-year-old boy.
And after that, these films lay undeveloped at my place. That was until 2015, when my wife grabbed me by the shoulder and said that the time had come to scan it all, all of my "Soviet stuff", because we were approaching the 25-year anniversary of the collapse of the Soviet system. Then she said to me that photographing the negatives would be faster than scanning them, and so that was what I did. I took pictures of over 7,000 negatives. While doing so, I had no particular ideas about Maskačka, but suddenly it gradually started to appear, to take shape – one shot in one set of photos; a second in another set. And I observed that, compared to the rest of my undertakings from this period, these photos expressed a completely different kind of drama. If until that time you could have compared my photographs to rock 'n' roll – with The Rolling Stones, let's say – then the material I took in Maskačka, that was really Keith Jarrett, something like that.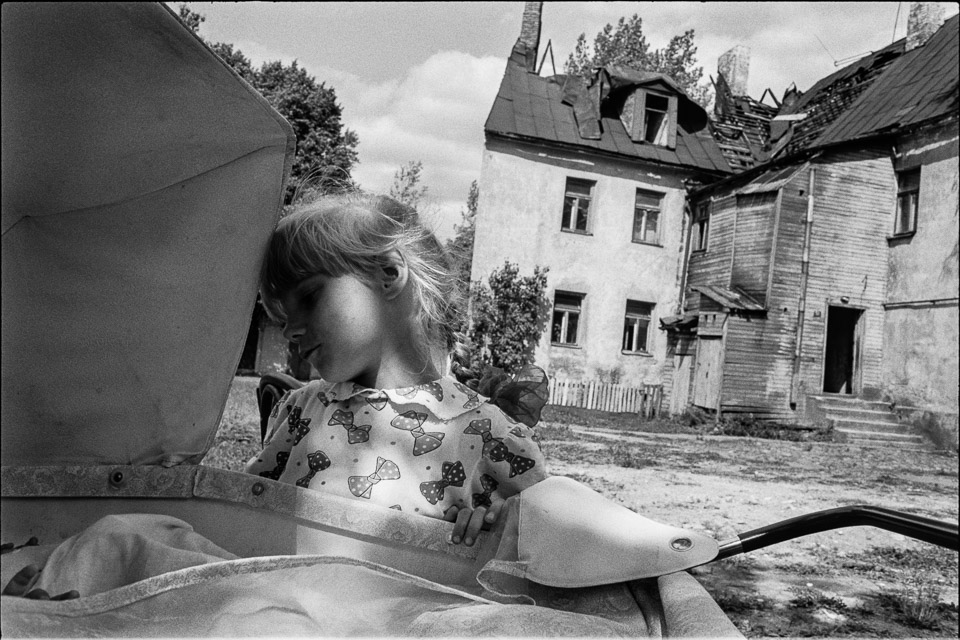 More metaphysical?
Without unnecessary noise, and very poetic. But while this all was slowly taking shape, I was still worrying about everything – "what if this is just nostalgia on my part"? My negatives – in general, that is a kingdom of chaos, but nonetheless I started to purposefully seek out those photos in particular. And, yes, it seemed to me that at that time that my work had been much freer now that I had finally left journalism. There, on those streets, everything happened almost automatically – I didn't occupy myself with anything; I would just smoke and sit wherever, and suddenly there would be a movement – someone crossing the street. And I would instantly react. "Oh! Movement!"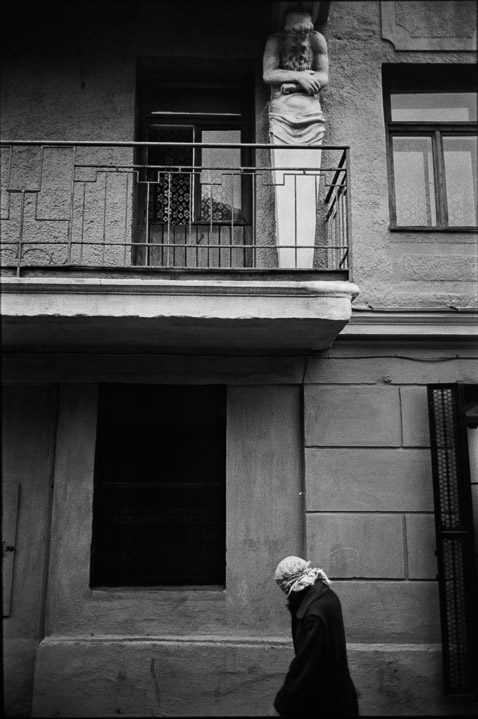 And very recently you decided to return to these places…
Yes, at the start I made an agreement with the Photography Museum about the exhibition. They took a liking to my material. However, it seemed to me that the museum itself as an institution, in terms of atmosphere, is a little old-fashioned, and the photographs which I was offering are also old-fashioned. And that could lead to a situation where we get a regular exhibition, half from the archives. Around the same time, I took a short trip to Maskačka and I understood that in essence it hadn't changed. And I decided that maybe I needed to finish what I had started before, to bring everything to some kind of conclusion.
I came back for a week, first of all. I didn't have any particular plans. I took with me my Leica camera, which I had worked with in the early 1990s, but I found that we no longer had a feeling for each other – the love had come to an end. I started to try some things, but nothing came together. I talked things over with friends, and they said that I was bothering myself over nothing and that my old material would be quite sufficient for the exhibition. And maybe they were right about that, I don't know… But afterwards the idea came to me to put together an album with photographs in which some specific people from 1992 could be recognised. And last summer I came back for a longer period, and tried to find these people or traces of them. And I did indeed find some of them, which was surprising. However, what I realised was that I was now much more interested in listening to these people's stories than in photographing them again – simply listening to their strange, fantastic stories. And those people who I spoke with this summer – it seemed to me that no one had ever in their life asked them questions like that, no one had shown an interest in them and their fate.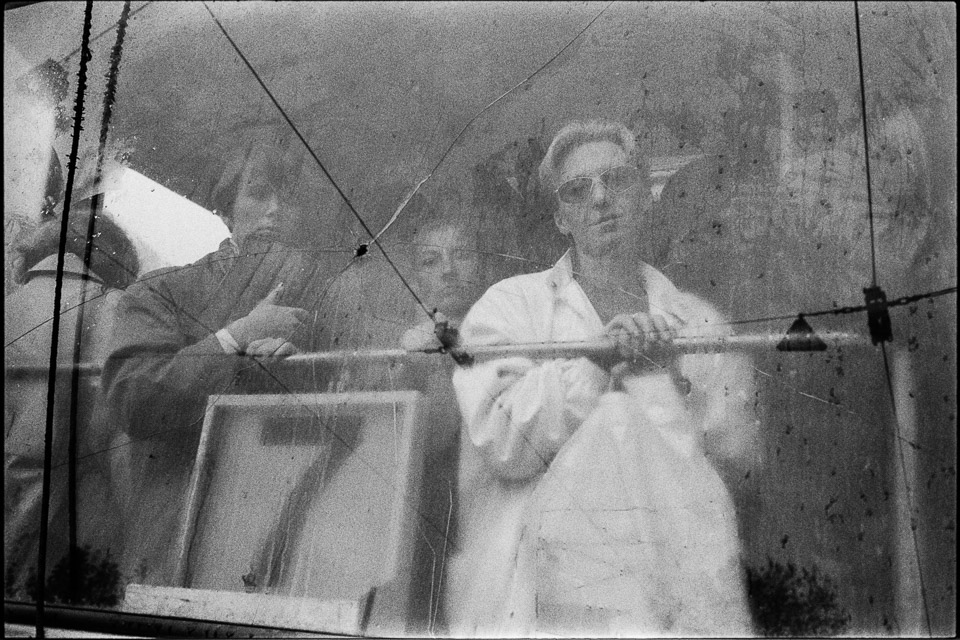 But I still didn't know what to do about the exhibition. However, the process started to connect together some different things which I been engaged with in recent years (for example, for the last seven years I've had a print shop, where I use various old techniques for photo-printing) – and to connect what I think in general about working with images. Even at the start of the '90s, to be a photographer meant to be a lone wolf, who roamed around by himself. At that time the traditional precepts of street photography definitely seemed important to me, but the last two decades have been marked by attempts on my part to open up, to get away from these rules.
In the 1990s, everything was simple – if you took a good photo, then it was art. But now you use this kind of activity as a puzzle piece in your concept.
And what kind of stories did you hear this summer?
When I was roaming around with this album of photos? I saw immediately how the people themselves had changed – from being in a state where they felt "I'm drunk and I don't give a damn", they had gone over to a state of being engaged. I came and showed them stories which they remembered, but hadn't recorded themselves. They didn't take photographs of themselves at that time – they would rather have bought a bottle of vodka than film for a camera. Of course, to me this seemed strange. My parents ceaselessly took photos of me. And lots of people all around me also took photos – this was an important part of their identity.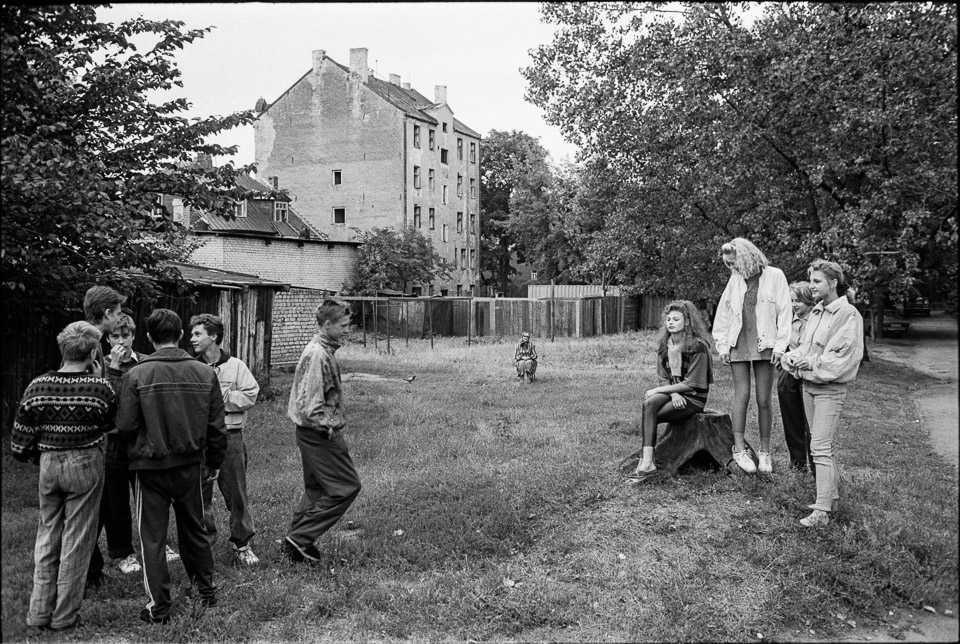 Overall, I didn't feel anything negative – no matter what we talked about during our conversations. Moreover, it turned out that many of them during that time, in the '90s, had been part of the criminal underworld, or were close to it. But this was kind of small-scale crime – they weren't Al Capones or anything like that. Thieving from time to time, but not murders – although some of them did become murderers, but that was later, in the middle of the '90s, when the situation became much harsher and gang wars started.
One of the places which was infamous in 1992 was "Razdevalka", the pedestrian tunnel underneath Valmieras iela and the railway tracks, which led from the end of Ģertrūdes iela to Maskavas forštate. I have a photograph of that tunnel taken during that time. And everyone who saw that photo in the album immediately called out "Razdevalka!" and started to laugh and tell stories about things that had happened there. This summer I went looking for one guy who had been a gangster during the 1990s, the middle and the end of the '90s – he died just a few months ago. But in 1992, his grandmother was selling moonshine, and buying stolen goods which had come straight from Razdevalka. And he took a look at my photo, which I had shown so many people before, and he said "that's not Razdevalka! Here, at the end of the tunnel, you can see the steps going up!" And he was right! It was actually another, similar tunnel.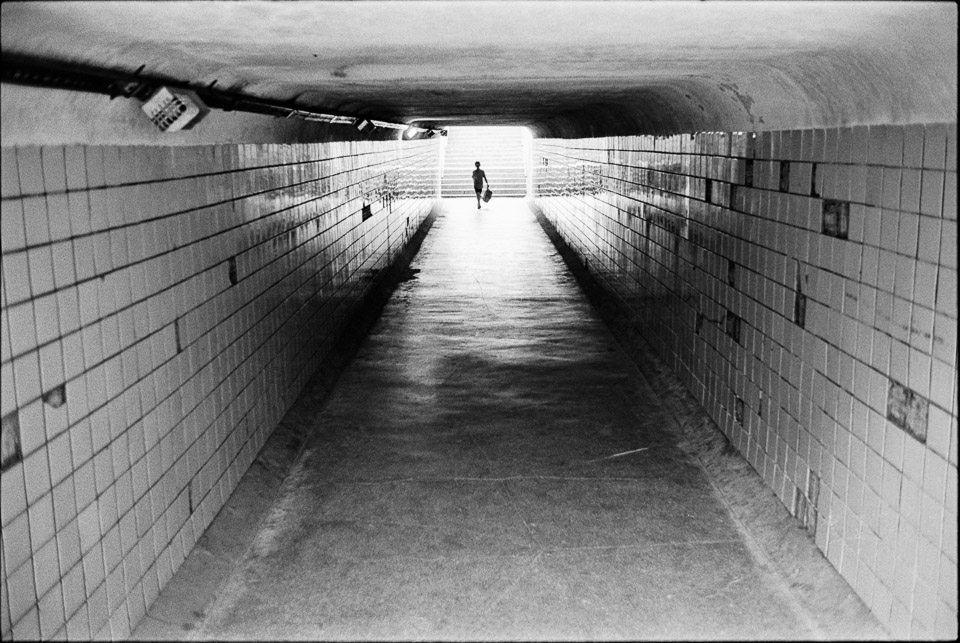 But I had already been told so much about this photograph. And, see, you then start to wonder to yourself: what here really is documentary photography? If people swallow your story and then start to tell their own stories, but the starting point from which all of these accounts branch off is totally incorrect! (Laughs)
In general, regarding what happened 25 years ago, there was some slander, not a few lies, and some very personal and contradictory viewpoints.
Autobiographical fiction…
Yes. However, by doing all this the characters in the photographs alter their narratives. From being anonymous figures, they become personalities, with names. Some sort of direct link with these people comes into being.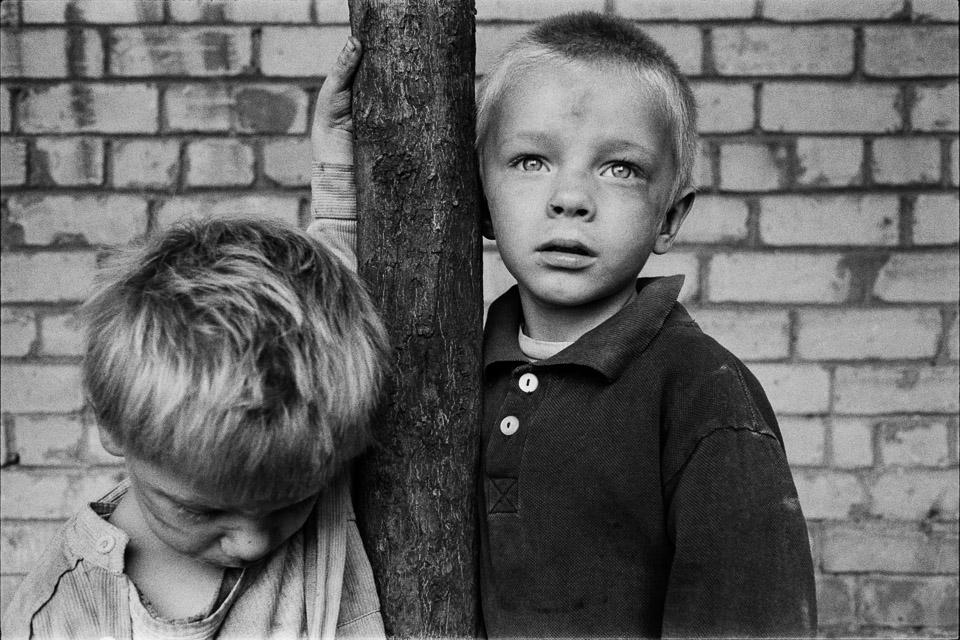 Even if at the same time it's not a genuine one…
Yes, even if that is the case. However, I think all the time: what am I doing here, what is all this for? And, look, I have arrived at what seems to me to be important. The people in these photographs from 1992 have lived their lives. They are real people. And you can now see that on video, in colour, and hear how they talk too. On the map you can see that they are hanging around just a couple of hundred metres from the museum where the exhibition is being held. They are right alongside you, but you do not speak to them.
They are real, and they live in just the same time and space as you do!
Some people see in them only problems – and, yes, they have caused no small number of problems. But to me they are like dying stories, like sources of information about other times that are now drying up. Because they are dying, and the stories are disappearing. And this is what I urge young photographers and the people from Free Riga to do: you have to collect all this. If you want to examine your identity, the roots of the place where you live, you have to do something with that – if I can in some way draw people's attention to that, then the whole project will have been successful. What seems to me important to say to people is not at all that in 1992 I was a fucking good photographer or anything like that.
There is a social aspect here which has absolutely not been important to me over the last 25 years. At that time I was very cocksure and did not know how to listen. I had a sense of myself as a god of photography – something like that.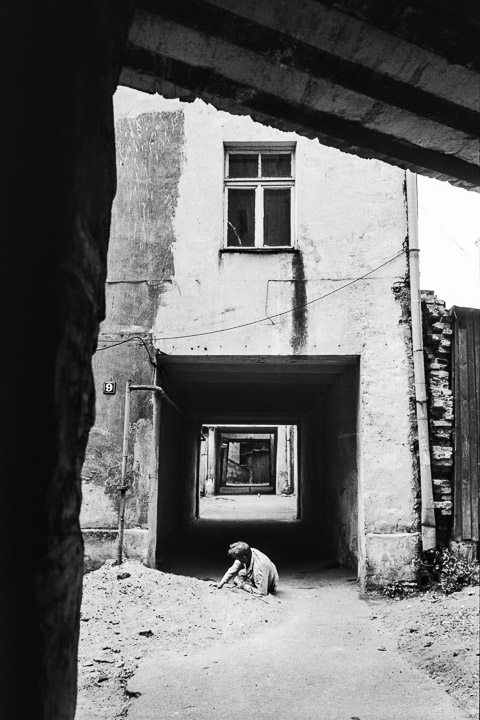 It also leads us to the fact that Riga's identity is very multi-layered. We very often simplify it when we include it in some kind of canon. But this doesn't correspond either to history or to reality.
To me, this is all a very metaphorical story – and it's by no means only about Riga. But what to me seems absolutely fantastic is that my story about Riga, which I wanted to conclude, finalise… when I started to listen to people, it started to grow, to branch out in uncountable directions. It became complicated and complex, giving no opportunities for simple, immediate conclusions about it.
The never-ending story of Maskavas forštate?
You could say that it became more complicated and intricate, in the same way that life itself does when you start to listen to stories about it. The more you listen, the more I tell. That's how it is.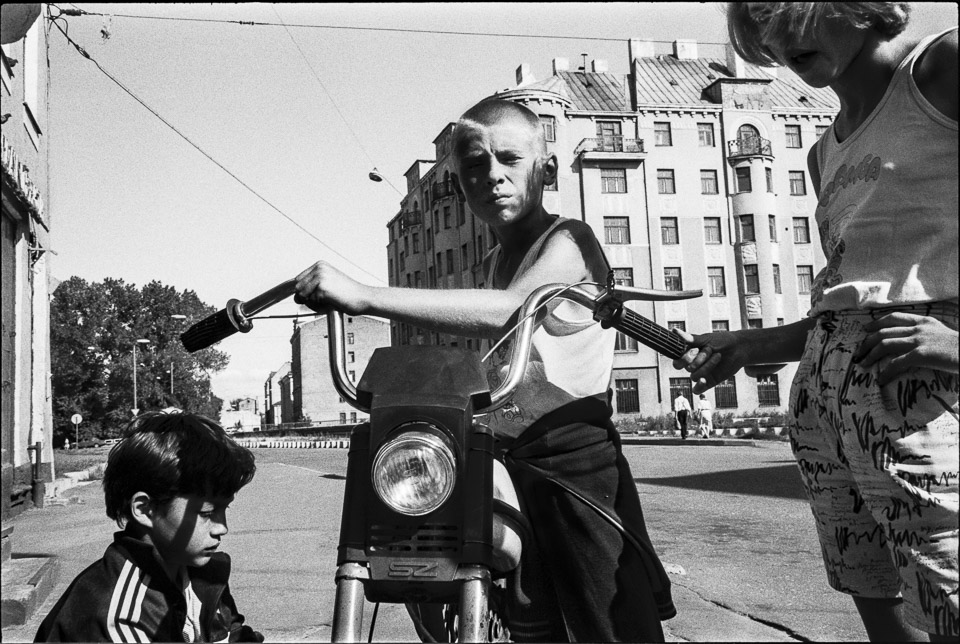 ---
All images credit Stig Stasig, and used with the permission of the author
This interview originally appeared on Arterritory. Translated from Latvian by Will Mawhood
More of Stig Stasig's work can be seen at the Stasig Archives website
© Deep Baltic 2018. All rights reserved.
Like what Deep Baltic does? Please consider making a monthly donation – help support our writers and in-depth coverage of Estonia, Latvia and Lithuania. Find out more at our Patreon page.