In May and June 2018, I walked the 692 kilometres of the 1989 Baltic Way in 31 days, aware that not many people had done so before me and taking as a model the Way of St James (Camino de Santiago), a well-known European cultural route leading to Santiago de Compostela in north-western Spain.
I undertook this journey with the aim of seeing what was left of that famous human chain on the ground, such as monuments. I also got to know former participants and organisers, as well as other people who wanted to talk with me and explain how Estonia, Latvia and Lithuania have evolved since then and what is left of the spirit of the Baltic Way. I managed to complete the journey – a lack of rainy weather helped – having talked to many interesting people in many different cities and villages. As a result, I have written a non-fiction book in my mother tongue, Catalan, telling the story of my experience: La Via Bàltica. El somni d'Estònia, Letònia i Lituània de viure a l'Europa democràtica ("The Baltic Way. Estonia, Latvia and Lithuania's Dream of Being Part of Democratic Europe"), publication July 2022.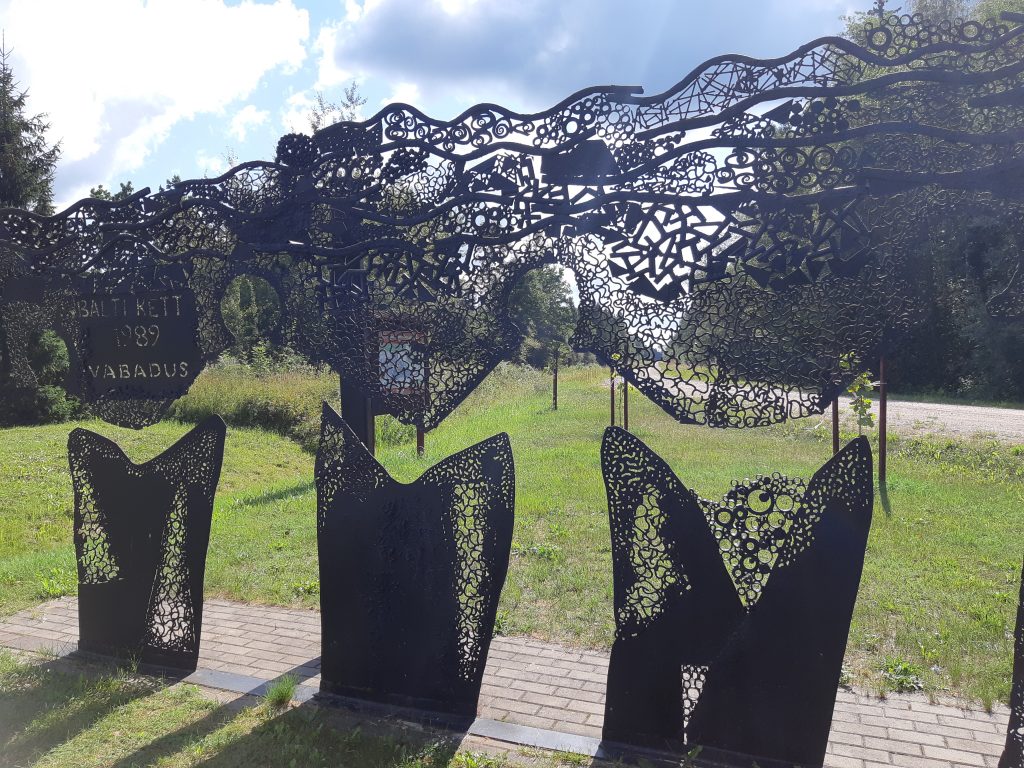 However, what I did not expect when I started walking is that there is, in my opinion, enough to see and do along the route for the Baltic Way to be made a European Cultural Route (ECR). In this article, I defend this argument. The route doesn't necessarily have to be taken walking as I did – a bike or even a car could do the job. ECRs are a programme launched by the Council of Europe in 1987 that demonstrate the heritage of the different countries and cultures of Europe and contribute to a shared and living cultural heritage. The Way of St James is probably the most well-known, but we could also name the Hansa, the European Mozart Ways, the Liberation Route or even the footsteps of Robert Louis Stevenson.
For those who are sceptical, I would like to explain how I organised the itinerary, what challenges I encountered, and, most relevant, what I saw, which proves that there is plenty of shared and living European cultural heritage along this route.
Challenges to consider if you want to walk along the Baltic Way
The first challenge I had to solve was logistics, as there are not many accommodation choices once you leave the cities and bigger villages. Local solidarity in my effort helped in providing me a bed while I was walking across the northern areas of both Latvia and Lithuania. But in most cases, I had to stick to a city, which I used as the main base for several days. From there, I would walk the leg of the route I had planned, go back to spend the night in that city by public transport, and then the next day go back by public transport until the point I finished the previous day. I would do this until I reached a village with accommodation, which would serve as my next base. This is what I did, for instance, between Tallinn and Rapla; in central Estonia around Türi, where I was based on a farm for three nights; and south of Panevėžys until I reached Ukmergė.
The second challenge was not getting into trouble when following the itinerary. Weather can be an issue, and I was lucky enough to walk in one of the driest Mays in memory, but there are other concerns. For instance, walking on the motorways is forbidden in Lithuania. And walking along main roads, even if allowed, is unsafe if you do not take the due precautions. I remember traffic being heavy between Sigulda in Latvia and Panevėžys in Lithuania. You are supposed to wear a reflective vest at all times.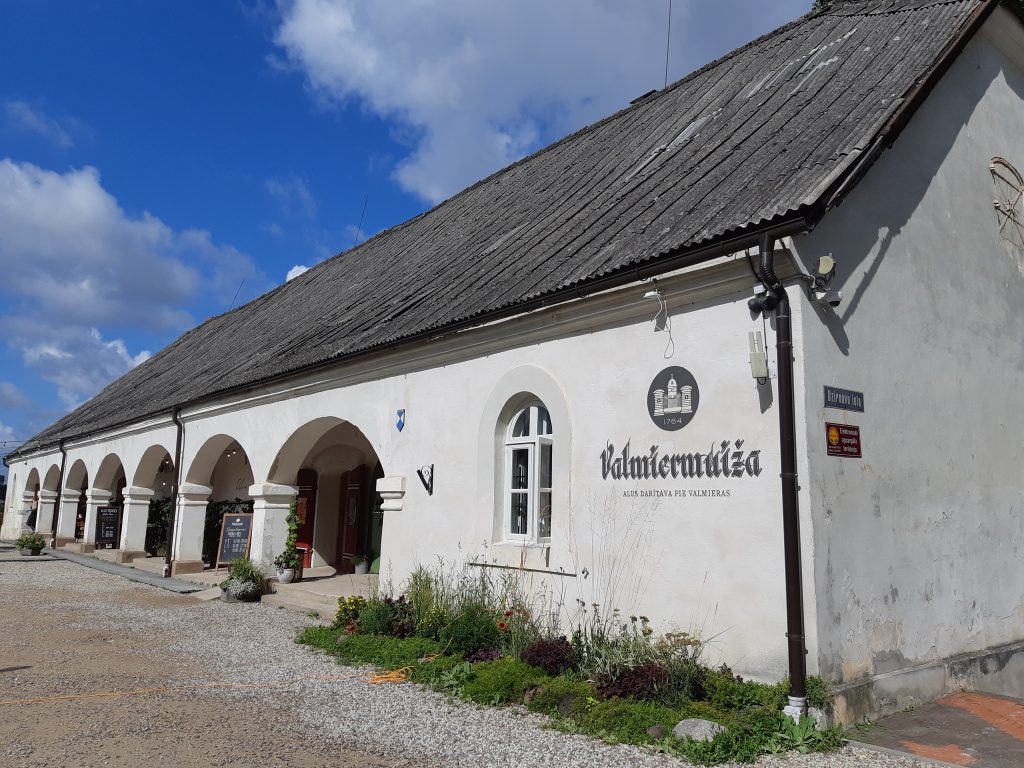 Finally, you have to choose where the Baltic Way is. You might say that this is obvious because you can consult various maps in books and on websites with the route clearly indicated. But it becomes more difficult when you have to decide how to go from Panevėžys down to Ukmergė and then to Vilnius, where walking along the motorway is forbidden and no nearby alternative road presents itself as an option.
Thankfully, I discovered the website thebalticway.eu, created by the Latvian National Commission for UNESCO. Its map showed me exactly where I had to walk, but this is the only source I found that said I had to walk through the pleasant villages of Raguva, Taujėnai, Šešuoliai, or Zibalai, all of them distant from the current main motorway called the Baltic Way.
As for the rest of the route, north of Panevėžys, it is quite clear where you have to go. Just remember that north of Riga, the Baltic Way of 1989 has nothing to do with the current road linking Riga and Tallinn. The 1989 route goes through Valmiera and Viljandi and crosses the border between Rūjiena and Karksi-Nuia. The organisers of the Baltic Way told me the reason was to make sure participants could easily travel across Latvia and Estonia from both east and west, which wouldn't have been possible if the route had followed the coastline, as is the case with the road linking Pärnu with Riga.
What you can see along the Baltic Way outside the three capital cities
With the above challenges solved and plenty of hydrating cream for my feet, I started walking, taking pictures, taking notes and conducting as many interviews as possible along this historical route. Here, you can see the past as well as the present – I saw plenty of NATO tanks and military trucks going up and down the Baltic roads as I was walking. Surely there must be many more now than in 2018.
The first thing to say is that the nature is exuberant, especially in Latvia, as the Baltic Way goes through Gauja National Park. If you usually live in a big city or anywhere in Southern Europe, as is my case, plenty of other places will catch your eye, such as lakes for swimming located in the most unexpected places. That's the case in the southern part of Lithuania in villages such as Širvintos and Šešuoliai, which I have already mentioned; as well as in the border town of Karksi-Nuia in Estonia; and in the very centre of Viljandi, a medium-sized city.
Talking about Viljandi, this is a well-known must-see city along the Baltic Way, as are the Latvian cities located along the Gauja River: Valmiera, Cēsis and Sigulda have plenty of German and Scandinavian influences. These were cities where I could have easily stayed longer, with their large choice of cafes, historical churches, castles and museums. However, you can also meet interesting people and make cultural discoveries in cities off of the main tourist track. These include Panevėžys with its huge Jewish heritage, where the city centre is being completely renovated; Pasvalys and its freshly renovated regional museum with a bilingual Lithuanian-English exhibition; and Türi and its Estonian Broadcasting Museum.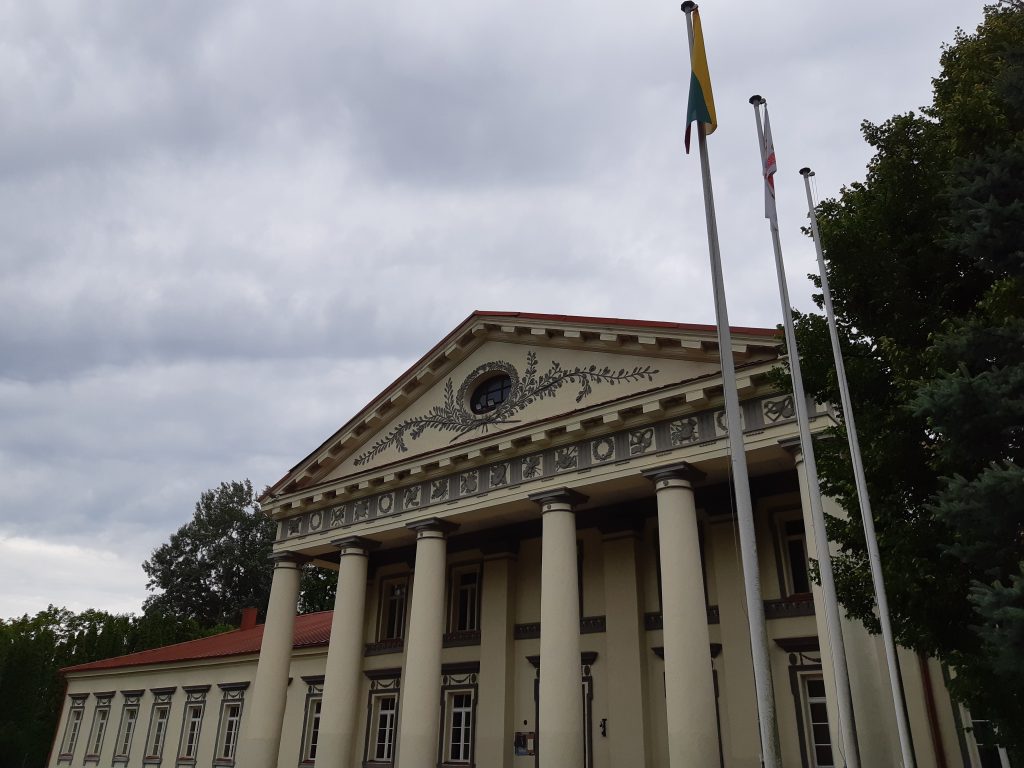 Coming back to Pasvalys, very few people know that one of the bigger monuments to the Baltic Way is located there, in a place called the Cross Valley of the Baltic Way, which is basically a set of crosses put there back in the '90s by regional representatives of participants in the Baltic Way. In addition, you can find the highest concentration of Baltic Way monuments along the entire road from Pasvalys north to the Latvian border. In a similar fashion to that in the Pasvalys Cross Valley, representatives of Lithuanian regions located far from the Baltic Way who took part in that historical feat decided recently to place wood or steel crosses there, making it clear that "we were here." You likely wouldn't pay attention to these crosses if you were rushing between Riga and Vilnius by car, but it is easy to see them when walking.
Where Lithuanians put Christian crosses, either to remember the Baltic Way in the north or to pay homage to someone who was killed "for defending the homeland," as I saw south of Panevėžys, the Estonians left big stones. Stones commemorating the Baltic Way have been placed in Käru and Türi, both in central Estonia, as well as in Lilli, a small hamlet near the Latvian border, south of Karksi-Nuia. Surprisingly, I didn't see any specific Baltic Way monuments in Latvia outside of Riga other than the informative panels you can see in the three countries: blue in Estonia, red in Latvia and green in Lithuania. Monuments are also located on both borders, a metal one depicting seven life-size human figures standing in a long line, which is on the Estonian-Latvian border, and a wooden column in front of a hotel on the Lithuanian side of its border with Latvia. It was installed in 2014 to commemorate the 25th anniversary of the Baltic Way and shows multiple hands grasping each other in carved relief.
But if there is something that, in my opinion, really stands out when following the route of the Baltic Way, it is all of the historical heritage not necessarily related to 1989. From the very moment you leave Tallinn, you have the opportunity to visit hillfort mounds, historical proof of humans living there since the early Middle Ages. Mounds can be found in Estonia, in Kohila, and near Rapla (Lohu Jaanilinn), and I counted three in Lithuania, near the Latvian border (Ąžuolpamūšės piliakalnis) as well as in Ukmergė and in Maišiagala. I saw no mounds in Latvia, but the Baltic Way south of Cēsis goes near the Āraiši Archaeological Park, which reconstructs life in Latvia in the 10th century in a lakeside setting.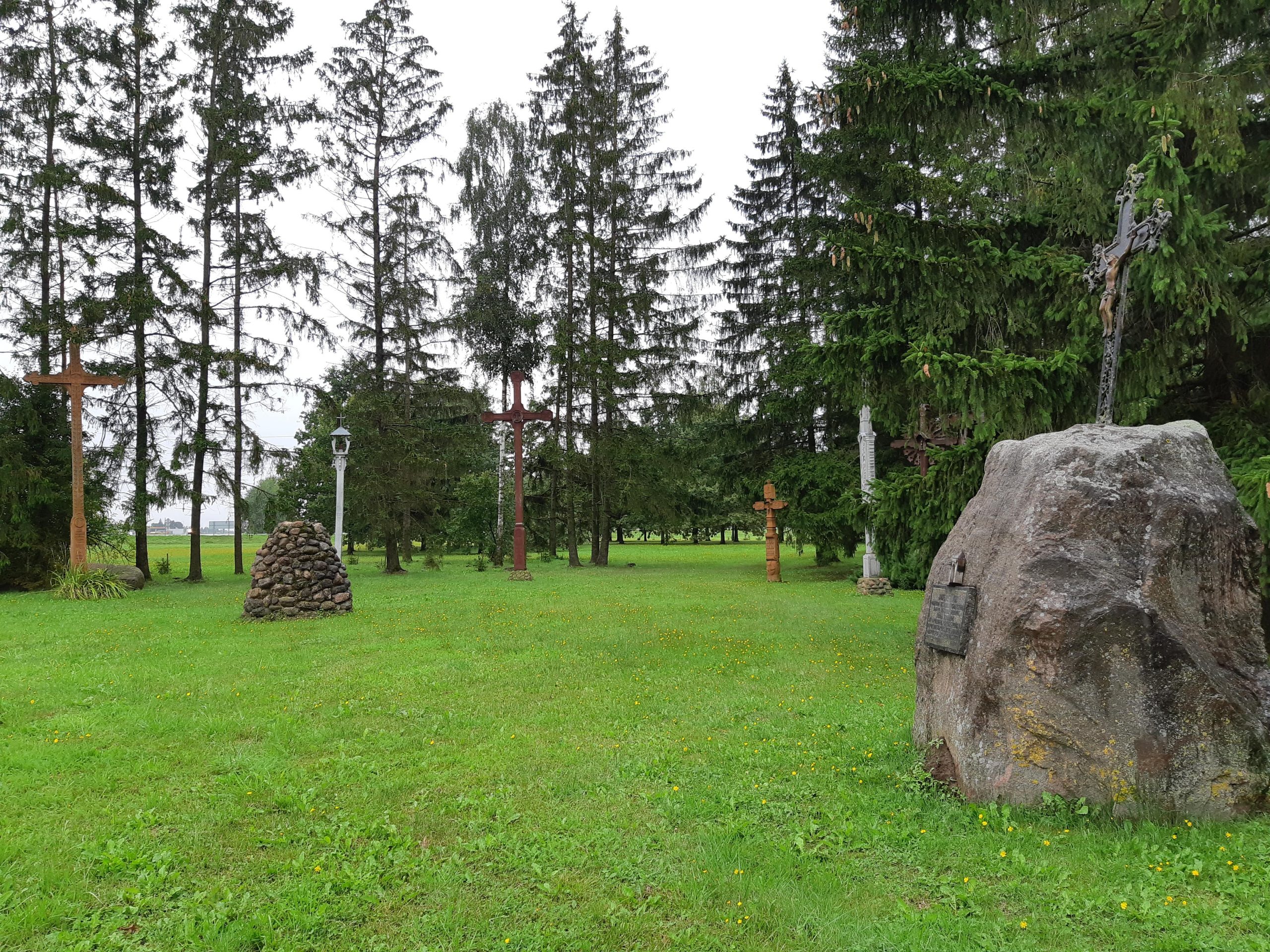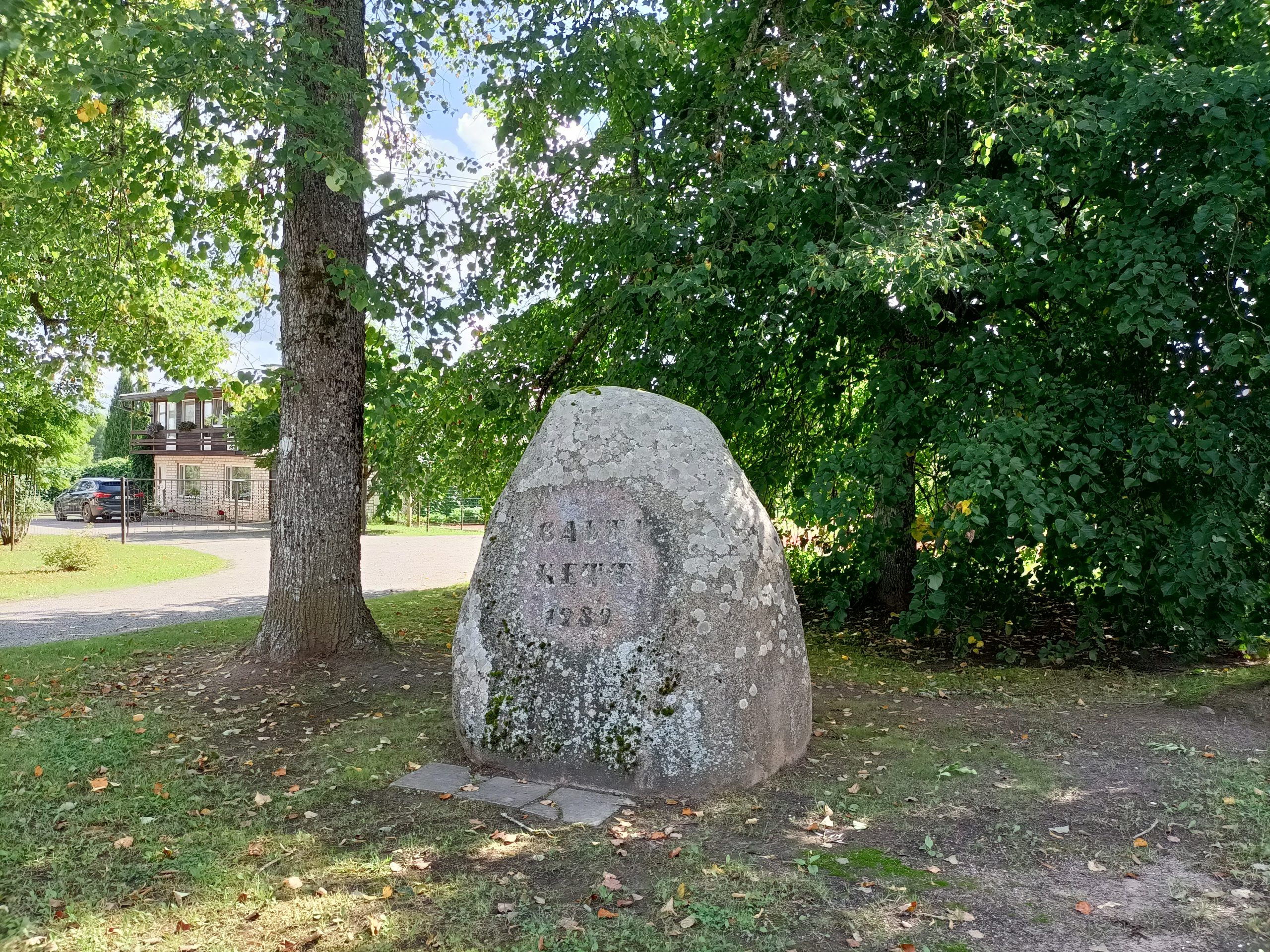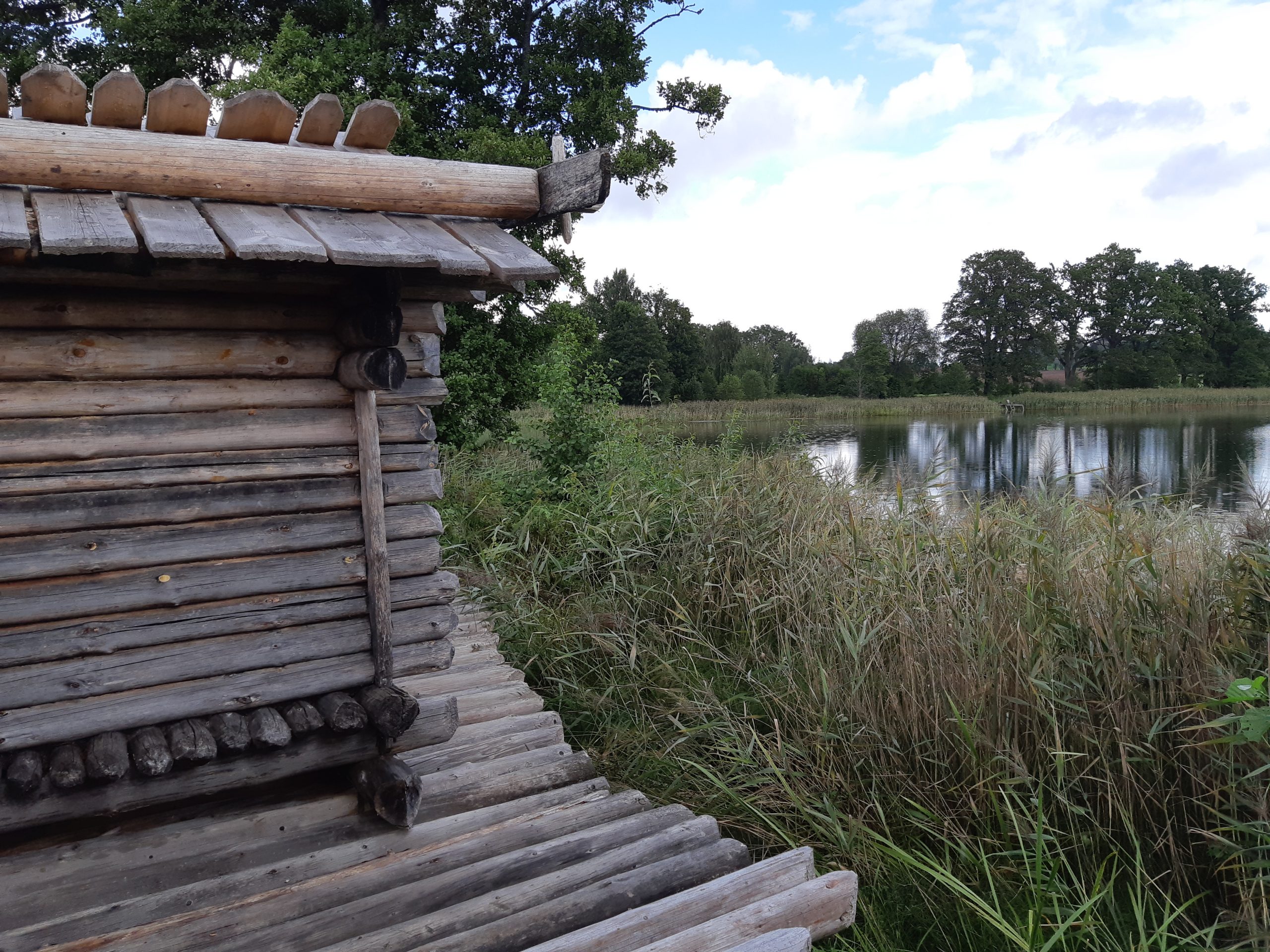 Moving forward in history, you can visit impressive castles in Karksi-Nuia in Estonia, and in Valmiera, Cēsis, Sigulda and Bauska in Latvia. Then you have what I call the "jewels of the Baltic Way," the manor houses, as they tell us about a common shared European history with Germany or Poland – in Estonia and Latvia, it was the Germans who built these manor houses, and in Lithuania it was the Poles. They are one of the many indications that the three Baltic states belong to Europe and the Western world. Those grand houses were in most cases left abandoned in the early 20th century and only recently have started being restored. A non-exhaustive list of the manor houses you can see along the Baltic Way includes Kehtna and Türi in Estonia; Valmiermuiža, Rāmava, and Mazā Muiža in Latvia; and Taujėnai in Lithuania. Most of them can be visited. Valmiermuiža, for instance, is a well-known brewery.
You can, of course, visit plenty of other places along the Baltic Way. What I have shown with these examples is just a taste of how a well-organised and promoted ECR along the Baltic Way would look. Walking it would be just one option.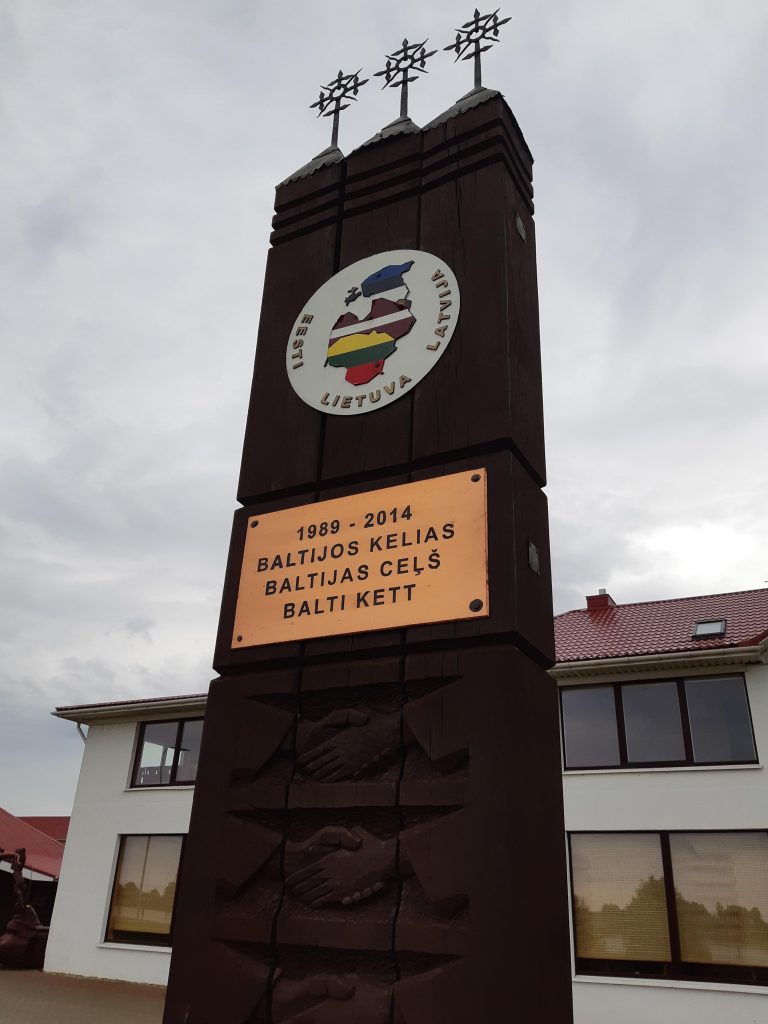 All images credit – Jordi Arrufat
Jordi Arrufat is an advisor on public affairs, digital communications and international relations who enjoys writing about food and travel in his spare time. He graduated with a degree in political science from Universitat Pompeu Fabra, Barcelona. In spring 2018, he walked the entire length of the 1989 Baltic Way from Tallinn to Vilnius in 31 days.
© Deep Baltic 2022. All rights reserved.
Like what Deep Baltic does? Please consider making a monthly donation – help support our writers and in-depth coverage of Estonia, Latvia and Lithuania. Find out more at our Patreon page.