Accelerating motorisation in interwar Lithuania increased the demand for fuel and gave rise to a new type of business – petrol stations. Appearing throughout Lithuania in the early 1920s, they were often owned by Jews who had already traded petrol in their variety stores.
Mousha Shatenshtein was the first to take up the initiative and build a petrol station in Joniškis, a town in northern Lithuania. As the representative of the London-based Shell company in Lithuania, he concluded an agreement with Joniškis council in 1928 and rented a plot of land in the Market Square for five years.
The contract allowed him to install an underground petroleum reservoir, for which he had to pay an annual rent of 200 litas and a one-off payment of 1,500 litas.

This marked the humble beginnings of Lithuanian petrol stations.
Several other entrepreneurs, including Litvaks Chaim Ziv and Hilel Pinksis, also engaged in petrol trade in Joniškis in the 1930s and all of them had their stations in the single most important economic centre of the town, the Market Square.
Although automobile use grew continuously in the 1920s and 30s, the overall number remained minuscule. In 1940, just over 2,300 automobiles were registered in the whole country.
Prices of petrol were also quite high in Lithuania – one litre of petrol cost almost 1 litas in 1929-1934, while the average monthly salary of an office clerk was only around 150-380 litas, making cars an out-of-reach luxury for many.
Yet, the main consumers of petrol in Lithuania were passenger buses, and by the end of the 1920s, a network of regular intercity bus services had been established.
Petrol sellers, meanwhile, strove to have their stations along their routes, as Joniškis was where the buses from Šiauliai to Žagarė and from Riga to Tauragė would stop.
But in 1936, the Lithuanian government dampened the growth of petrol station industry. In order to support local manufacturers, the government instituted a requirement to add 5 percent locally manufactured ethyl alcohol to imported petrol.
This inflated the prices by around a dozen cents over plain petrol products, and subsequently, gave rise to a Lithuanian petroleum phenomenon – 'Motorin'. From 1937 onward, nothing but this mixture of petrol and alcohol was sold in Lithuania.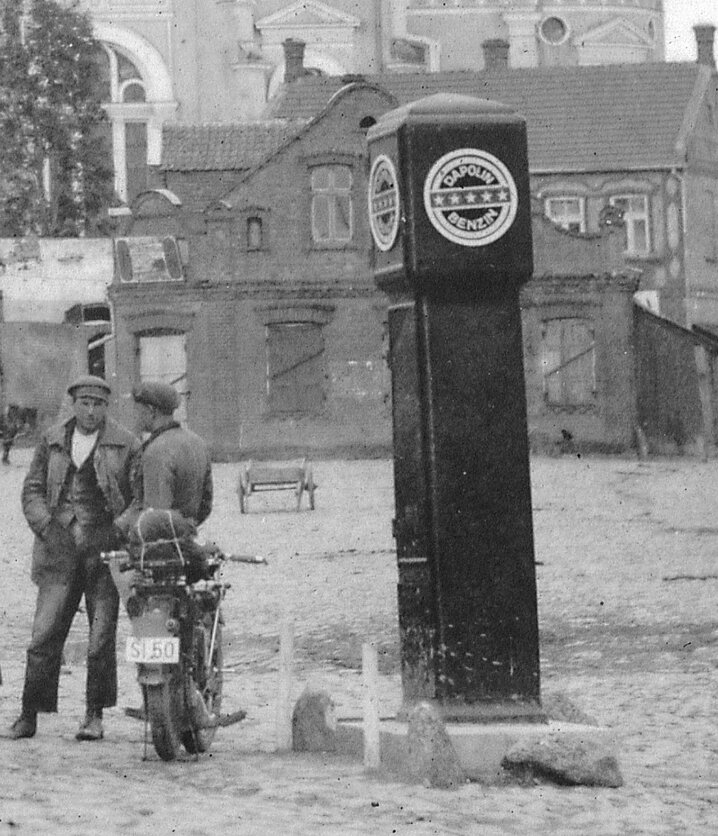 ---
This article originally appeared on LRT English. This series is prepared by Vilnius University's Faculty of History and the association Jewish Heritage Lithuania. You can find more stories on the mobile app Discover Jewish Lithuania.
Jewish Heritage Lithuania, funded by the EU, aims to promote Jewish heritage in Lithuania, create thematic and regional tourist maps, and encourage local and international tourism to Lithuania
Like what Deep Baltic does? Please consider making a monthly donation – help support our writers and in-depth coverage of Estonia, Latvia and Lithuania. Find out more at our Patreon page.