by Lidija Liegis, RIGA
Sixteen thousand voices sound out in perfect harmony, echoing around a valley of trees. The 60,000 people in the audience sing along in response. Welcome to the closing concert of the Latvian Song and Dance Festival, a unique cultural masterpiece that takes over the hearts and minds of the entire country. The event, which takes place every five years, is inextricably linked to the Latvian national identity. An event of exceptional national and international importance, it brings together different generations – from dancers as young as six, to singers, conductors and composers in their nineties – and nationalities. It unites Latvians from across the world through music, dance and song, and they come from across Europe, and as far as the USA, Canada, Australia and Brazil to congregate in this small country for the week-long festival.
The week of the festival is a build-up to the grand finale, the closing concert and the separate dance event: Riga's parks are alive with song and the entire city buzzes with fantastic music and dance events happening everywhere. Concerts and dance performances take place from morning 'til night; many of them are free to attend, taking places in parks across the city. Despite the unseasonably cool weather on the day, the festival begins with a procession of all the participants walking through the city for hours, dressed in national costume and wearing wreaths made of flowers for the women and oak leaves for the men. They are cheered on by thousands of onlookers, who can identify them thanks to the embroidered flags and emblems they carry. Throughout the week there are events catering to all ages, with children's and pensioner's choirs, as well as women's and men's choirs, and concerts of all the foreign choirs. People walk around the city in national costume, and singing takes place spontaneously in the streets and on public transport. One morning I stop off at Vērmanes Park at 8 a.m., and find that groups of foreign choirs from Germany, France and South Korea are already rehearsing in the morning sunshine.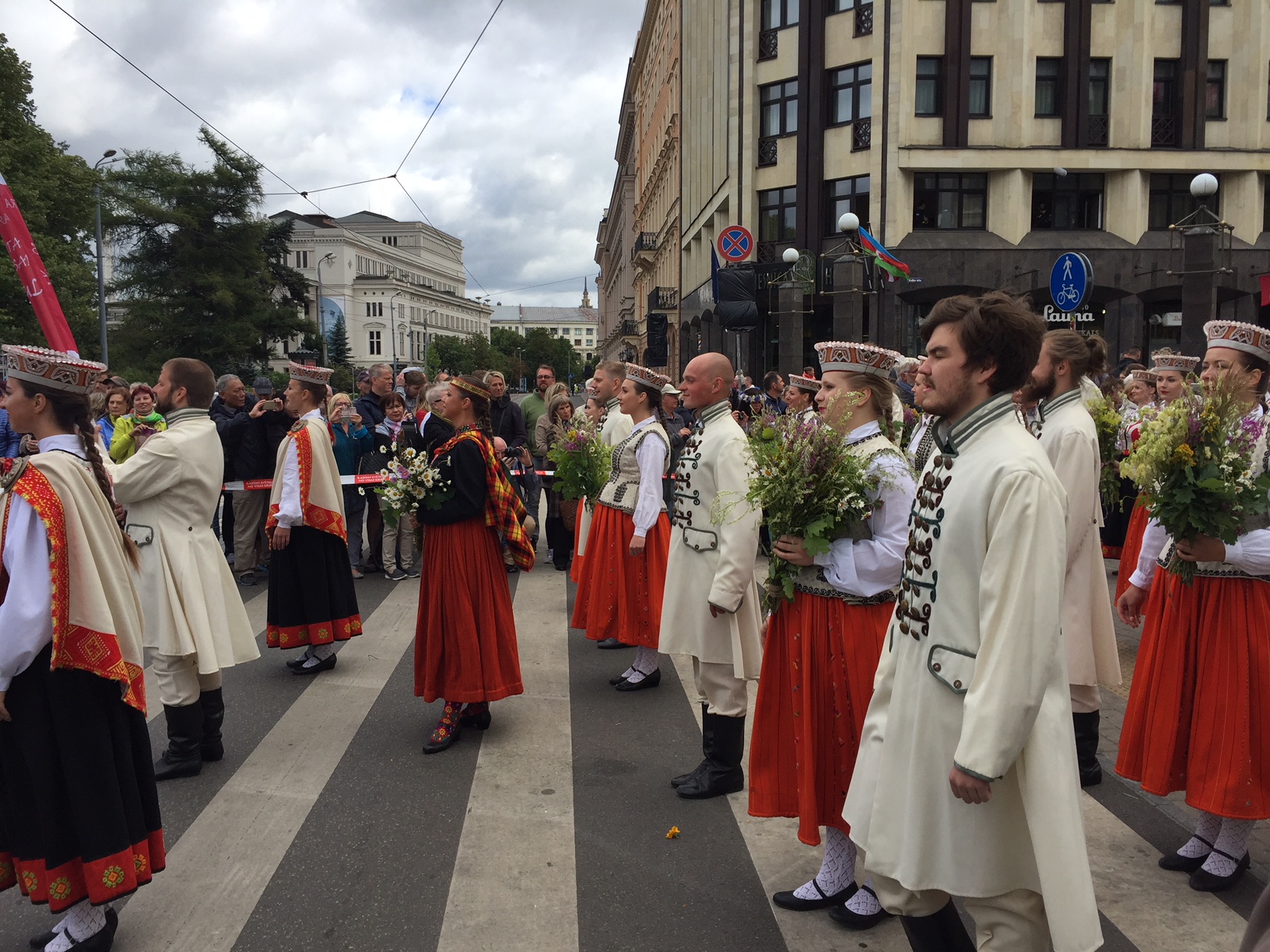 There are over 1.2 million Latvian folk songs, known as 'dainas', which have been recorded for centuries, with over 300,000 different melodies. This makes the Latvian oral tradition one of the richest in the world. Typically, dainas are made up of four-lined stanzas (quatrains), and their themes cover love, philosophies on life and the rites of passage surrounding birth, marriage, death and the seasons. This year the festival took place from 30th June to 8th July in Riga. Over half a million visitors came to take part, and the festivities ended with the closing concert, which takes place in an amphitheatre set in an area of woodland called Mežaparks (which literally translates as 'forest park'). This year's final concert drew more visitors than ever before, which is no mean organisational feat.
The setting of the final concert at Mežaparks is impressive in itself – even before you arrive, the walk down the long avenue surrounded by trees into the woodland area is stunning. The singers walk along in national costumes, and an air of anticipation builds amongst concert-goers and participants. The crowd arrives in daylight and the concert begins, with thousands of singers moving onto the stage like gentle waves coming in to the shore. It all feels very organic, like the sea moving in. The audience also keeps building up and up. Before you know it, the sun has sunk below the horizon and is slowly fading amongst the trees, and then suddenly it's night-time and vast starry skies have appeared. Of course, this only happens by about 11.30 p.m., as it's shortly after midsummer and the sun sets late in northern Europe.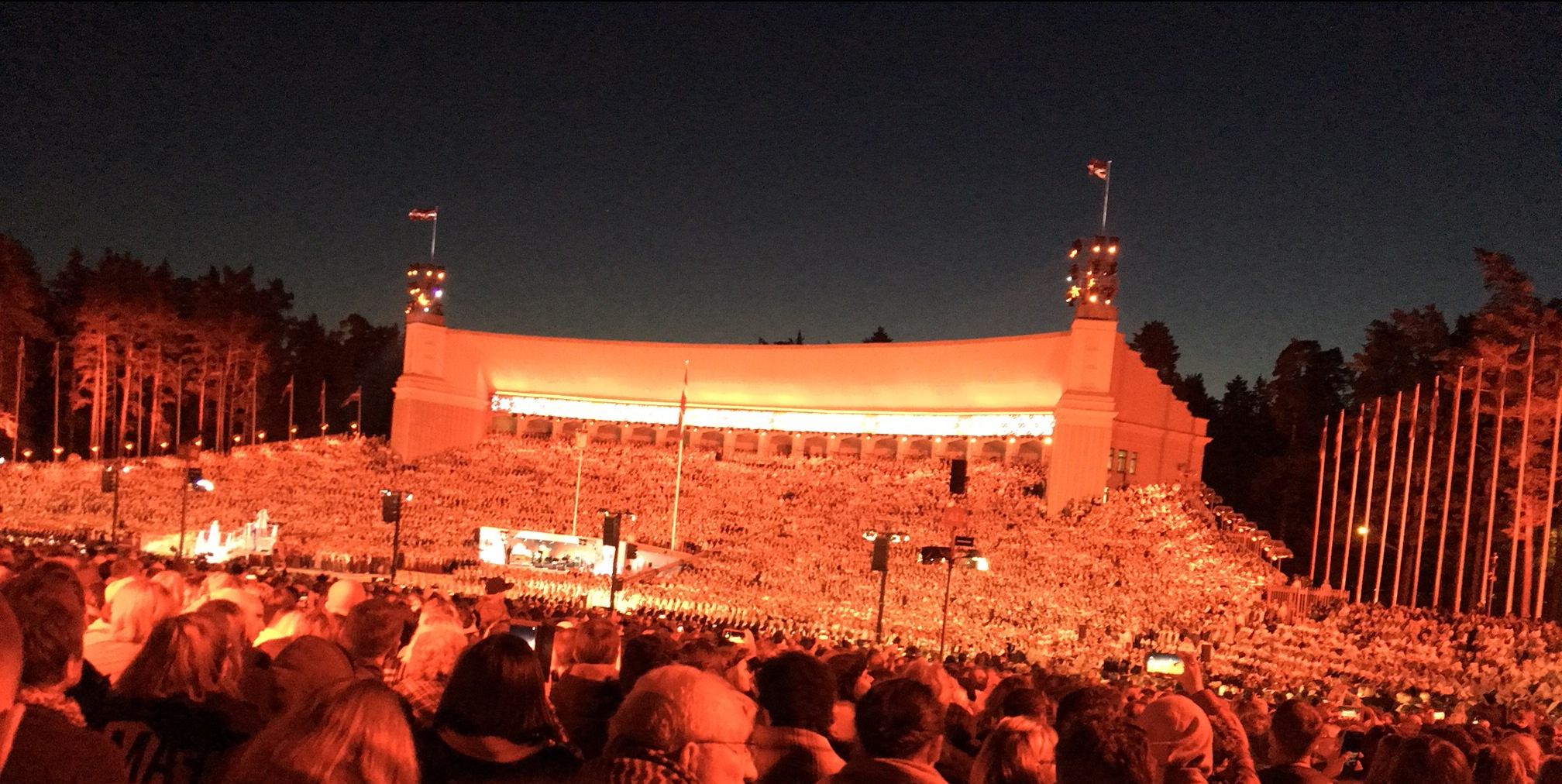 Initially many of the songs involve just the female or male choirs, but later the powerful anthems include all the voices together. A particularly special moment as someone sitting in the audience is when parts of the choir do a procession through the audience along the pathways, and you can see the intricacy of the costumes up close. There's a strong feeling of connection with the choir, and a powerful serenity as the singers walk through the thousands of spectators.
During the day before the final choir concert, a vast dance event also takes place at Daugava Stadium. The theme of the event is the formation of Latvia, the discovery of Latvian culture and traditions, as well as the development of the Latvian identity. The key message behind the event is the forming of a nation, depicting Latvia's history in 28 dances through movement and folk dance, through rhythm and music and colour. A total of 789 dance ensembles (17,000 dancers) take part, a record number of participants. The awe-inspiring event is a sight to behold: thousands of dancers jump, twist, and sway together in perfect synchronisation to form traditional Latvian symbols. In other dances, thousands of the male dancers stand in rows of a hundred or so, all holding hands, and neatly the rows start moving forwards and criss-crossing each other, the men tapping their feet and jumping in unison while thousands of the female dancers circle around them. The men then kneel in long rows and the women run through them; together they form thousands of couples and continue the dance together, jumping and tapping their feet in synchrony on an unimaginable scale.

The festival's origins and singing under the Soviet Union
The tradition of song and dance festivals in Latvia goes back to the beginning of the nineteenth century. After centuries of foreign domination Latvians wanted to rediscover their identity through song. The first Latvian song festival took place in 1873, with around 1000 participants. In this year's 26th Song and 16th Dance Festival there were around 40,000 participants. Not bad for a country with less than two million inhabitants.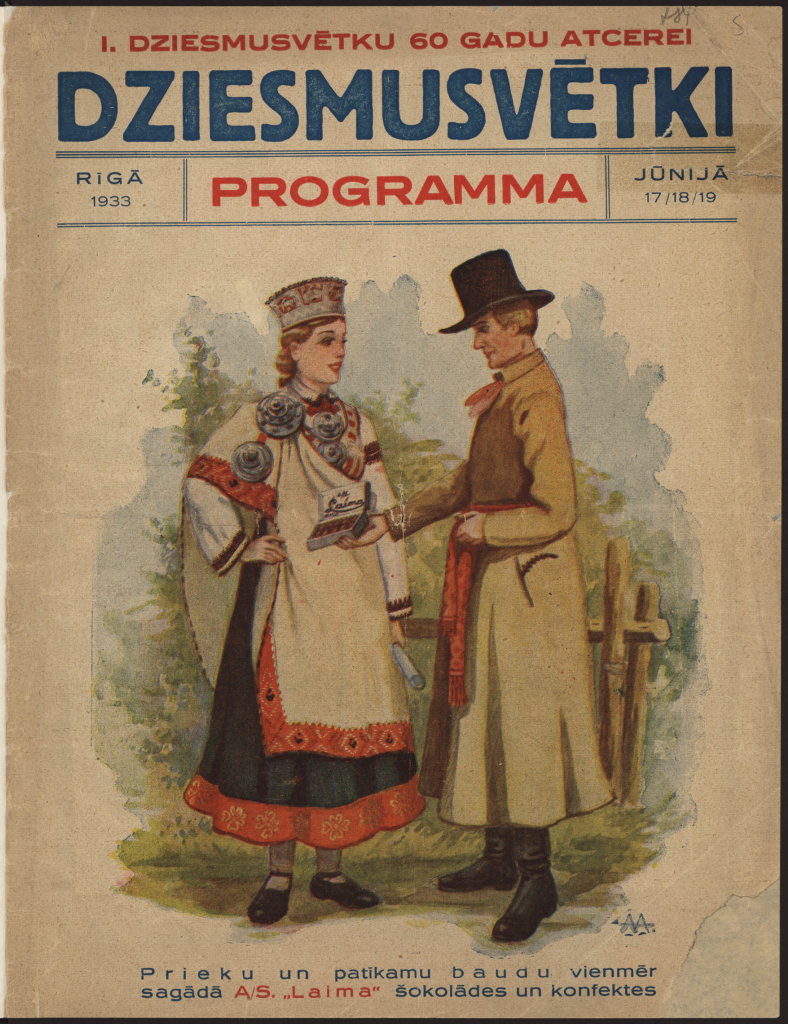 After the Soviet Union invaded and illegally occupied Latvia following World War II, the festival continued to exist despite heavy russification. Festivals included Soviet propaganda, but choirs found ways to rebel through song. After the official programme, the choir would perform a familiar folk song. The song would become a symbol of resistance and the enormous audience would sing along. Just singing non-Soviet songs was seen as an act of resistance. The Soviets quickly recognised such songs as national anthems and banned them.
From the late 1980s until the collapse of the Soviet Union in 1991, singing protests became the Baltic states' most powerful weapon against the regime. By the late 1980s Gorbachev had eased some restrictions on freedom of speech in the Baltics, letting choirs choose their songs. In 1988 at a Lithuanian choral festival, singers held up the pre-Soviet flag of Lithuania on stage. Choir members stood together to block the Soviet officials who tried to remove the activists from the stage. These protests became known as the Singing Revolution, and the Soviets eventually backed down. Within two years, the Baltic states had held government elections and negotiated their independence.
Today the Song and Dance Festival includes over 16,000 singers and 17,000 dancers, plus brass bands, symphonic orchestras and chamber orchestras. Many art exhibitions, parades and contemporary rock and pop concerts also take place. The key event is the enormous choir concert finale, which is based on the a capella singing tradition. In 2003, the Latvian Song Festival, along with its sister festivals in Estonia and Lithuania, was recognised by UNESCO as one of the Masterpieces of the Oral and Intangible Heritage of Humanity.
The Song and Dance Festival incorporates many different artistic and musical genres – the choir movement and tradition of singing together; folk dancing and the huge joint-ensemble dance concerts; instrumental music, brass band and kokle (a Latvian string instrument) concerts; folklore performances, as well as exhibitions and demonstrations of traditional crafts and applied arts such as textiles, ceramics, glass and decorative wood art. The festival has become so international that, on the past two occasions, a Japanese choir called Gaisma ("Light" in Latvian) has even taken part in the final concert.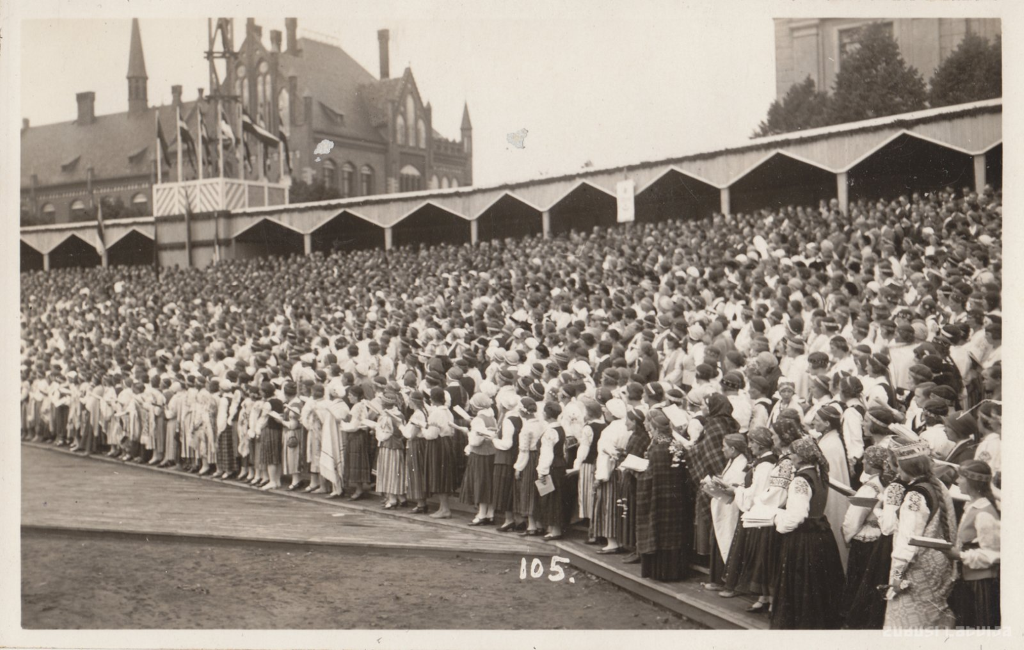 The festival's international dimension
Despite the large physical distance and vast cultural gap, Latvia and Japan have forged ties through singing and music. The 20-person choir, Gaisma, sings the entire repertoire of songs in Latvian and their director, 33-year-old Daiki Horiguchi, speaks fluent Latvian. Horiguchi teaches Russian at Iwate University, Morioka, some 500 km north of Tokyo. His interest in the Baltic states came about by accident when aged 16 he found a tourism guide about the Baltic states in the school library. Through this he learned about a school in Riga where Latvian kids were learning Japanese. "I was pleasantly surprised about their interest in Japan so I wrote to them and asked why they were learning Japanese," he says He received a reply from one of the children, in Japanese, and so a correspondence began. "We wrote to each other intensively for four years, and then switched to email.". He later found a Latvian language book in a bookshop in Tokyo and started teaching himself Latvian, aided by listening to Latvian TV and radio.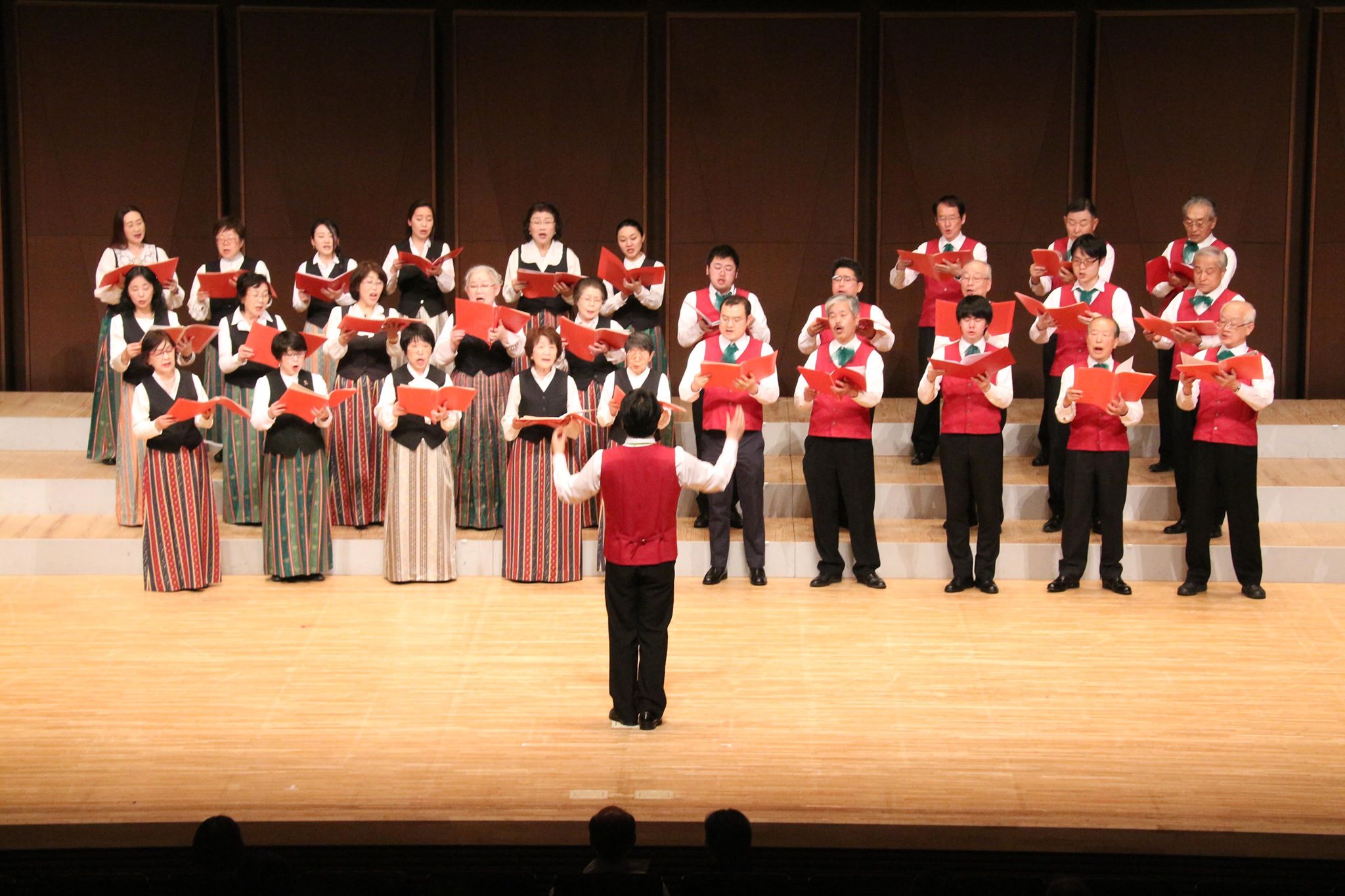 As a native speaker, I can vouch that Horiguchi is almost word-perfect. Currently he lives far from where his choir practices, so he helps by sending members song translations. The Latvia Japan Music Association was established 12 years ago by Japanese people who had visited Latvia and been impressed by its music. A well-known Japanese singer, Kato Tokiko, even recorded a song called 'A Million Roses' composed by renowned Latvian composer Raimonds Pauls, which became a hit in Japan. Horiguchi got involved with the association initially because he was the only Japanese person who spoke Latvian. Gaisma choir was founded in 2009 after the association took a trip to Latvia to watch the 2008 Song and Dance Festival. The choir sings only in Latvian, although it did sing some songs in Japanese in smaller venues around Riga.
Horiguchi explains that there is no equivalent national singing tradition in Japan, although many schools and universities do have choirs. "Our favourite song is "Saule, Pērkons, Daugava" ("Sun, Thunder, (River) Daugava") – it's a very emotional song," he says. It's one many Latvians consider a second unofficial national anthem, and one that draws demands for an encore from the jubilant crowd at this year's closing concert. A rough meaning behind the lyrics is the description of Latvia's immense natural beauty, its people's connection to it and its ability to rejuvenate, as well as its power over life and death. The song has gained such fame that Catalan choir Cor Jove de l'Orfeó Català even translated it and performed a version. Khodor Fawaz, 35, a Lebanese-British engineer who attended the festival says: "even though I don't understand the lyrics, the emotions spoke to me and the music transcends language barriers. You can tell Latvians are very proud people when they sing it."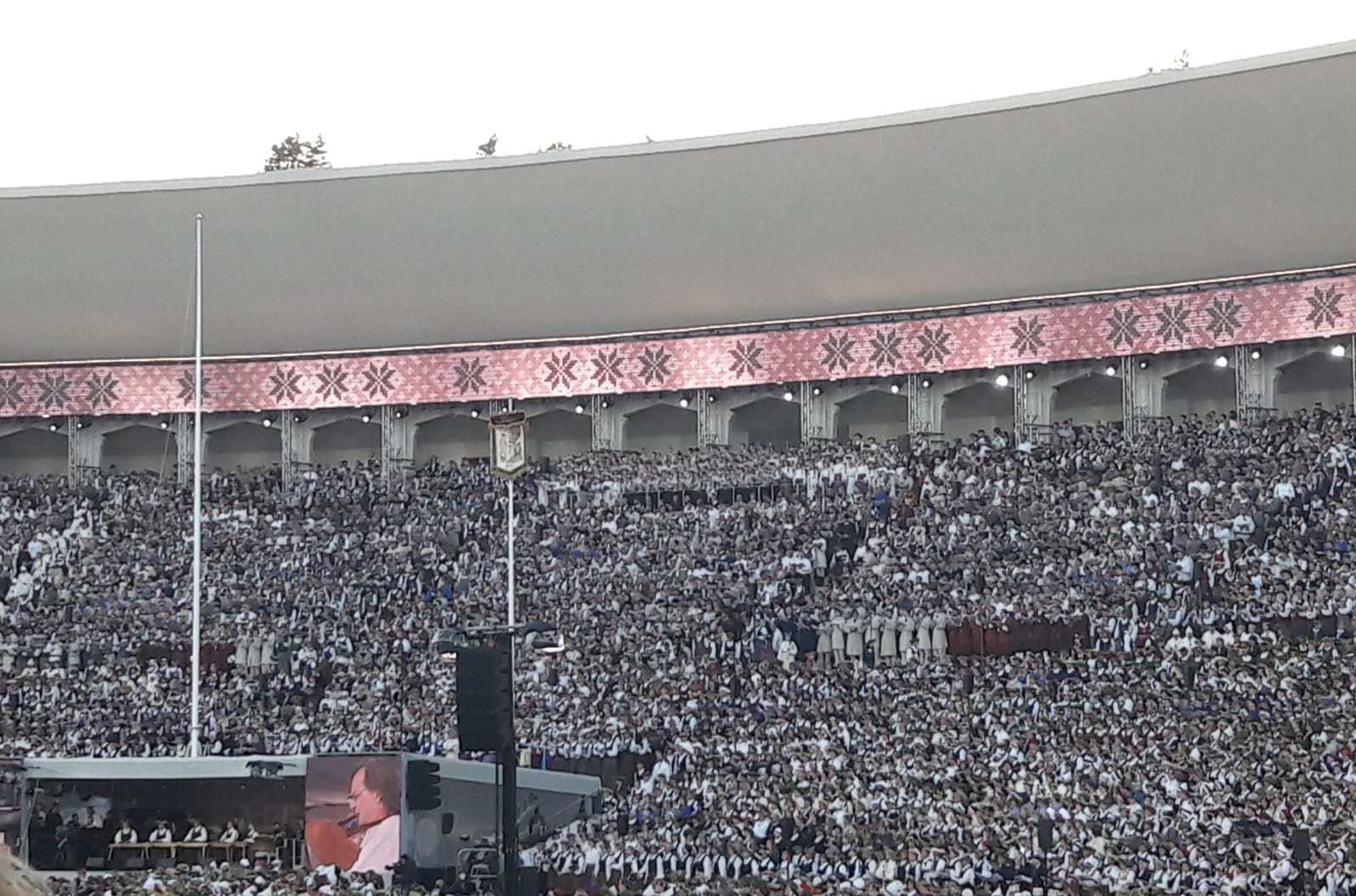 Latvians around the world
I spoke to some of the many Latvians who are members of choirs and dance groups who travelled back to their homeland for the 2018 Song and Dance Festival. My aim was to find out what brings them back and how they manage to keep a connection with Latvia through music and dance. Australia has around 20,000 people who consider themselves to be Latvian, according to a 2006 census, and Latvians can be found in all major Australian cities. Daina Jaunberziņa, 63, is a Latvian born in Melbourne who now lives in Sydney. She has directed the Sydney Latvian Men's choir for 40 years. The choir was founded over 60 years ago and includes singers aged 20 to 94. This year around 150 Latvians travelled from Australia to Latvia to sing and dance. Latvian society in Australia continues to be very active in preserving the language, traditions and cultures for the next generations. There are several Latvian schools and summer camps in Australia. "We keep close ties with Latvia, and many members of the new generation have moved to Latvia permanently," says Daina proudly. Despite this, it's not easy to stay connected to a country over 13,000 km away. She notes with some regret that "with each generation, the number of Latvian speakers diminishes due to assimilation."
Lara Brennere is a third-generation Latvian who moved to Melbourne from the UK as a baby. "My mother was a Latvian from the UK, and my father is an Australian Latvian, and I still visit their relatives in Latvia," she says. The 38-year-old now sends her own children to Latvian school at weekends and she oversees Ritenītis, a Melbourne dance collective. She's part of one of the five dance collectives active in Australia, and she travelled to Latvia with 30 other dancers for the Song and Dance Festival.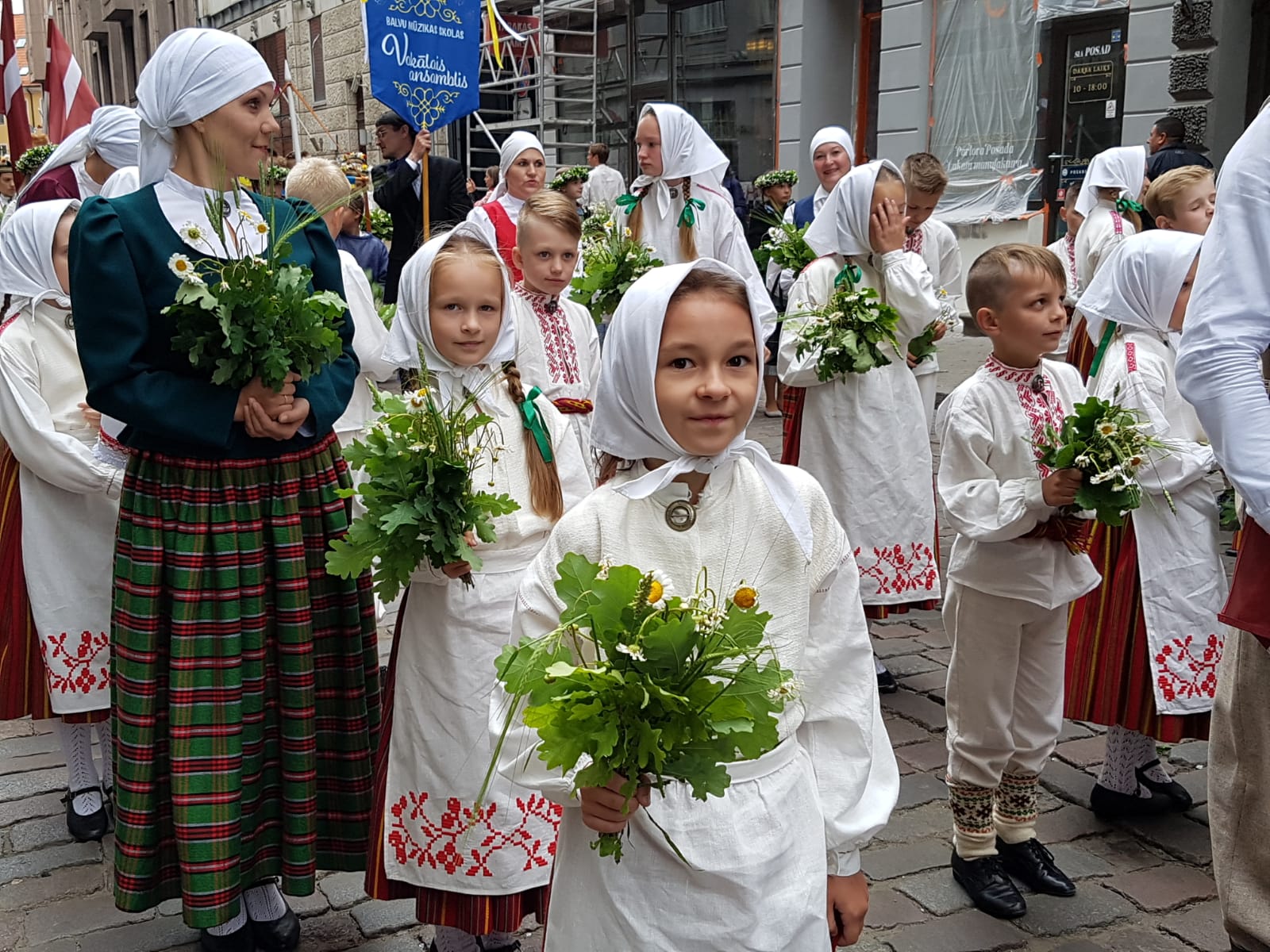 Like Australia, Brazil has around 20,000 Latvians. Most of these are Latvians or descendants of people who emigrated before World War II, as well as post-war refugees. Very few arrived in later years. The Brazilian Latvian community is scattered mostly around the metropolis of São Paulo, as well as some in Curitiba, Rio de Janeiro, and Ijuí in the south. Ijuí is where the first Latvian émigrés arrived in 1892, settling in the south of Brazil because the climate was more European. The community in Brazil, however, is much more dispersed than in other countries. Many people, now the third and fourth generations of Latvian descendants, don't speak Latvian and have only heard about Latvia from their ancestors. Most have lost ties with Latvia and have married other nationalities, though in recent years there has been a resurgence in Brazilian Latvians visiting Latvia to reconnect with their ancestors' homeland.
Inga Liepiņa, a music and dance teacher originally from Cēsis in north-eastern Latvia, moved to Campinas, near São Paulo in 2012. She met her husband Daniel, a Latvian from Brazil, whilst he was working in Latvia. Daniel's father was of Latvian descent but was born in Brazil, and his mother had arrived in Brazil from Latvia during World War II. In Brazil Inga takes care of her family and teaches music at the Latvian language school and is also helping organise this year's first Latvian Song festival in Brazil. She is president of the Brazil Latvian choir and producer of the first Latvian song festival in Brazil. Culture and music continue to play a key role in her life.
She explains: "Latvian cultural events are what unite people to come together to maintain the Latvian language and not lose their cultural heritage." The two Latvian Baptist and Lutheran churches in São Paulo state had casual choirs but it was not until 2016 that an official choir was founded. "It's not only Latvians who sing in the choir, there are also Brazilian families who are interested in Latvian culture and music. Many are mixed families, where one of the parents is of Latvian descent," says Inga. Around 75 people from a total of five Brazilian cities sing in the choir.
Nova Odessa, a city in São Paulo state, hosts a Latvian language school which has twenty students. One of the methods of learning is through folk and popular songs. More recently the school has seen an influx of families where one parent is of Latvian descent and their partner also wants to learn Latvian. Some are Latvian descendants who want to visit Latvia.
A dance group, Staburags, has existed in Ijuí since 1989, and its 24 dancers regularly take part in folk festivals in Brazil and Argentina. This year 65 singers and dancers travelled to Latvia and took part in the Song and Dance Festival. Inga describes it in the following terms: "We had so many brilliant experiences, making new friends with Latvians from around the world. I think each and every participant and spectator felt proud having taken part."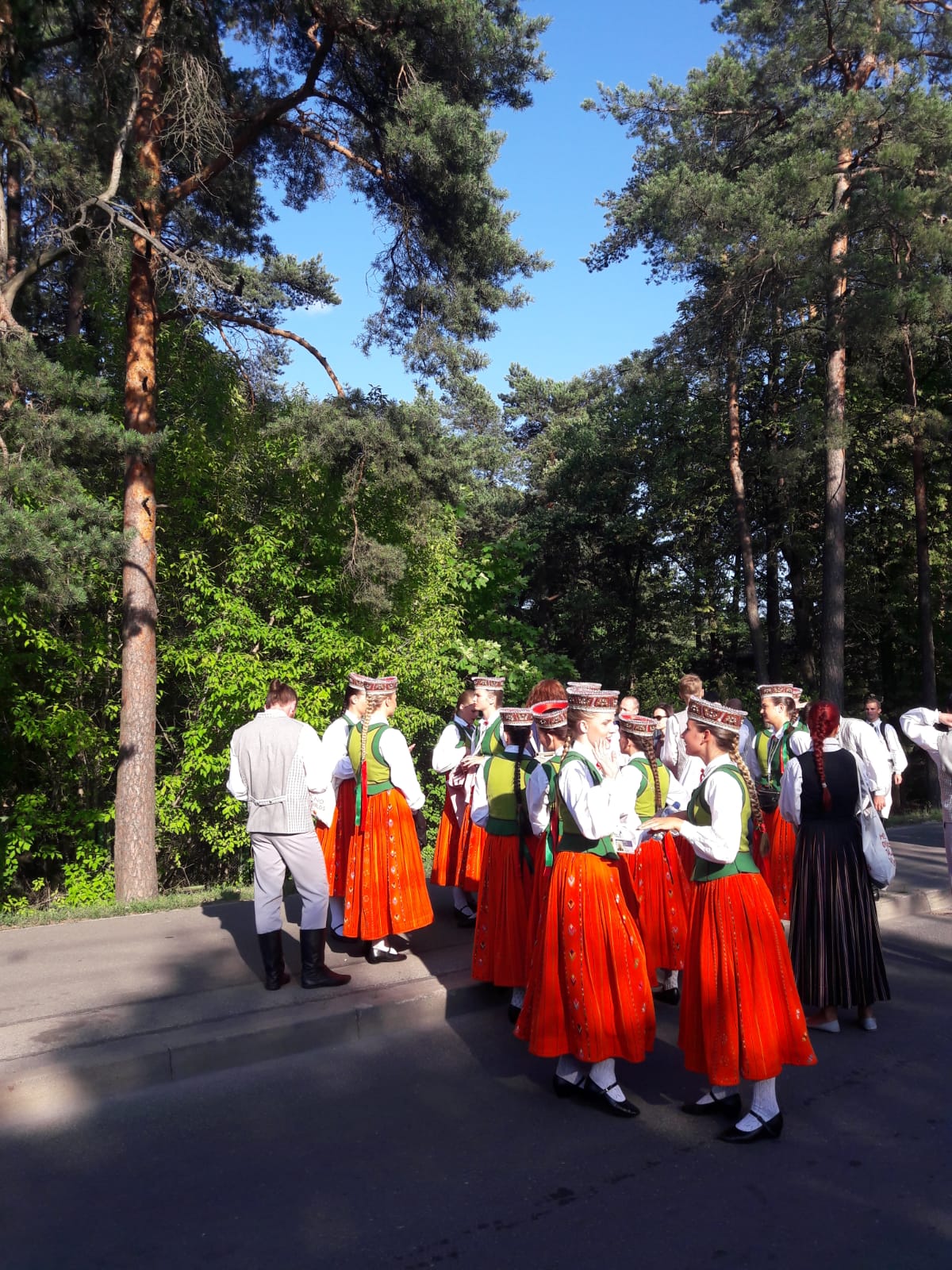 The grand finale
This year's closing concert repertoire covers songs written in the early nineteenth century, as well as more modern classics, including a song from a rock opera. The song and dance programmes tell the story of Latvia's history through the ages through song, dance and costume. A highlight of the closing concert is the final song 'Pūt, vējiņi' ('Blow, Little Winds'). It's one of the most popular traditional songs and the crowd all join in with the emotional lyrics and dulcet melody.
The concert finally finishes, well past 1 a.m., but the singing does not stop there – it continues to go on through the night with the audience joining the choir and other musicians to sing and dance until dawn. The atmosphere is that of one big party, with folk musicians playing and singing well-known folk songs, and everyone mingling, singing and dancing until dawn.
First-time concert-goer Peter Holland, age 82, from the UK says: "It was an unforgettable concert. The many and varied costumes were a delight and the impact of several thousand singers, all performing on the stage in perfect harmony, was amazing."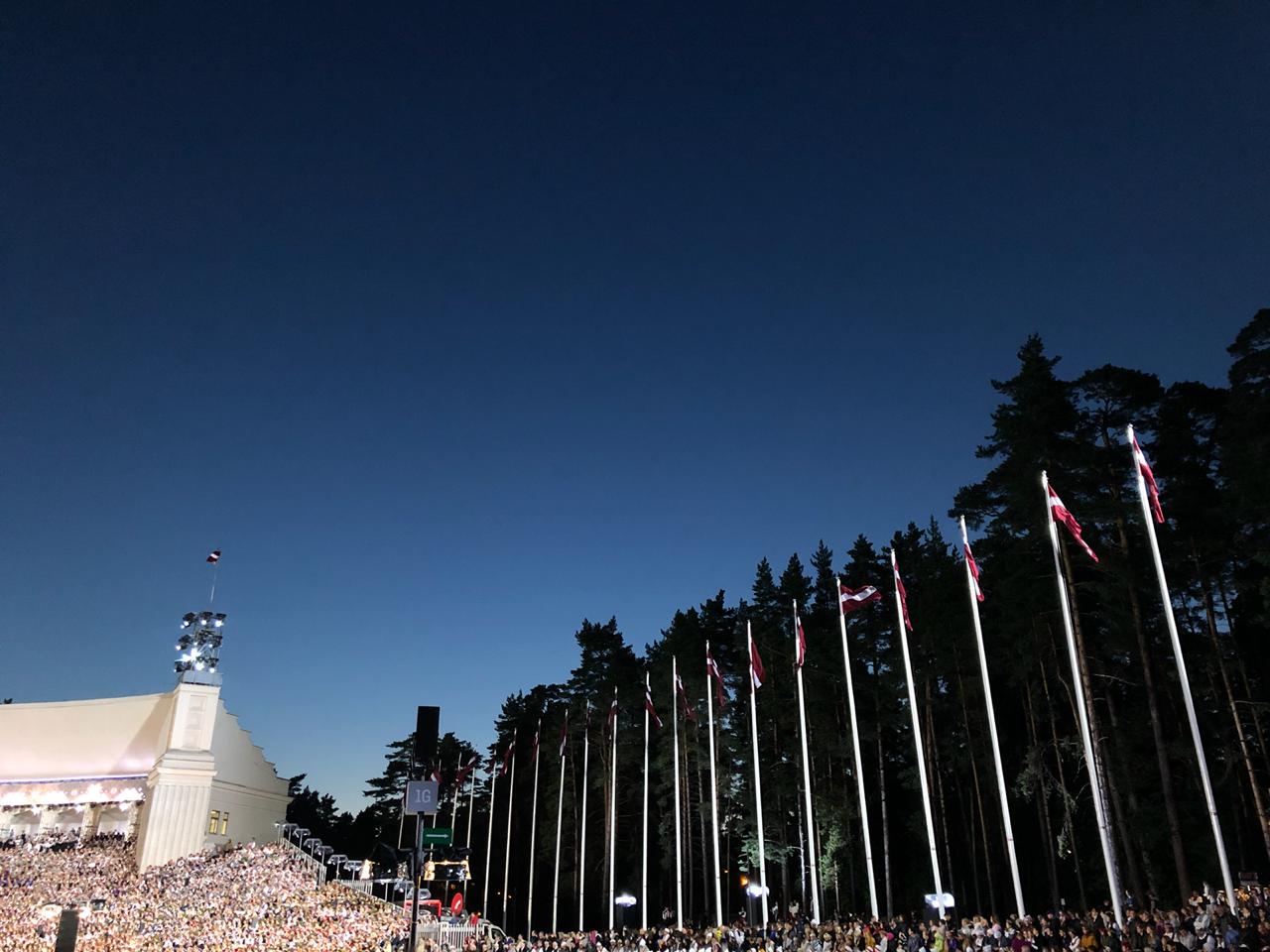 Lidija Liegis is a British-Latvian journalist based between the UK, West Africa and the Middle East. She has previously worked for the Baltic Center for Investigative Journalism (Re:Baltica), the London Bureau of Investigative Journalism and on projects for the FT and BBC.
Header image – Latvian Song Festival in 2008 [Image by Dainis Matisons. Licensed under the Creative Commons Attribution 2.0 Generic license]
All images credit Lidija Liegis unless otherwise specified
© Deep Baltic 2018. All rights reserved.
Like what Deep Baltic does? Please consider making a monthly donation – help support our writers and in-depth coverage of Estonia, Latvia and Lithuania. Find out more at our Patreon page.